We wrapped up week 1 of the Right-Brainers in Business Video Summit today and it's been an amazing gathering of creative souls from around the world. Did you miss our first 5 days of interviews with our incredible speakers?
You can catch some of my favorite highlights in the Week 1 recap video above or watch it here. You'll love how topics like sales, bookkeeping, marketing, and online visibility come to life when we bring a right-brain twist to it. You might even have fun!
Hear from New York Times Bestselling Author Dan Pink, Bari Tessler, Cass Mullane, Kelly Rae Roberts, Beth Nicholls, Lisa Cherney, Lisa Manterfield, Rachna Jain, and Kerri Richardson.
There's still time to join us at no-cost for the final week March 4th-8th. And if you sign-up this weekend, you'll actually get to catch up on several replays that are sure to inspire you in action.
Hear what folks have been saying online: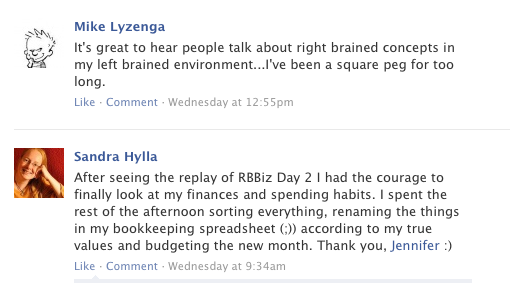 Want to connect with other right-brain entrepreneurs? Join the official Right-Brain Business Plan® Facebook group.