The Right-Brain Business Plan Kit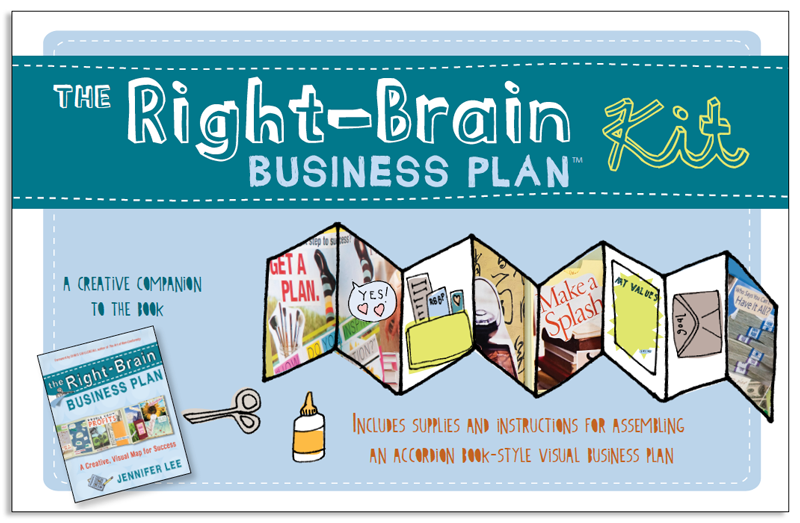 You're a creative soul, and traditional business plans just don't work for you. Or maybe you've been doing things the "old school" way and your heart isn't in it any more.
You yearn for more fun and freedom. Trade in those boring binders, tedious templates, and stodgy spreadsheets for inspiring images, gleeful goals, and colorful creativity with the Right-Brain Business Plan.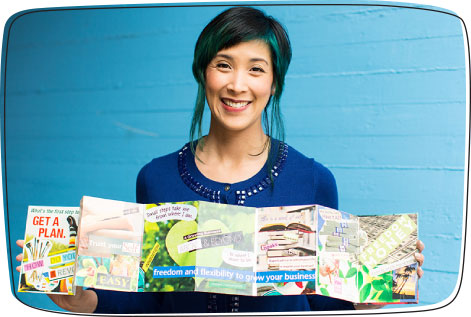 Finally, business planning for the rest of us!
The Right-Brain Business Plan ® Kit is a creative companion to the book The Right-Brain Business Plan and includes supplies and instructions to create your own accordion-book style visual business plan.
Grab the book, print out the free play sheets, get your markers, magazines, scissors, and glue, and you're ready to go. No need to get other supplies (unless of course you want to!). The 20 illustrated cards correspond to key exercises in the book so you can incorporate your reflections, ideas, and action steps right into your RBBP.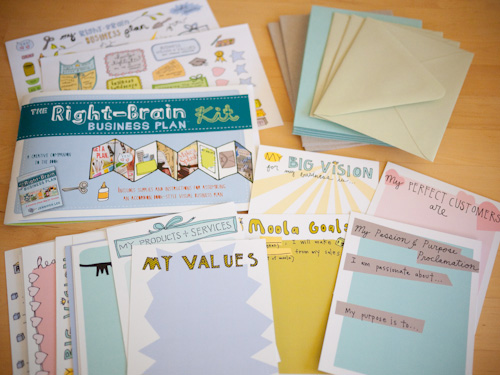 The Right-Brain Business Plan Kit includes:
1 set of blank accordion panels and 2 bookboard covers
2 half-sheets of ready-to-cut colorful stickers and labels to embellish your plan
20 inspiring, two-sided illustrated cards that correspond to exercises in the book will help you capture your brilliant ideas, goals, actions, affirmations, and more
3 blank envelopes to store your cards and notes
An 18-page full-color, beautifully designed booklet with step-by-step instructions on how to put together your plan
Link to an online video on how to assemble your accordion book-style plan
Miranda Hersey of mirandahersey.com and studiomothers.com shares how she made her gorgeous visual plan using the Right-Brain Business Plan Kit in this fun video show and tell. (The outtakes at the end are hilarious!).
Order Your Kit Now
Grab your favorite color combo today and get started on your visual plan.
You also have the choice of purchasing the kit alone or with a signed copy of my book for a special bundled price.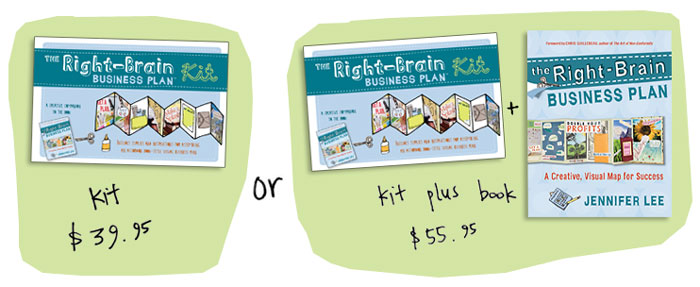 If you're interested in The Right-Brain Business Plan Home Study e-Course, click here to find out more, and to get a discount on the course and kit.
Choose from the different color combinations currently available below.

| | | |
| --- | --- | --- |
| white accordion book with blue envelopes | kit only | kit plus book |
| white accordion book with green envelopes | kit only | kit plus book |
| white accordion book with pink envelopes | kit only | kit plus book |
| | signed book | |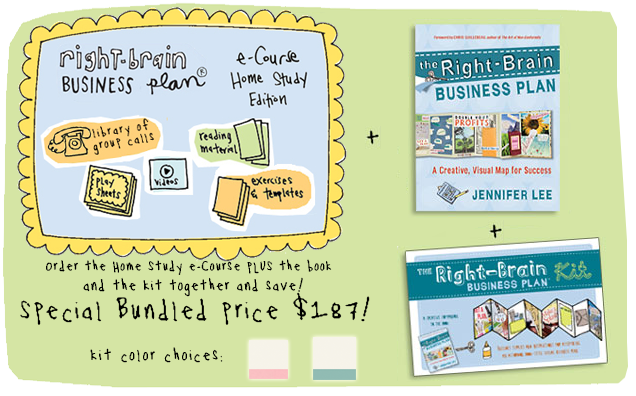 Important instructions: For bundle, please select your color choice for the Right-Brain Business Plan® Kit from the two choices below:
RBBP Course + Book/Kit (white w/ pink envelopes)


RBBP Course + Book/Kit (white w/ blue envelopes)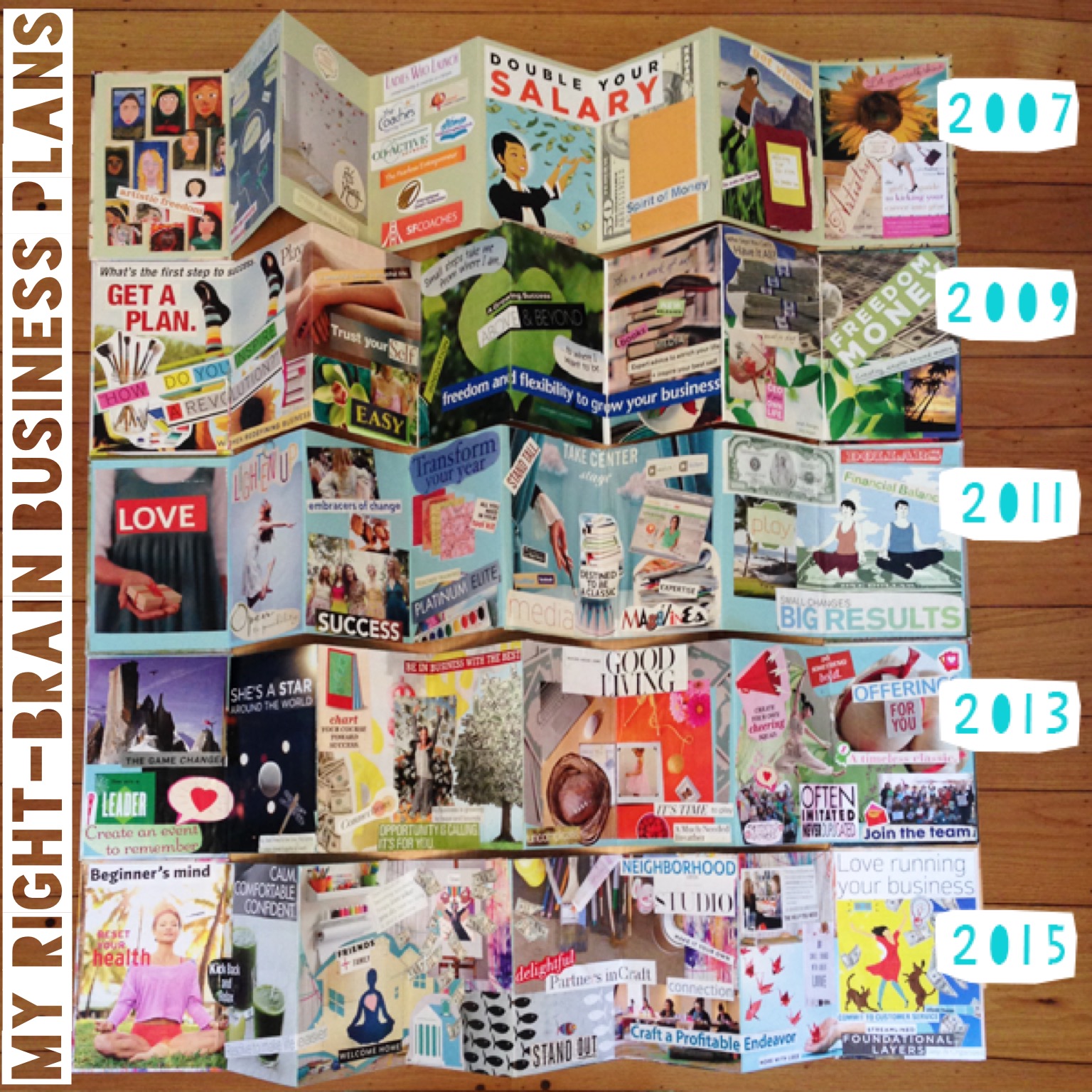 I've made a new Right-Brain Business Plan about every 2 years since 2007 and it's been amazing what I've been able to accomplish by having a vision and a plan of action to get there.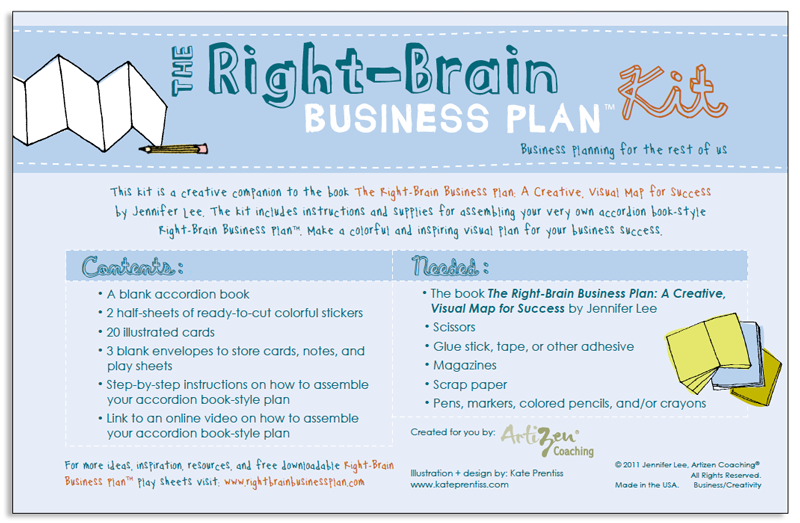 Shipping Info
Please allow for slight variances in colors and designs. Orders are typically shipped out within two business days of the purchase date. All orders within the U.S. are shipped Priority Mail and no delivery signature is needed. You will receive a shipping notification e-mail from info @ artizencoaching.com once your order has been shipped.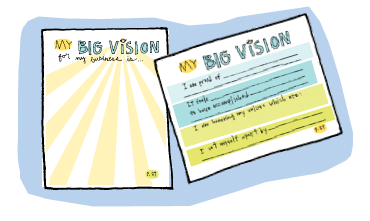 International Orders

International orders are shipped International Priority Mail and shipping times vary. Please note that you are responsible for paying any import duty, tax, and fees which may be collected by your country when the shipment arrives.
Returns
If you would like to return an order, email info @ artizencoaching.com with your first name, last name, email address, shipping address and order date. Include the reason for your return. When approved, you will receive an authorization number. You must write this number on the outside of the box/envelope used for the return. We will not accept any returns without an authorization number.
Returned goods must be in original, new condition. Returns must be shipped within 10 days of receipt of merchandise. After 10 days, returns will not be accepted for any reason. You are responsible for return shipping costs.
Licensing
If you are interested in using the kit in workshops or with your clients, please check out our licensing program.