About Jennifer Lee (she/her/hers)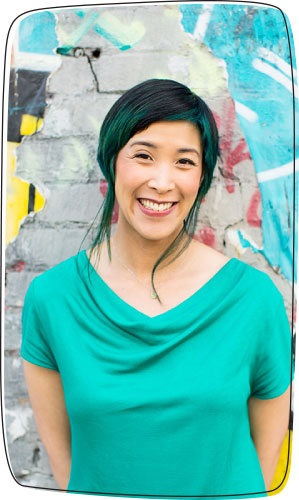 Hello there, my dear, fellow entrepreneur! I'm Jennifer Lee, founder of Artizen Coaching® and author of The Right Brain Business Plan and Building Your Business the Right-Brain Way.
I help creative people – like you! – who cringe at the thought of writing a business plan find creative ways to turn your dreams into a moola-making enterprise. And yes, I said "moola-making" because hey, that just sounds more fun than "income-generating," doesn't it?
I believe that launching, growing, and sustaining your business can be a fun process. Another expression of how you find joy in everything you do.
Through my work and from the tens of thousands of creative people who have used my right-brain approach, I know that anyone can create a visual plan that's as effective (if not more so!) as a traditional plan. All you need is a little nudge, the willingness to take some risks and share your creative gifts, and some expert guidance and support to set you firmly on the road to building your dream business.
My Story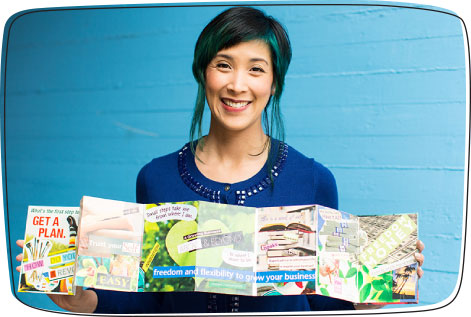 I wasn't always an entrepreneur. For ten years I worked as a corporate consultant for Fortune 500 companies while growing my coaching business in my spare time. In 2006, tired of living my dream on the side, I took the scary but exhilarating entrepreneurial leap. Finally, I was doing work that was a true expression of my joy in the world!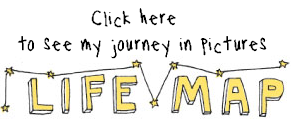 After striking out on my own, I used a number of creative ways to grow my business. But it was in November of 2007 that everything changed! I participated in Leah Piken Kolidas' Art Every Day Month, and the final two days of the challenge serendipitously culminated in an out-of-the-box approach to my business. As I was revisiting my business plan (originally a boring, static Word document), I decided to put my own creative spin on it and the Right-Brain Business Plan® was born!
I had no idea that that colorful and unusual approach would empower so many creative entrepreneurs around the world to launch their businesses in a way that made their hearts sing. It fills me with joy knowing that, as a result, more visionary souls, heart-centered professionals, and inspiring artists are out there making a positive difference through their work.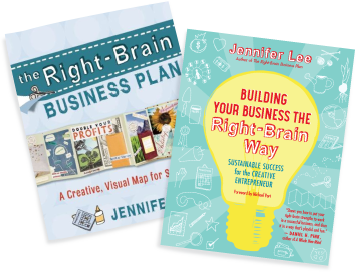 I want to make sure you and your business are here to stay, so that you can keep on sharing your special gifts with the world. This is why I wrote my second book, Building Your Business the Right-Brain Way, which gives even more guidance, tips, and tools to help you expand your business, and more importantly, make sure it stays successful over the long haul.
I continue to grow my business from a place of creativity and joy, and I feel more than ever that I have truly found my calling to help others achieve success simply by showing them how to get out there and share their talents, wisdom and experience.
The intersections of my identity: I'm a cisgendered, heterosexual, able-bodied, introverted, married with no-kids, Yonsei (4th-generation) Japanese/Chinese American woman in mid-life with a chronic, but managed auto-immune disorder. I started my now life-long decolonization journey in 2019 and am continually working to unpack my conditioning so that I can do my best to live and model a more fully liberated life. For my fellow personality-typing geeks: I'm an INFP, Enneagram 4 with a 3 wing, a Highly-Sensitive Person and Empath, a Leo sun with Pieces moon and Capricorn rising and a Soultype 4.
THE SOMEWHAT LEFT-BRAIN DETAILS…
(i.e. the Official Bio)
Jennifer Lee (she/her/hers), CPCC, PCC, MA is the founder of Artizen Coaching®. Before pursuing her own passions full-time, she consulted for ten years for Fortune 500 companies such as Gap Inc., Accenture, and HP, helping leaders and organizations manage change. As a director of executive development for Gap Inc., she led onboarding and coaching programs for those at the level of vice president and up. She grew her coaching business in her spare time, and in 2006 Jennifer made the courageous leap from corporate America to living the life of her dreams.
She has been featured in The Wall Street Journal, U.S. News & World Report, Entrepreneur, Whole Living, Family Circle, and Cloth Paper Scissors Studios, numerous radio shows, and on ABC7 TV. She partnered with Levenger to develop the Right-Brain Business Plan® Circa® Notebook.
Jennifer Lee received her coaching certification and leadership training through the prestigious Coaches Training Institute. She's also a certified yoga instructor, a certified Expressive Arts Facilitator, a certified meditation instructor, and holds a B.A. in Communication Studies from UCLA and an M.A. in Communication Management from USC. Jennifer lives in the San Francisco Bay Area with her creative, rather left-brain husband and their sweet husky-Lab mix.

A Few Fun Facts

If you're ready to take on the world, let's get going!
Do you have a great idea that you want to turn into a product, service or enterprise? If the thought of writing a business plan or the details involved in developing a new product makes you nauseous, check out my books, my creative business kits and other fun products in my Shop.
If you need extra support, find out more about my e-courses and coaching programs. Through my network of licensed facilitators, you may also find someone who is holding an in-person workshop in your area, so please visit my Facilitator page for details.
One thing that breaks my heart is when I see someone with passion and ideas but is stuck or afraid of taking the next step. I don't want that to happen to you!