Sign-up to get on the wait list!
Dear
Asian Creatives
Finally break free from the Myth of the Model Minority!
Let's design your most vibrant life & biz aligned with your unique experience of the world.

Isn't it time we rock the boat?
As female socialized Asians, we've been conditioned to be nice, quiet, and polite. We're rewarded for chasing other people's version of success. We're pressured to not stand out or dare we dishonor ourselves (or, worse yet, our families!). The thing is, I know you've got important things to say and incredible gifts to share. Shed external expectations and own your power as the badass, creative that you are (even if you don't think you're creative)!
Join me for…

Color Outside the Lines Mentorship and Mastermind:
An 8-month life/business group coaching program for female-socialized folks from the Asian Diaspora who are ready to bust the Model Minority Myth* and live, work, and lead from their most authentic, fully-expressed selves.
* Not sure what the Model Minority Myth or Asian Diaspora are? Check out the FAQs to learn more.

This is for you if you're Asian female-identified/socialized & you relate to any of these:
You feel like you don't belong in a world designed by and for the dominant White culture.
You're fed up with feeling invisible and having others assume they can walk all over you or take, take, take.
You're sick of compartmentalizing and playing small to fit the acceptable roles in your work, family, home, community, and/or personal life.
You're stifled by an unfulfilling day-job or stuck in career limbo and you seek more meaningful work where you can bring ALL of you while voicing your unapologetic truth.
You're already pursuing your passions as a side hustle or full time, but you feel overlooked and unsure of where you fit in the majority-White spaces you navigate.
You're tired of being the "token" Asian and crave community, connection, and equity.
Whether you feel disconnected from your heritage or comfortable in your Asian female identity or somewhere in between, you yearn for a space to continue healing and evolving with fellow creative Asians.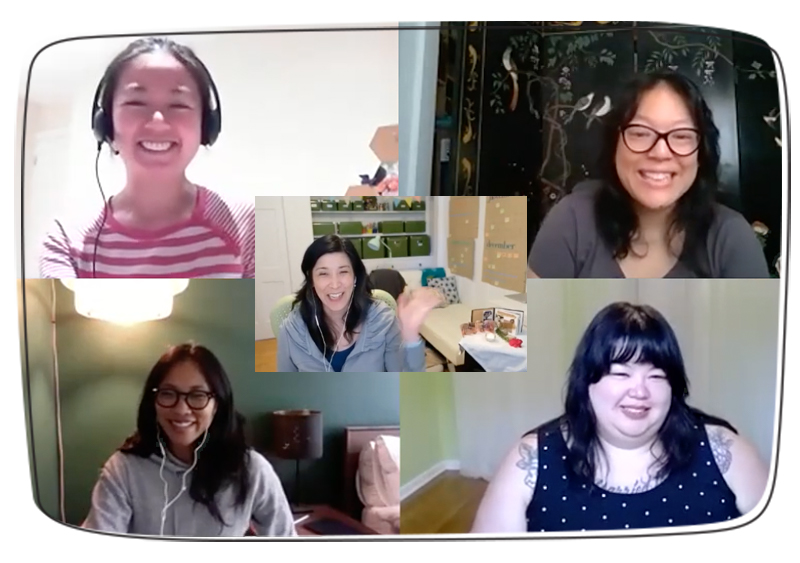 Imagine how validated and empowered you'd feel being part of a group for female-socialized Asians who just get it (without explanation!) and who are choosing to buck the system to live their most liberated life, which in turn helps to liberate others.
This is the circle I longed for where I could grow and learn in community with a mentor who innately understands the specific challenges we face. I know what it's like to be a creative, entrepreneurial Asian wanting to impact change in a patriarchal, White-dominated society that treats us like delicate, docile China dolls who need to stay quiet in the corner.
Fuck that shit, right??! Say YES to the model minority mutiny and to proudly living out loud!

I can't wait to work with you! Please read on for more details.
Meet Your Coach | What You'll Learn | What You Get | FAQs | Testimonials

Laura finally felt understood in a way she hadn't before and she's restructuring her business to better align with her vision
"It has felt freeing and comforting to be heard and seen by people who understand me in some really core ways. I don't have this kind of community in the rest of my life, so this time and space together has felt like a balm during a stressful and tumultuous time in my life. From the very first meeting I felt an emotional connection to everyone that is still very special to me.
I particularly enjoyed and appreciated the coaching with Jenn during the calls! In my experience with coaching I've never felt so much like someone understood me and was considering me as a whole human being with ancestral and personal trauma in the mix as well as the standard business issues. I finally feel like I know where I'm going and how I'm going to get there.
In fact, I just rolled out a new yoga class system with new pricing and people are signing up! Thanks for all the support y'all! I probably wouldn't have done this right now without this group/experience."
Laura Burns
, SETX Yonsei, Body Liberation Activist and Yoga Teacher, radicalbodylove.com
Why Work With Jenn?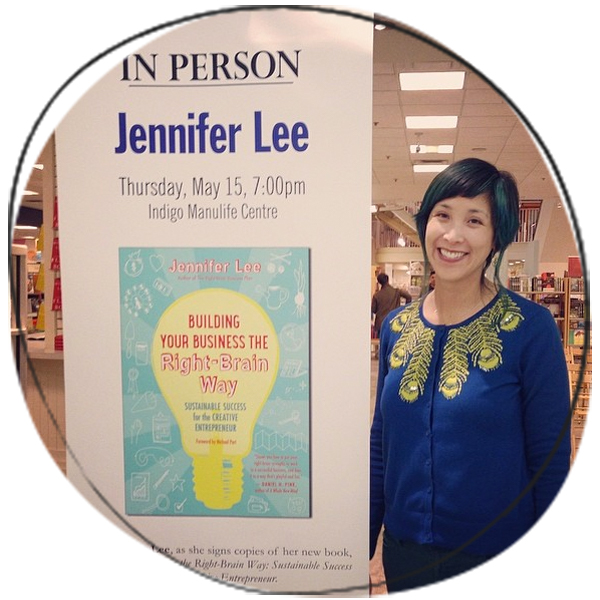 Hi there! I'm Jennifer Lee (she/her/hers) a Yonsei (4th generation) Japanese/Chinese-American, cisgendered, heterosexual, currently able bodied with a managed, hidden autoimmune disease, married with no kids, highly-sensitive/empathic, introverted, female-identifying person in mid-life living on the Big Island of Hawaiʻi.
I was born and raised in Los Angeles but despite growing up in the San Gabriel Valley surrounded by Asians, I struggled with feeling like I fit in (and still do). I'm three-quarters Japanese, one-quarter Chinese and based on my upbringing I've identified more with Japanese culture but people assume I'm full Chinese or Korean, given my last name. In some of my childhood communities that were predominantly Japanese, I remember wishing others knew of my Japanese heritage so that I would feel more accepted. My own journey to find belonging and acceptance (both inside and outside of me) is part of what motivated me to create Color Outside the Lines.
In my younger years I did all the things a "good Asian girl" was supposed to do… stayed out of trouble, got good grades (well, not in math and thus single-handedly proving the "all Asians are good at math" stereotype wrong! Haha!), went to good schools (UCLA for undergrad and USC for grad), got good corporate jobs, earned a good salary, and was a good worker who put in long hours and diligently climbed the corporate ladder for more than a decade.
In other words, I unknowingly assimilated into dominant White culture in a futile search for love and acceptance outside myself (thankfully, I later learned to have self-compassion so I don't beat myself up about this!).
I knew something was missing, so I pursued my passions on the side and started my coaching practice part-time while holding down my demanding day job as an organizational development consultant and then a Director of Executive Development. While I excelled and got promotions, I still got feedback that I was "too quiet or reserved" and even though I eventually headed up an Executive Coaching program (and am a certified coach), I wasn't allowed to actually coach execs (wtf?!).
Fed up with feeling unfulfilled and unseen, I finally escaped Corporate America in 2006 and focused on growing the creative business of my dreams. I wrote two books (including bestseller The Right-Brain Business Plan), spoke at conferences (I've shared the same stage as Alanis Morisette, Brene Brown, and Elizabeth Gilbert!), hit coveted moola milestones, and have the pleasure of working with amazing clients from around the world.
Yet, I got so caught up in my relentless ambition (read: unconscious conditioning) that I neglected my health, well-being, and personal goals. Around 2016, I began making shifts to reclaim my life and recalibrate my work. I had to let my ego fall away and be with the incredible discomfort of a crumbling identity that was no longer serving me (um, thank goodness for my meditation practice!).
In 2019, I started my decolonization journey with anti-racism coach Weeze Doran and through that ongoing excavation I've been stripping away the vestiges of my "Model Minority" upbringing and internalized racism. I've been unpacking and healing intergenerational trauma inherited from both sides of my family being impacted by the WWII Japanese internment camps as well as better understanding how assimilation was a means for survival. I've been reconnecting with the gifts of my lineage and the power of my inner knowing.
Once I really started seeing how my racial and gender identity had played a role all along, I've been able to find new levels of freedom, clarity, and courage to be fully ME. That's why I created this program; to share the tools, strategies, and practices that have helped me and hundreds of my clients but with an eye toward the Asian female-socialized experience.
Find out more about my entrepreneurial journey here.
It's always good to know a little bit about your potential mentor, so here are some highlights from my entrepreneurial journey:
Unlike many other creative business coaches out there, I'm a certified coach who is trauma-informed and has received extensive, world-class training on how to effectively and skillfully help clients reach goals that are authentic to them.
I have developed workshops, e-Courses, e-Books, tangible products, and coaching programs, wrote an award-winning book with New World Library, a well-known publisher, co-developed a product with Levenger, a national catalog company, partnered with CreativeLive as one of their first general business instructors, and was a pioneer with hosting a video summit, so I know how to take an idea and make it real (and make money with it).
I worked for 10 years as a business consultant in large corporations including Gap Inc., Accenture, Sony, and HP, so I understand the complexities that go into making companies successful (from the high-powered board rooms to your kitchen table).
Through both of my licensing programs I have hundreds of facilitators who lead workshops worldwide based on my unique and visual approach to life and business coaching.
Over the years I have invested in myself and my business by hiring specific coaches to help me through various stages of my growth (including life coaches, business coaches, leadership coaches, spiritual coaches, a product coach, a book coach, an equity/inclusion/decolonization coach and somatic-based therapists). I appreciate having someone in my court who can help me reach my goals and be the best version of myself I can possibly be.
I'm an artist at heart, so I totally get how important it is to express your creativity in all that you do and I've learned how to make that creativity work for me in my business.
My practices and training in mindfulness and meditation have taught me, a recovering perfectionist and workaholic, how to slow down, be present and embrace ease.
With the help of coach and educator Weeze Doran, I began my intensive anti-racism and decolonization journey in 2019 and am committed to the life-long process of continually unpacking the layers of conditioning related to the intersection of my identities and privilege. As a melanated person who holds certain levels of marginalized identities, I value creating and participating in inclusive and equitable spaces and doing the work of repair when harm is done.
Through the 20 years I've been coaching and the 17 years of being in business for myself, I know firsthand the ups and downs of the entrepreneurial journey…
I've gone from coaching part-time while holding down a demanding day job (because I was too afraid to leave), to finally taking the leap yet struggling to come close to my cushy corporate salary, to building a business that reached multi-6-figures and then eventually learning to define and live from my own liberated version of success.
Click here to close this section
BTW, in case you didn't know… I'm an INFP and Enneagram 4 with a 3 wing. I love the wild abandon of big, colorful, intuitive paintings. I love a good book, naps, and cuddles with my dog. I love letting my aggressions out in BODYCOMBAT and moving freely through conscious dance. Oh, and my hubby and I are new AFOLs (Adult Fans of Lego).
I look forward to learning more about YOU and partnering together…

I don't have all the answers and I'm still learning, too; but you can expect me to lead from my lived experience. Besides, my job as your coach is to help you uncover YOUR OWN answers.
Whether you want to start or grow your creative business and/or you want to show up more fully in every facet of your life, I'm passionate about empowering you to speak up and take up space and I'm committed to guiding you to live your most authentic, unapologetic life that embraces ALL the parts of you.
The world is more than Black and White, so join me and your fellow Asian creative cohorts and let's Color Outside the Lines together!

What You'll Learn | What You Get | FAQs | Testimonials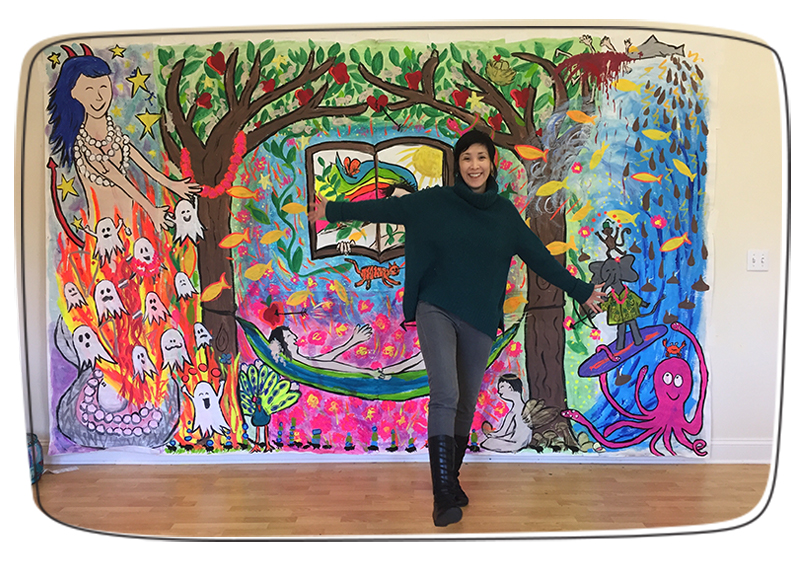 Ready to break free from the stereotypes?
We've been told our whole lives to keep our heads down and defer to others (especially authority and our parents), to be good students and get good jobs, to blend in and don't cause trouble. Many of us have even been taught to not see color and that our "success" proves anyone can reach their dreams if they just work hard enough. Sadly, we (and the rest of society) have been duped by this insidious Model Minority Myth that pits us against other races (and other Asians), promotes anti-Blackness, and tries to keep BIPOC in place with bogus "color lines."
Well, screw those lines! I'm gonna show you how to break free and live life in full color!
In the Color Outside the Lines program, you'll learn how to…
Give yourself full permission to be uniquely YOU and let your most vibrant, creative self shine. The pressure to assimilate and perform can go piss off!
Speak truth to power and have the courageous conversations needed to be in right relationship with loved ones, colleagues, and your community. You can stop silently biting your tongue or second-guessing yourself AND you can discern when your introspection and deep listening will best serve.
Make a career out of your passions and authentically lead a heart-centered, values-based business that's aligned with your intrinsic version of success. Finally stop tolerating your "respectable" role when what you really want is work that's purposeful, non-traditional, creative, artsy, or woo-woo. BTW, a fulfilling side gig, creative personal projects, and/or fun hobbies are great options, too. You're in charge of designing your ideal life!
Embrace the unknown and honor your energy and natural rhythms so you can say so long to the culture of control, perfection, and striving.

Express your emotions and directly ask for what you want. For many of us feelings were off limits growing up; but when we can give them space we tap into a well of wisdom.
Draw clear boundaries, prioritize self-care, and practice self-compassion so that you can be more present to yourself and, in turn, to others. Don't let duty dictate your life. Instead, have the capacity to do the things YOU want to do AND still have the time and energy for the commitments you consciously choose to honor.
Reclaim your roots and ancestral resilience, and heck, why not even justly channel your righteous rage while we're at it!
…and so much more!

Meet Your Coach | What You Get | FAQs | Testimonials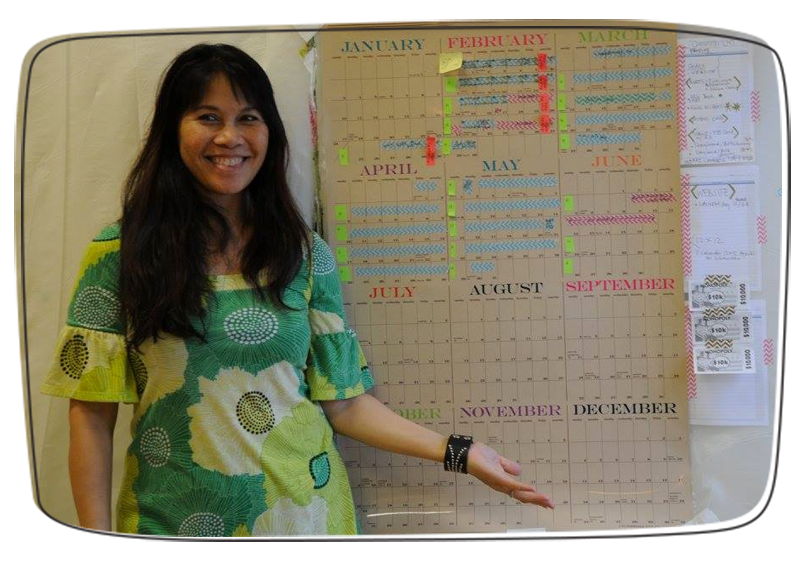 What you get: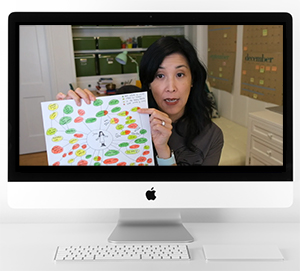 16 Group Coaching Calls with Jenn via Zoom to ask your burning questions, brainstorm and get feedback. (Two 90-minute calls per month.)
Exclusive teaching videos from Jenn pre-recorded in her signature creative style to guide you through your process and to give you inside peeks into her own journey.
A private Facebook group facilitated by Jenn for asynchronous coaching at your convenience, plus community connection, support, accountability, celebration, and more!
Right-brain creative homework, exercises, and tools to help you deepen your reflections, gain fresh perspectives, and map out your plans.
A private learning management system for easy access to the materials.
BONUS GIFT: The Unfolding Your Life Vision® Kit (valued at $30) to help you clarify the vision for your life.
BONUS GIFT: Your choice of one of the following courses – The Right-Brain Business Plan® Home Study (valued at $147) if you're newer to business/just getting started or the Build Your Biz Suite (valued at $235) if you're an established entrepreneur looking to grow your business. Can't decide which one? We'll offer you a special discount on the other, so we've got you covered.
Enrollment is closed. Please sign-up for the waitlist and you'll be be the first to know when we offer the program again.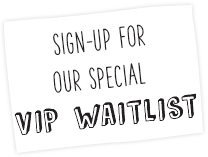 If you identify as Asian, please sign-up to
get on the waitlist
for the next time this program is offered. You can also choose to receive Jenn's curated list of
Asian identity resources
including suggested books, TV shows, and articles to help you on your journey to reconnect with your Asian roots.
Want more hands-on support?
1:1 Coaching Option – 6 individual calls with Jenn (45-min each) where you will: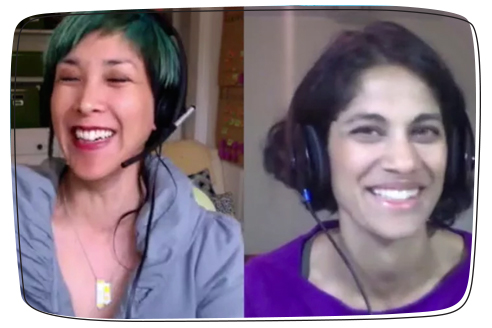 Have a safe enough, supportive container to explore the most vulnerable and stuck places that are holding you back.
Receive in-depth, individually tailored mentoring and coaching to help you walk your talk.
Get hands-on guidance from someone who has been there before you and can light the way while you create, execute, and fine-tune a long-term strategy that works for you.

Bindi learned to value herself and launched a transformational online program
"I knew I wanted to move toward group coaching in my business but did not have a clear idea of how this would look. During my 1:1 sessions with Jenn, I worked a lot on valuing myself, especially in relation to earning more moola. In one round of mentorship I thought up, created, launched, and ran a 3 month 'heal thyself' online program and am already in the launch phase of round 2 of this amazing, transformational program. Plus, my moola coming in has increased as I focus more on the numbers and begin to get comfortable with the numbers due to Jenn's teaching and accountability."
Bindi Shah
, Life Coach, Meditation Teacher & Writer, bindishah.com

Meet Your Coach | What You'll Learn | What You Get | FAQs | Testimonials
Frequently Asked Questions
What do you mean by the Asian Diaspora?
This refers to anyone of Asian descent who is living outside their ancestral land(s). Some examples include: a third-generation Chinese-American living in California, a Vietnamese immigrant living in Toronto, Canada, or someone of European/Indian heritage living in London, England. Please keep in mind that I (Jenn) am a U.S.-born Asian, so I will lead from that lens of lived experience. BTW, if you live in the country of your ancestral lineage and that area has a history of being colonized by Westerners (for example, Hong Kong, Singapore, or the Philippines) and you identify as marginalized in the ways described on this page then you may benefit from this program as well.

I'm bi-racial/hapa or multiracial. Would this be for me?
Yes. If you identify as Asian or part-Asian, you can benefit from this program. I'd love for you to participate!

What's the Model Minority Myth and why is it harmful? I thought being referred to as the 'model' was considered a compliment.
The Model Minority Myth falsely claims that if Asians can achieve financial and educational success through hard work and discipline, then other minorities who aren't doing as well only have themselves to blame because they must doing something wrong.
We're not being complimented; we're being used as a pawn to keep other BIPOC down!
This antagonistic narrative was created and popularized by dominant White culture during the 1960's in response to the perceived "threat" of the civil rights movement. It ignores systems of oppression that deliberately disadvantage Black communities while it denies the full picture of the Asian-American/Asian immigrant experience and, among many other things, lumps all Asians together as prosperous despite some Asian-American populations living in high poverty levels. While Asians may sometimes receive a conditional "Honorary White" label, we are also perceived as forever foreigners who aren't fully accepted by or represented in the dominant culture. The myth pigeonholes Asians as studious, industrious, computer geeks, dutiful, docile, etc. and stereotypes Black communities as being lazy, unintelligent, flawed, criminal, etc. by comparison. When we, as Asians, overlook this devastating dynamic and unconsciously or willingly benefit from it, we unfortunately perpetuate anti-Blackness and systems of oppression (and I doubt you want to do that!). Let's help ourselves and our BIPOC siblings break free! For more in-depth and nuanced explorations, google "Model Minority Myth" or check out the books
The Myth of the Model Minority
by Rosalind S. Chou and Joe R. Feagin,
Minor Feelings
by Cathy Park Hong, or
Yellow
by Frank Wu.
Click here to close this section
What does BIPOC mean?
BIPOC is an acronym for Black, Indigenous and People of Color. And, yes, Asians are included in People of Color.

I'm an Asian transracial/inter-racial adoptee/I grew up in a non-Asian family/household, and/or I feel removed from my Asian ancestry. Would I get something out of this program?
Yes! Even though you may not have been raised with strong Asian cultural ties, you grew up in a White-dominated society that perceives and portrays Asians in certain ways that maintain racial hierarchy. Asians and non-Asians alike are impacted by this social conditioning. So, even if you yourself don't feel particularly Asian, if you present as Asian to others, you're likely to be on the receiving end of their social conditioning and conscious or unconscious bias regarding Asians. There may also be ways in which you've unconsciously internalized racism against Asians through this societal conditioning.
While I can't speak directly to the adoptee experience, I'm committed to holding your experience with compassion and care. My hope is that through the work in this program that you are able to reconnect in meaningful ways to your Asian roots and that you feel a sense of belonging within this intimate circle of fellow Asians on the journey of rediscovery with you.
Click here to close this section

I'm not Asian, but this sounds amazing. Can I join?
No. While I'm delighted you're interested in this program, alas, this particular offering is intentionally a space for Asian female-identifying/socialized individuals only. As a marginalized community it's rare for us to have a dedicated and safe enough container to explore our Asian identity/experiences together and we appreciate you honoring this affinity space. My
VIP Coaching offers
or
self-study programs
are other ways we could work together. And hey, if you have Asian female-socialized friends who you think would love this, please send them our way! Thanks!
What do you mean by female-socialized?
I'm referring to those who've been conditioned/socialized as female by their families, society, culture, etc. and who hold a female gendered or non-binary identity, regardless of sexual orientation. Given the aspects of identity and our early conditioning that we'll be exploring, that's who I'm able to hold space for in this particular program.
What if I don't consider myself creative?
I believe that everyone is creative – yes, even YOU! Creativity isn't about being a talented artist. It's about thinking outside the box, trying fresh perspectives, being innovative, and expressing yourself freely. When I talk about using your creativity in this program I'm focusing on the process and your experience rather than the end-product. You don't need any art skills and you can define creativity in anyway that works for you! In fact, that's part of the self-exploration inherent in this program.

Is it okay if I don't have a creative business or don't want to start one?
Yep, absolutely! While there will be elements of this program that cover starting or growing a creative business, you don't have to be an aspiring or existing entrepreneur to benefit from this program. The teachings and exercises can be applied to your daily life, current occupation, relationships, goals, and/or creative or personal projects.

How can I get the most out of this experience?
Show up: Engage yourself fully in the process. Read the materials, watch the videos, and work on your assignments as much as will serve you. Connect with and support your fellow cohorts. The more you put in to this experience, the more you'll get out of it AND know that here you can let go of the "good student" conditioning; you get to make this work for you!
Be curious: Have an open mind about the exercises and your own experience. Cultivate awareness about your own process. What does your own process during the program tell you about how you live your life or run your business? Be willing to try new things, learn, and venture outside your comfort zone.
How can I be sure if this is the right fit for me?
What do I need to participate?
Technical requirements: A computer, reliable Internet access, Zoom, Facebook, and the ability to watch online videos. Make sure you have the latest version of Zoom. You can also participate in the video conferences via a smart phone or tablet. We highly recommend checking out our special Zoom Help Page in advance or to help troubleshoot during the sessions.
Supplies: There will be some (optional) art-based activities, so here are the basic types of supplies you might use – paper, pens/markers, magazines, scissors, glue, sticky notes, but you're encouraged to use whatever materials that inspire you. No art skills required!
An open mind and willingness to have fun!
My schedule is so unpredictable right now. What if I can't make some of the live calls?
Don't worry.
All group calls will be recorded and you'll have access to them and the chat logs within 48 hours of each session.
You'll be surprised by how much insight you can gain from watching the replays of your peers being coached! Also, you can receive effective asynchronous coaching from me via the Facebook group so you'll still have plenty of opportunities to receive support, brainstorming, feedback, and accountability conveniently on your own time. Plus, keep in mind given that it will be an intimate group, we may find different days/times that work for as many of our participants as possible.
Since I'm a coach at heart, I also can't resist providing some additional food for thought… What in your schedule can you influence? Where can you ask for help, delegate more, or say no? What commitments are you doing out of duty, guilt, or obligation? What would prioritizing you and your own growth look/feel like and what would that open up for you? If you're struggling to clearly answer these questions… guess what?! This might point to some of the unconscious conditioning that comes with our racial and gender identities. Part of what we'll focus on in this program is helping you design your most vibrant and fully aligned life which includes being able to say a guilt-free YES to the things that nourish YOU!
Click here to close this section
Do you offer sliding scales or extended payment plans? I've been hit hard financially by the pandemic but I really want to participate in this.
I understand it's been an especially tough time and I'm sorry to hear you've been impacted in this way. I don't want this to be the thing that stops you from joining us. Please reach out to us at info @artizencoaching.com to let us know about your situation, what you hope to get out of this experience, and what might work for you. Then we'll see if it will be a good fit and what we might be able to work out for you to participate.

I'm feeling so overwhelmed and stretched by the pandemic and all the change and uncertainty that come with it. How can I add another thing to my already full plate?
We are living in unprecedented times, that's for sure! It's hard to know when things will open up again fully or what our new "normal" will look like post-pandemic and until then we're having to constantly adjust to erratic circumstances. Of course only you can decide what you truly have capacity for.
What I will offer is this… powerful transformation can occur during the uncertain, in-between stages from old to new. Sometimes it's the discomfort of everything breaking down and wading through the messy middle that creates the opening for what's been waiting to emerge. Having a dedicated circle of support like this program might be just the thing that can help you navigate the ambiguity and chaos and design and live into your new beginning. So rather than being another thing on your plate, perhaps it's the nourishment and catalyst to help propel you forward with more clarity and intention. Also, it can bring ease and comfort knowing anytime you hit an especially rough patch and need some empathy, acknowledgement, or witnessing that you have a soft place to land in our community.
Click here to close this section

Will you be offering this program again?
I hope to offer this program again, but I don't know when. Plus, I have a hunch that next time it won't be at this good of a rate. So, now's the time!

What if I can no longer participate and need to cancel?
The program fee and payments are non-refundable and must be paid on time and in full. If for whatever reason you are unable to participate in the program please contact us within the 30 days of your registration only and we will credit you minus a $50 admin fee. Once we receive your cancellation request in that first 30 days after your registration, your access to the program and any related bonuses will be removed and any remaining recurring charges will be cancelled.
After the first 30 days from your registration you are committed to fulfill your remaining installments even if you can no longer participate in the program.
We hold firmly on the no refund policy. This decision to work together is a commitment on both of our parts. My team and I are committed to 8 months of putting our all into providing the best service and experience for you. You commit during these 8 months to taking full personal responsibility for your decision, investment, and experience in this program. As we have witnessed, that engaged commitment is what it takes to really reap all of the benefits of a program like this. Thank you!
Click here to close this section

Who can I contact if I have more questions?

Meet Your Coach | What You'll Learn | What You Get

Karla found more clarity about what's next
"I've always had an entrepreneurial spirit as well as a constant pursuit of self-identity, especially now living in a foreign country. This programme brought these two together and couldn't have come at a better time. I met amazing Asian women who although are in different situations than myself, brought me new perspectives both in the personal and business aspects. Jenn was very supportive holding the space throughout. The programme made me reflect more on my strengths as a unique individual and how that translates back to my business. In the end, I found myself having a clearer idea of what I wanted to do based on my personal priorities and made me very much ready to take on the next challenges headstrong."
Karla Magpayo
, 1st generation British-Filipina, popupoccasions.com

joy had no idea how much she needed a space like this
"When I first joined, I wasn't sure what to expect. Seeing faces like mine, hearing stories just like mine has been eye- and heart-opening. Jenn skillfully creates a space where we can be our whole selves, no matter what we bring to our group sessions. While we are all entrepreneurs and talk about strategy and tactics, we talk about so much more. I had no idea how much I needed a space like this. Being in regular community with other creative, intelligent Asian women who understand my lived experience without explanation has helped me not only weather the last few months but encouraged me to lean into my cultural identity. One of the things I wanted from this experience was to give less fucks about what other people think and now I'm giving a lot less fucks."
joy agcongay
, 2nd generation Filipina-American, gentlemarketing.com

Edna reconnected to her bliss and sold a picture book to a publisher
"With Jenn's insightful coaching, I found my creative and business mojo again. I broke through barriers of fear-based thinking and took decisive action in creating a business plan that resonated with my dreams and goals. I reinvented my brand, designed a new logo and created a new website. Most importantly, I took my stories and paintings to the next level, producing new and revised works with greater confidence and commitment.
I'm excited and grateful that I recently sold one of my picture books to a publisher and am now working on paintings for the book. I have found my *bliss* again."
Edna Cabcabin Moran
, Author and Illustrator, kidlitedna.com

Maring gained more confidence and landed a new client after our first session
"Just wanted to give you a little update and let you know that I booked a client!!! I did a discovery call, and she signed up for 10 sessions!!! So exciting! This time I felt much more confident pitching myself and in what I had to offer! I'm having a very proud moment 🙂 I even feel comfortable with charging a little more next time!
Already I feel like I'm getting so much with having accountability to you, clear action steps and goals! So thank you!"
Maring Higa
, Acupuncturist & Life and Wellness Coach, maringhiga.com

Natalie realized the importance of self-compassion
"It's funny, based on our last call, the idea you mentioned of 'self-compassion' really hit me. I didn't think too much about it but realized it's actually core to how I operate. Meaning for me to thrive, the notion of self-compassion is very important to help me move forward. I also decided on a new word for the year to focus on which is 'daring' so hopefully, some fun things will come out of that :)."
Natalie Woo
, Illustrator, nataliewoo.com

Mari grew her list + her income increased 30%
"As a member of the Cohort circle, I felt that I was in the company of kindred spirits who supported me, encouraged me to take chances and who didn't judge me when an idea didn't quite materialize the way I had originally envisioned. The feedback I received for reviving my nearly dormant newsletter helped me bring it back to life and pick up new subscribers every month. Also, Jenn's guidance for helping me get the word out in order to increase my client list has helped me grow my income by 30% year-on-year already."
Mari Pfeiffer
, Writer & Web Designer, maripfeiffer.com
I can't wait to Color Outside the Lines with you!