Name: Rebecca Badger
Company Name: Rebecca Badger Marketing
Website: www.workwithrebecca.com
Twitter: @RebeccaBadger
Note from Jenn: When I saw Rebecca Badger's Right-Brain Business Plan, it was truly like a ray of sunshine. Her fun visionary and detailed scrapbook came inside of a matching beautiful yellow cloth box tied with ribbon. The whole package perfectly embodies Rebecca's brand and bright personality. Seeing her plan in-person really gave me a sense of the impeccability, thoughtfulness, and quality she provides to her clients.
Rebecca took the Right-Brain Business Plan e-Course with her friend and local creative cohort, Kristina Ender. This dynamic duo really demonstrate the power of having an accountability buddy. They support each other by holding brainstorming sessions together, challenging and encouraging each other, and helping to keep each other on track with their goals. I've seen the buddy system work so well that I'm offering a special discount for my upcoming e-Course.
Read on to get to know Rebecca, drool over a few colorful pages from her Right-Brain Business Plan, and find out more about the special buddy discount.


What is your business and what makes your business unique?
I provide marketing and public relations services for women entrepreneurs in the lifestyle industry. I also work with established businesses that need to flex out their marketing department for projects on a contract basis. What makes me unique? I'd say my hybrid background in marketing communications, project management and graphic design, the education and custom templates I provide for businesses empowering them to understand and embrace their marketing, and my network.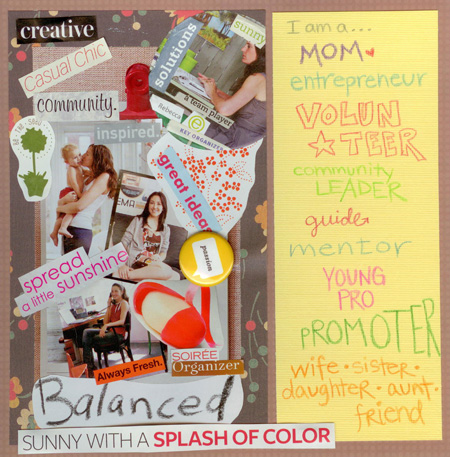 How has the Right-Brain Business Plan helped you? What is different for you and your business after approaching planning in a creative, visual way?
I was initially attracted to the RBBP because, as a new business owner and a business school graduate, I know the importance of having a plan, but have found myself intimidated by the process when it came to my own venture. I also had been craving time to focus on my business and seeking ways to incorporate more creative playtime into my day, so this was the perfect fit. The RBBP has provided all of this and more. I have also connected with a fabulous group of creative women who I know will be a wonderful resource going forward, which is invaluable.
After approaching planning in a creative, visual way I feel energized and inspired by what is possible and creating a plan around it. This process has made business planning fun. My vision for my business has been expanded and re-energized because of my participation in the RBBP process.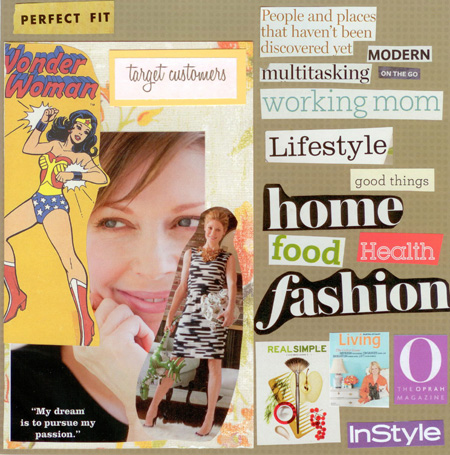 What goals (big or small) on your business plan have you already accomplished or have made progress on?
Identify opportunities to collaborate with other women entrepreneurs on projects.
In the initial phase of kicking off a new product offering with two other women who totally rock.
Expand public relations knowledge base.
Joined a couple online communities with good PR resources and saavy networks.
Made contact with two PR professionals.
Refine pricing and consider offering more concrete service packages.
Some initial work completed on putting together service packages. Allowing myself to get creative and not be limited by what I know others offer. Looking for ways to differentiate myself through the way that I simply present them services and process for approaching marketing for entrepreneurs.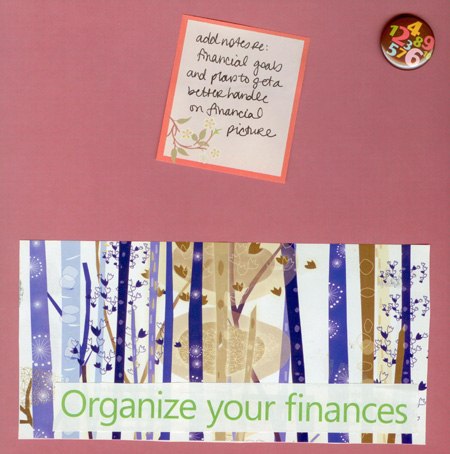 Is there anything you'd like to share about your Right-Brain Business Plan in terms of what it's made out of or how you made it?
I wanted to make sure that my RBBP would be easy to update as my business progresses, so I chose a format that would allow for that. I found this bright yellow scrapbook hidden in my craft closet and its perfect for me! It has plastic sleeves that hold pages and are also good for just slipping miscellaneous cut outs, notes, etc into. I left quite a bit of white space throughout so that I can fill in as I become more clear on different areas of my business. At first the white space made me uncomfortable, but my accountability partner Kristina (pictured below with me at one of our work sessions) encouraged me to embrace it. And I have!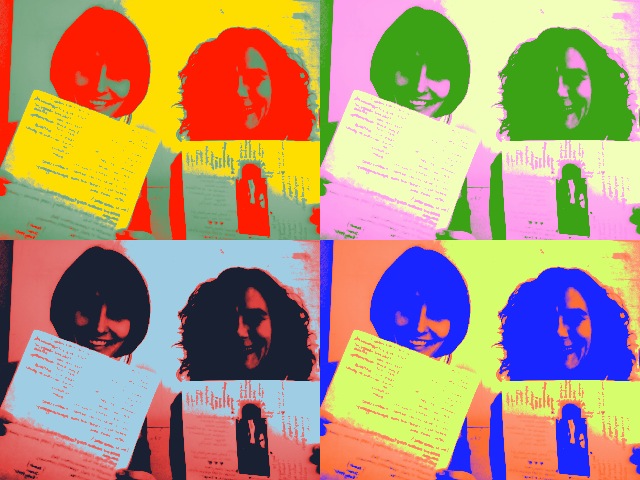 Special Buddy Discount for e-Course
How about doubling your planning pleasure, by signing up for the upcoming Right-Brain Business Plan e-Course with one of your creative cohorts? You can meet in-person like Rebecca and Kristina do, or you can meet virtually via phone and/or e-mail, like other past participants have. Either way, you're sure to accelerate your progress big time! When you register for two participants, you'll get an extra $50 off (each person will save $25). See instructions on the registration page.