Name: Elaine Coombs
Company Name: Elaine Coombs Fine Art
Website: http://www.elainecoombs.com
Twitter: @ElaineCoombs
Facebook: http://artist.to/elainecoombs/
Note from Jenn: Elaine Coombs is an amazingly talented painter from the San Francisco Bay Area. I feel so calm and centered whenever I see her majestic landscape paintings of beautiful trees. It's like being right there hiking in the forest breathing in the fresh air. I had the pleasure of having Elaine in a teleclass a couple of years ago and it's been cool to see her business continue to flourish. Below Elaine shares a bit about her creative process when she paints and the importance of having an accountability buddy in her business. Very inspiring! (All images in this post courtesy of Elaine Coombs).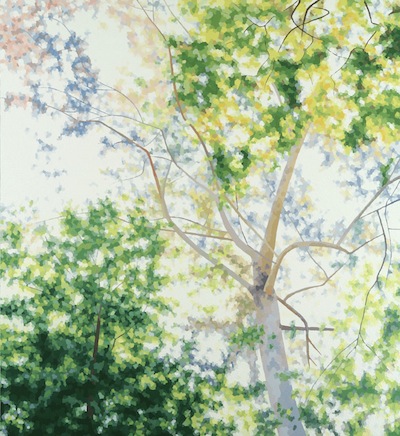 What is your business and what makes your business unique?
I am a fine artist – painter.  I sell my paintings through galleries nationally in New York, San Francisco, San Diego and Seattle.  My work is derived from a fascination with the rhythms, colors and patterns of the natural world.   Local and national forest environments inform and inspire my acrylic paintings.  Luscious studies of light laden trees depicted by thousands of dots of color create a pixilated surface that blurs the line between the abstract and representational painting genres.
How has the Right-Brain Business Plan helped you? What is different for you and your business after approaching planning in a creative, visual way?
Creating the RBBP helped me to get organized and focus my efforts on expanding my business.  As a solopreneur, there were a lot of aspects it seemed I didn't have time to address.  Having a visual plan (which now hangs in my studio), has helped me keep a clear focus on the future, including all of the aspects that will work together to achieve my future goals.  Looking at it inspires me everyday.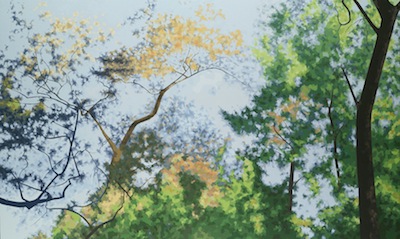 What goals (big or small) on your business plan have you already accomplished or have made progress on?
I have already set up an accounting system and keep track of my income and expenses on a monthly basis. I can run reports when needed and it is easy to see whether I am reaching my financial target either quarterly or year to date.
I have reached my goal of sending out submission packets to new galleries across the United States and Canada, along with local and regional museums, in an effort to create more visibility for my paintings.  As a result, there are two new galleries that now carry my work, and I have been featured in several group shows.  Approaching new art venues is something I rarely made time to do in the past yet is extremely important to the growth of a professional artist's career.
How do you use your creative intuition in your work?
To create my paintings, I work from small photographs taken on walks in local and regional forest environments.  Choosing the spot to photograph is intuitive and emotional – it just has to feel right.  After that initial connection with the place, I will go back into the studio and choose several photos as source material for my work.  Then I choose the size that I will paint it in and the material (canvas or paper).  Generally the more complex the image, the larger the painting.  But the most intuitive part of the process for me is in the act of painting itself.  Although I use a photograph as my basis, it is the translation of that photograph into paint, into the dots of color that are the signature of my style that is the most intuitive.  I also think that it is this aspect that creates the most dramatic effect in my work.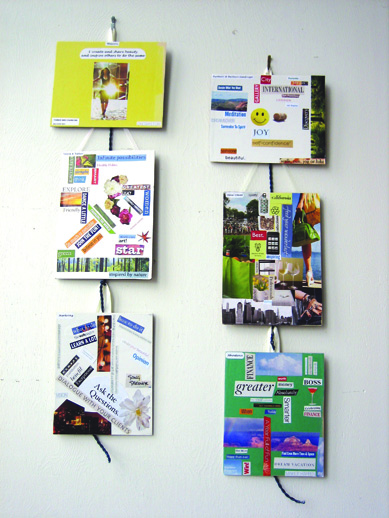 Is there anything you'd like to share about your Right-Brain Business Plan in terms of what it's made out of or how you made it?
The plan is a hanging wall piece made up of 6 panels hung in two rows, adjoined by ribbon.  Each panel contains collaged words and imagery that represent my goals regarding a particular subject.  A final seventh panel exists in the form of a small clipboard that is independent from the rest.  I use this to keep track of my immediate goals and action steps and can be easily modified.

Is there anything else you'd like to share?
I wanted to mention that since our class, I have been corresponding with an accountability buddy – fellow artist Michelle Casey, first on a weekly basis and now on a monthly basis. Via email we share our current progress toward our goals and accomplishments while providing feedback and support for the other persons efforts.  This has been a wonderful tool that has greatly aided in the momentum of pursuing my plan.  It has created a much-needed support system and cheering section for my business that I was craving.  Not enough good things could be said about the positive aspects of having a creative cohort like Michelle, who knows all your dreams and plans and is happy when you succeed.
Although challenging at times, I really enjoyed creating this plan.  It serves as an inspiring testament to all of the aspects that go into creating a successful creative career in the arts.  I am proud of myself for what I have already accomplished and look forward to a bright future.  Thanks Jenn!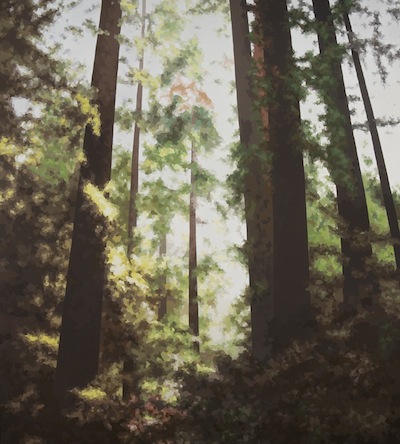 Creative Resources
Click here for more information about Elaine Coombs.
Click here for Right-Brain Business Plan™ e-Course and the Right-Brain Business Plan e-Book.