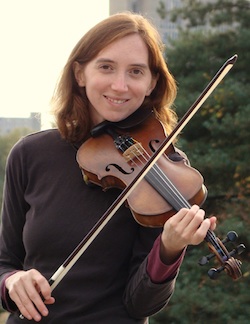 Name:  Addie May Hirschten
Company Name:  Fantastic Fables
Website: www.fantasticfables.net
Blog: http://fantasticfableswithaddiemay.blogspot.com/


Note from Jenn: We received a lovely e-mail from Addie May Hirschten letting us know about how the Right-Brain Business Plan book helped her see the bigger picture of her business more clearly. Addie is a creative soul and storyteller and I was delighted to hear how having her colorful and visual plan all in one place has helped her prioritize and accomplish her goals. Thanks for sharing your story with us, Addie!


What is your business and what makes your business unique?
Addie Hirschten is a painter, writer and professional storyteller. She began her storytelling career as a children's librarian.  After moving to Indiana, Addie started the company Fantastic Fables as a creative outlet for her theatrical programs.  She now performs throughout the state of Indiana in libraries, schools and camps.
Painting and drawing have always been of interest to Addie.  Fresh paintings are posted every few days on her blog and website. She earned a Bachelor of Fine Art from Appalachian State University and currently teaches for the ArtReach program of the Indianapolis Art Center.
Behind all of Addie's artwork and performances is a message of celebration for the world we live in.  By passing on paintings and stories, she hopes to plant seeds of inspiration, hope and healing for others.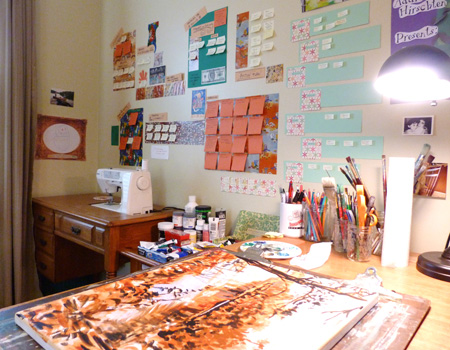 How has the Right-Brain Business Plan® helped you? What is different for you and your business after approaching planning in a creative, visual way?
In the past I have jotted down ideas on little scraps of paper or in journals.  After reading the Right-Brain Business Plan I decided to create a vision board on the wall of my studio.
By cutting pictures and layering post-it notes I made a concrete collage of my hopes and dreams.  The process of creating this visual business plan helped me to see more clearly where I want to go.  I was able to see how different projects overlapped, understand the purpose behind them and connect the projects to the correct audience.  This will help with my marketing efforts.
The best part of creating this business plan is that now my ideas are all in one place.  From that spot in my studio I can interact with the plan every day.  I can add to it and change it (without turning on my computer!)  Like a friend the plan taps me on the shoulder as I am sitting at my desk and reminds me to keep my projects in perspective.
What goals (big or small) on your business plan have you already accomplished or have made progress on?
One element I love is the "sticky-note project plan."  I created a schedule section in which the "action" elements are broken up into monthly sections for the next two years.  Before creating my plan my future projects extended only into the next few months.  By pushing my projects further into the future I realized that they can be larger.  I then looked back at my "business vision" and the list of my wildest dreams.  From that I recognized that I should have the larger projects be of higher priority.  I have begun to tackle those larger projects.  These goals now take precedence over the more immediate day-to-day problems.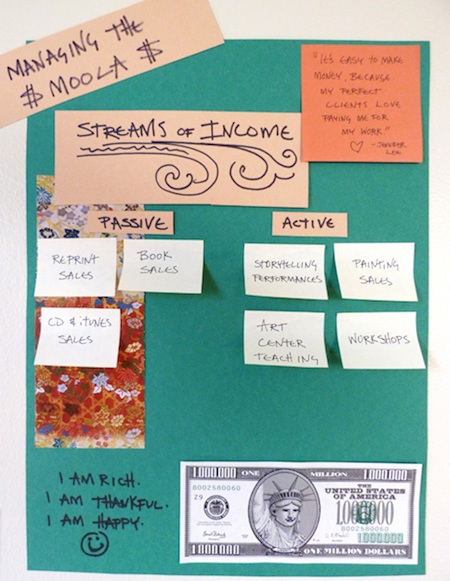 How do you use your creative intuition in your work?
While I love planning, scheduling and having my ducks in a row, my favorite work days are ones when I can just follow my nose, paint, record a storytelling podcast or just read.  It is wonderful to relax into the creative process.
The challenge is to create balance between the artistic play that produces our best work and the focus that is needed for success in business.  Taking the time to create a business plan helps.
What's your big vision for your business?
Ralph Waldo Emerson wrote:
"Success is to laugh often and much,
to appreciate beauty,
to find the best in others,
to leave the world a bit better,
to know that even one life has breathed easier because you lived."
It is my hope that my work reflects Emerson's message.  When I paint I am honoring the beauty of the natural world. When I share stories I am passing on passion to others.  My vision is that I can share my message of hope with anyone who needs to hear it.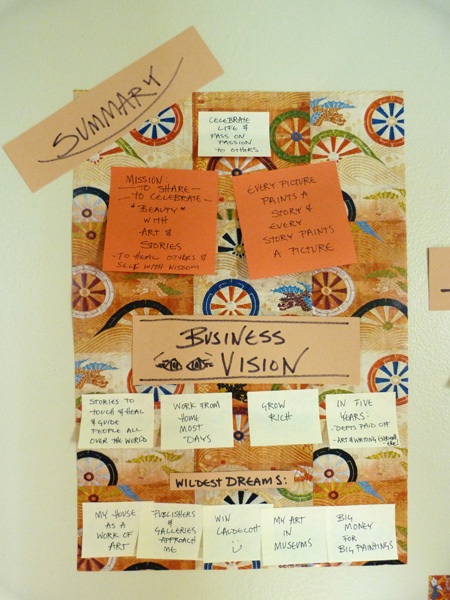 What advice do you have for other creative entrepreneurs?
Don't stop!  Don't ever stop creating and celebrating life. Award winning illustrator, Ashley Bryan wrote, "I never gave up.  Many were more gifted than I but they gave up."
One simple secret to success is to take your art supplies out of the closet.  In the past year I moved to a new house where I now have a studio room.  I can sit down at any moment and continue with my creative projects.  Whether you devote a room to your art or a desk in the corner of the kitchen make your supplies easily accessible.  Create space and time for your work.  It makes it easier to keep going with your vision.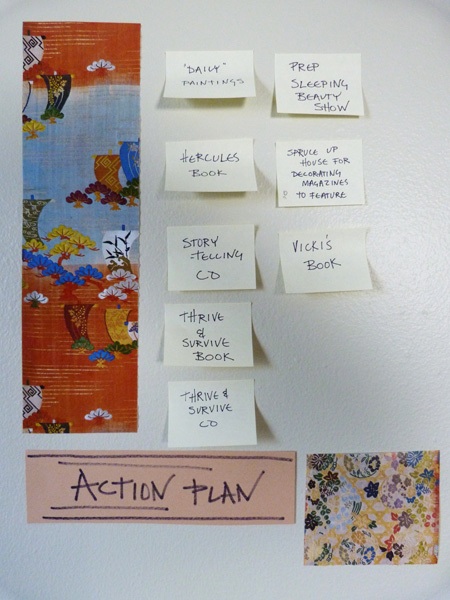 Is there anything else you'd like to share?
I share new paintings, stories and projects every few days on my blog.  I welcome your thoughts and comments.
Thanks again Jennifer Lee for writing the Right-Brain Business Plan!  It was not only a fun read, but it is helping me to form my future in a whole new way.

Creative Resources
Click here for more information about Addie May Hirschten. See her blog post about her Right-Brain Business Plan®.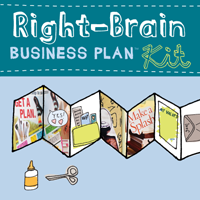 Want to create your own Right-Brain Business Plan®? The Right-Brain Business Plan® Kit includes supplies to make your own accordion book style visual business plan.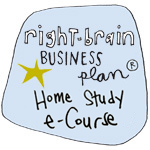 For more support with developing your RBBP, check out the Right-Brain Business Plan® Home Study program.