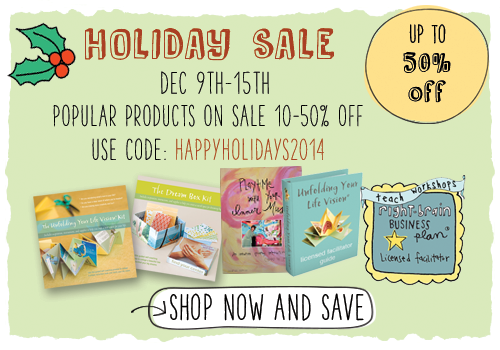 Save Up to 50% on Popular Products : PLUS A SPECIAL BONUS GIFT TO HELP YOU SHARE YOUR GIFTS

You can save between 10-50% on some of my most popular offerings including my autographed books, my kits, the 2014 Video Summit Booster Pass, the Associate Coaching package (get individualized support to kick off the new year), my licensing programs, and the RBBP Home Study.
Grab that goodie you've had your eyes on or get a gift for a friend.
Use code HAPPYHOLIDAYS2014 at checkout.
PLUS, when you purchase a sale item through Dec. 15th, you'll receive a special BONUS GIFT – my popular Mentorship Program video teaching on Packaging Your Gifts (valued at $79).
I have to say this teaching in particular has become somewhat of a legend in my Cohort Circle – you gotta watch it to find out why! (Hint there are lots of visuals and light-bulb moments).
In this 65+ minute teaching you'll learn how to turn your passions and gifts into products or services that you can offer right away. How's that for jump starting your moola-making capabilities for the new year?
So to recap: When you purchase any Holiday Sale item not only will you save up to 50% off the regular price, you'll also get a valuable bonus gift! For example, you can get my new book Building Your Business the Right-Brain Way for just under $18 AND you'll get access to one of my most popular video teaching sessions (valued at $79) from my Mentorship Program. Pretty sweet deal, right?