Ever wonder what's with all those sticky notes on the wall behind me in my videos? I've been asked about it a lot and I've turned several people on to using the system as well, so I thought I'd share my tips in a Livestream video chat.
Below is a recording of a session I did recently where I share more details of how I use my colorful wall calendar and how it helps me plan my business.
And in the same video session I also interviewed Ane Axford of sensitive + thriving who is a licensed facilitator for my Right-Brain Business Plan® and Unfolding Your Life Vision® licensing programs. Since both Ane and I are highly sensitive people, we chat a bit about her approach to thriving as a sensitive soul and about how to be a highly sensitive entrepreneur.
You can read through the accompanying chat log here.
Announcement: Right-Brain Business Plan® Workshop Simulcast – Feb. 4th-5th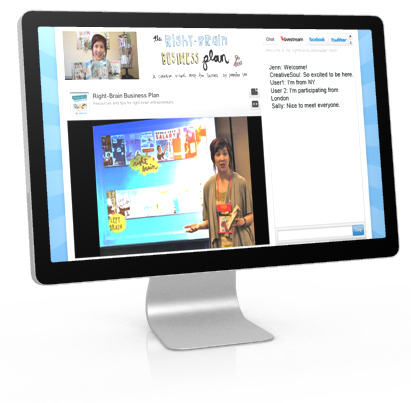 Not in the Bay Area, but still want to take the upcoming Right-Brain Business Plan weekend workshop with RBBP author and creator Jennifer Lee? We've just announced an option for you to participate remotely from the comfort of you own home!
Jumpstart your business plan in a weekend by joining us on the live workshop simulcast February 4th-5th. You can find out details here.