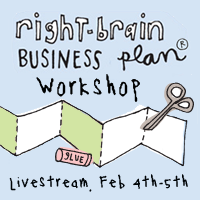 Are you ready to dive into your business plan and have your 2012 roadmap ready to go in just one weekend?

Have you been wanting to take a Right-Brain Business Plan® workshop but don't want to travel?

Have you been curious about the Right-Brain Business Plan® e-course but don't want to commit to an 8-week program?

Looking for a business-building program that won't break the bank?

The weekend of February 4th-5th, author and creator Jennifer Lee will be leading an in-person RBBP workshop at Teahouse Studio in Berkeley, BUT…
…You don't have to be in the Bay Area to take advantage of this rare opportunity to experience this intensive session with Jenn based on her bestselling book…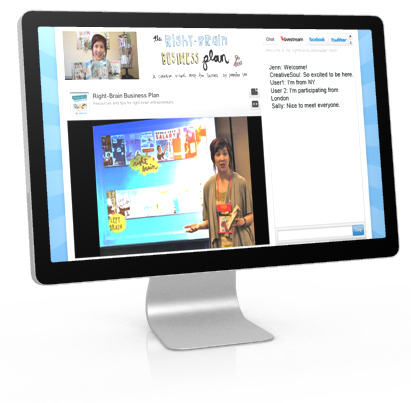 YOU can participate live and online, right from your computer wherever you are in the world (for a super affordable price)!
Read on for details about the simulcast.
Through live web video streaming and chat, you'll experience how to create your own Right-Brain Business Plan® and learn simple tools and techniques to leverage your creative genius, bust past the obstacles that have been keeping you from focusing on your business plan, and make more money doing what you love.



No travel costs.
No time away from your office.

No need to lug your files and art supplies on a plane.
Heck, you can even participate wearing your pajamas!
Save moola AND
still get the same information and learning you'd get from being in-person!



By the end of this simulcast, you will have experienced how to:
Clarify your business values and vision
Paint a picture of your business landscape
Determine what products and services you'll offer
Understand your competition, and what makes you stand out from the crowd
Identify who your perfect customers are and how you'll reach them
Set and manage money goals that honor your values and align with your life
Select your circle of support to help you get the work done
Map out concrete action steps to bring your Right-Brain Business Plan® to life

"If you don't have a plan for your business, you need one. If you want to have fun learning how to develop a plan, take this course.
This course takes the 'scare factor' out of creating a business plan
.
Jenn is a dream instructor
and I am in awe of her genius in creating this course. Her kindness, professionalism yet fun communication was so much more than I could have imagined. I love her."—Tracey Asai, Tracey Asai Designs, www.traceyasaidesigns.com

Worried that you won't be able to be in front of your computer for the entire weekend? Don't fret! You'll be able to pause if you need to take a break. AND you can watch the workshop for two weeks after the session ends. The recordings will be available immediately and it will be as simple as visiting a password protected webpage.
You can review exercises that you want to go deeper in or catch up on any points that you missed live.
For one affordable price you'll get:
Live access to an online video feed of the Right-Brain Business Plan® workshop led by author and creator Jennifer Lee at the gorgeous Teahouse Studio in Berkeley, CA
Real-time chat interaction with other simulcast participants and the chance to ask your questions to Jenn and the group via chat when you join us live
Access to the recording through Sunday, February 19th so that you can refer back to the materials and exercises. Recordings will be raw and uncut so you won't miss a thing.
Downloadable chat transcripts so you can refer back to the juicy conversations with other simulcasters
Downloadable illustrated play sheets to help you map out your ideas and plan visually
Downloadable slides to take notes on as you go through the workshop
A discount on the Right-Brain Business Plan book, kit, home study program, and upcoming Right-Brainers in Business Video Summit to supplement your learning and keep your momentum going

Because Jenn is stretching her own innovation muscles and trying something new, you'll be joining us in this experimental creative playground at a significant savings. We'll be broadcasting at mobile quality so you should be able to access the video from your smart phone or iPad.
Claim your virtual seat to participate in this 2-day workshop for just $97.
For a limited time, grab your virtual seat for the super affordable rate of $77. Early-bird rate goes through Tuesday, January 31st at 9pm PT so act now to enjoy super savings for this two day-experience.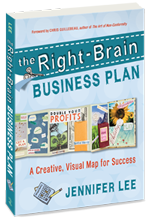 The book The Right-Brain Business Plan: A Creative, Visual Map for Success by Jennifer Lee is required for the workshop.
You can purchase it on Amazon.
Or if you want to purchase the book and/or Right-Brain Business Plan® kit from us directly, you'll receive a discount coupon for 20% off with your simulcast registration confirmation.
Please note that items within the U.S. are shipped within 2 business days of receiving an order and are sent Priority Mail (2-3 business days). International orders may take two weeks or longer.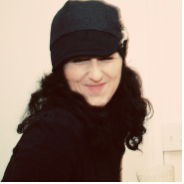 "The RBBP
provides you with a space and new language
to produce a business plan that matches you creatively. This is not a one-size-fits all, boring template of a plan. This course
requires you to engage in your deepest self, your most authentic self
, and, when you do this, the most surprising and insightful moments appear to
teach you about how to run your business better and with more joy
."
Would you rather join us in-person?
Come plan and play with us at the gorgeous Teahouse Studio space.
In-person participants will benefit from:
individualized attention and coaching with Jenn
face-to-face interaction and feedback from fellow creative cohorts during group discussions, show and tells, and partner exercises
a bonus gift of the 8-module Home Study program to help you maintain the magic and momentum
focused time in a super inspiring space free of distractions or interruptions – time just for YOU and your business
and more!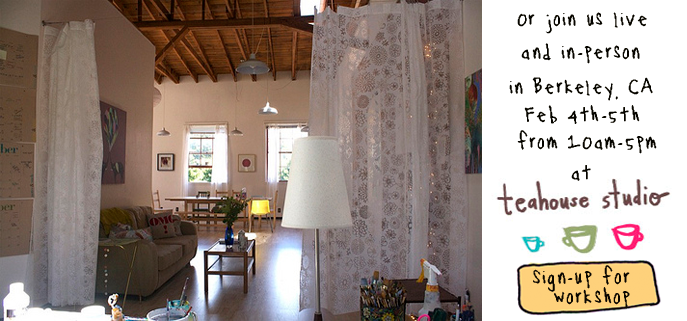 How will the simulcast work?
Upon registration for the simulcast, you'll receive a confirmation message. We will send another e-mail closer to the date of the event with the special website link, password, and more detailed instructions. You will also receive links to download the play sheets and slides we will be referencing during the workshop.
Starting at 9:30am PT on Saturday, February 4th, you will be able to access the Livestream channel and we'll get the workshop started at 10:00am PT. You will be able to watch live and ask questions via the chat. You will also be able to pause the streaming video if you need to pop out for a break. If you can't join us live or you want to revisit parts of the workshop, you'll have access to the video recording through Sunday, February 19th.
I'm in the Bay Area and am wondering what the difference would be participating in the live in-person workshop versus doing the simulcast?
Participating in the in-person live workshop will give you a more intimate and hands-on experience with the materials and more personalized support and attention from Jenn (at a rate that is much more affordable than working with her 1:1). Plus, you'll have the opportunity to interact with, get invaluable feedback from, and deepen relationships with your fellow creative cohorts in the room. Plus you'll receive the Home Study program (valued at $147) including monthly group coaching calls with Jenn as a bonus for participating in the in-person workshop.
Participating in the simulcast will give you access to the same information and materials as the in-person workshop, however, your interaction with Jenn will be not as personalized and high-touch. You will be able to watch the recording through Sunday, February 19th, so you can follow along at your own pace.
What do I need to participate in the simulcast?
Required: You will need a copy of the book The Right-Brain Business Plan: A Creative Visual Map for Success to follow along with the workshop. (PLEASE NOTE: After you register for the simulcast, you will receive a special discount code for getting 20% off of the book and/or the kit when you order directly from me – shipments are sent Priority Mail in the U.S.).
Technical requirements: A computer, Internet access, and the ability to watch online videos. If you can watch streaming videos on http://www.livestream.com, you'll be good to go. Make sure you have the latest version of Flash on your computer.
Supplies: We'll be doing various creative activities, so here are the basic types of supplies we'll use – paper, pens/markers, magazines, scissors, glue, sticky notes, but you're encouraged to use whatever materials that inspire you! If you want to create an accordion style business plan, you'll also get a discount code for getting 20% off the Right-Brain Business Plan® Kit.
An open mind and willingness to have fun!
How will I be able to interact with the people who are at the in-person workshop?
When you are watching the live simulcast, you'll be able to participate with other simulcasters AND Jenn and the in-person participants via the chat. We will have someone checking into the chat periodically to see if there are questions and/or to share any insights and learnings from simulcasters. We will do our best to make you feel connected and heard!
What's the difference between this simulcast, the in-person workshop, the Home Study, the e-Course and the Video Summit? How do I know which one will be the best fit for me?
The in-person RBBP workshop is an intensive two-day session where you'll be led through the materials and exercises in a hands-on, creative, and engaging way. You'll have the opportunity to interact with and get feedback from your fellow classmates. This is high-touch and a rare opportunity to get to work in-person with Jenn. In-person workshop participants will also get access to the Home Study program as a bonus. This option is good for you if you're in the Bay Area or you're willing to invest in travel to participate and if you want more individualized attention and support from Jenn.
The simulcast is a live video feed of the in-person workshop. We will have a video camera that will stream unedited live video that you can watch via your computer, smart phone, or iPad in real-time or as a recording through Sunday, February 19th. Simulcasters will be able to connect with other simulcasters and Jenn and the in-person participants via the live chat. This option is good for you if you want to finish your plan in a weekend, you want to participate from the comfort of your own home, and you want to save on travel costs.
The Home Study is an online, self-paced multimedia program that takes you through the workshop content in 8-modules. The material is presented via short video recordings of Jenn teaching the concepts and showing examples, PDF reading materials, exercises/assignments, and an online community to connect with other participants in the Home Study. In the Home Study you will get the module links sent to your in-box three times a week for 8 weeks, however, you can follow along on your own time. This option is good for you if you want more time to go through the process but still want some structure. Plus you get access to monthly group calls with Jenn.
The RBBP e-Course is a facilitated online program. It follows the same structure as the Home Study, but it is delivered during a scheduled 8-week period and is facilitated by Jenn or other designated facilitators. There is no facilitated e-Course currently planned soon.
The Right-Brainers in Business Video Summit is an annual virtual event hosted by Jenn and features a panel of leading entrepreneurial experts. This is more of an interactive conference type format rather than a workshop or course. You will learn tips and tools for managing your business in a creative way. The next video summit is taking place February 27th-March 9th and is free to watch. This option is a good for you if you're looking for a no cost way to get exposure to our right-brain way of approaching business. If you want to reference the material later, you will have the option to upgrade to have access to recordings, transcripts, and coaching (more details to come in February).
What if I have more than one business?
I know many creative entrepreneurs have a plethora of passions. If you have multiple businesses or business ideas, I suggest focusing on one business as you go through the exercises. It will keep things more simple and manageable for you. Once you go through the process for one business, it'll be easier to repeat it again for the next. When you're done you can look at both plans to see the big picture of your creative enterprise.
What if I've been in business for awhile already or if I already have a business plan?
The Right-Brain Business Plan® process can be used to flesh out a specific new product or service you're wanting to offer or to explore how you will take your business to the next level. You will learn tools and techniques for approaching your business from a fresh perspective. If you've been feeling bored by your business or you've lost connection with your authentic expression, this workshop will give you the creative spark you need.
What if I can no longer participate in the simulcast and need to cancel?
The simulcast registration fee is non refundable.
Who can I contact if I have more questions about the simulcast option?
Please e-mail your questions about the simulcast to info @ artizencoaching.com and we'll get back to you soon!
If you have questions about registering for the in-person workshop, please e-mail Teahouse directly at teahousestudio @ gmail.com.