Last weekend, I led a Right-Brain Business Plan® workshop at the gorgeous Teahouse Studio in Berkeley. Wow, what a super inspiring and delightful group!! I'm so excited about what each of them are up to.
One of the themes of the weekend was around asking for help. That's definitely something that can be challenging for entrepreneurs because we're so used to doing things on our own. It was cool to see everyone practicing those asking for help muscles as they participated in various exercises together. So much more clarity and action comes from talking about your ideas with other like-minded peeps.
I can't wait to see what else unfolds for these fabulous right-brain entrepreneurs!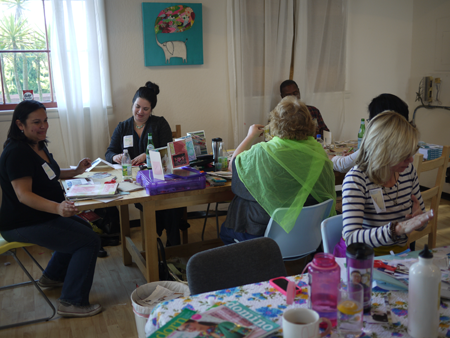 One of my RBBP licensed facilitators Tammi Spruill of Fruition Branding participated with us. You can watch a video chat interview with us both here. Tammi showed us the RBBP she made during the workshop and shared with us some great tips on creating your brand.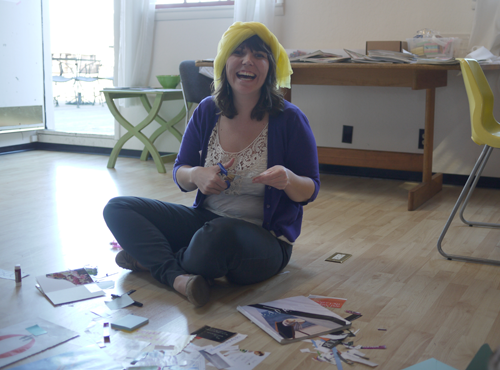 I love this picture of coach and artist Tiffany Moore (she's also one of the Teahouse Studio founders). She lights up any room like a vibrant ray of sunshine! Here's what Tiffany had to say about the workshop, "I kept waiting for it to get scary and hard and it never did! If the thought of making a business plan causes terror, you will be surprised by how fun Jenn makes the whole experience."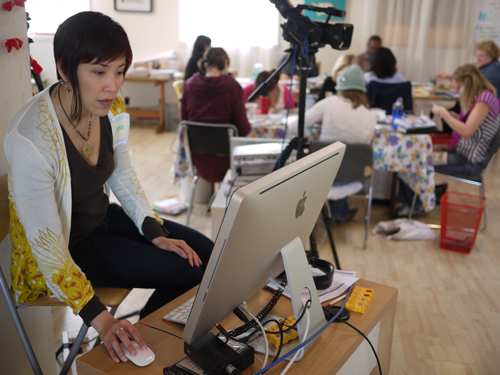 In addition to the fabulous group we had gathered at Teahouse, we had remote participants joining from all around the world via a live simulcast. They got to see and hear me via video and they were able to interact with me and each other through the chat. It was so cool knowing that other creative entrepreneurs were working on their plans right along-side us!
One of our simulcasters Coral shared with us, "I'm really glad that I was there for most of the first day, the chat was great. And being able to do the course from the comfort of my home and still connecting was lovely."
Another simulcaster Stelladanza shared photos of her beautiful plan on our Facebook fan page.
You can see lots more fun pics from the weekend on our Right-Brain Business Plan® Facebook fan page.
If you're wanting to be in community with other creative entrepreneurs, join us for the free Right-Brainers in Business Video Summit from February 27th-March 9th. It's going to be a virtual meeting of the minds (both right AND left brains!). I'll be interviewing 10 experts about business-building topics such as pricing, marketing, legal, social media, and technology. And since we'll be using video chat, you'll be able to interact with me and the other participants live. Hope to see you there!