We had an amazing first week at the 5th annual Right-Brainers in Business Video Summit!
We've been daring ourselves to ask "What's Next?" in our business and learning from an inspiring line-up of speakers including artist and author Lisa Congdon, Amethyst Wyldfyre of the Empowered Messenger, Corbett Barr of Fizzle, author Sam Bennett of the Organized Artist Company, and Andreea Ayers of Launch Grow Joy plus live Spotlights with Monica Garcia, Jo Klima, and Alison Finlay who are all part of my Mentorship Program.
I've also been giving some mini-teachings around the material in my book Building Your Business the Right-Brain Way including highlighting some of the colorful playsheets and exercises.
If you missed our free live video chat sessions or 48-hour replays, you can catch some highlights here. I've put together some of my favorite highlights of the event to date, so take a peek at the video above to see what you've missed (or to be re-inspired!).
What this video doesn't capture is the energy of our vibrant chat room filled with hundreds of entrepreneurs from around the world connecting and learning in real-time. So if these videos spoke to you, imagine what it would be like to share your light-bulb moments or ask questions of me, the speakers, or your fellow cohorts in real-time.
Our next session starts at 10am PDT Monday, March 16th, so check it out! I'd love to see you.
You can still join us for free and catch up on these amazing interviews.
During our final week of the summit we'll have interviews with Sara Avant Stover, Tad Hargrave, Kate Northrup, Eric Maisel, and SARK. Plus Spotlights with Katherine Carey, Virginia Simpson-Magruder, and Sheila Pai who are all part of my Mentorship Program.
We're also giving away more than $700 worth of prizes throughout the whole summit!
Looking forward to connecting with you!
Until then, you can see what nuggets participants are taking away by checking out the #rbbiz hashtag on Instagram.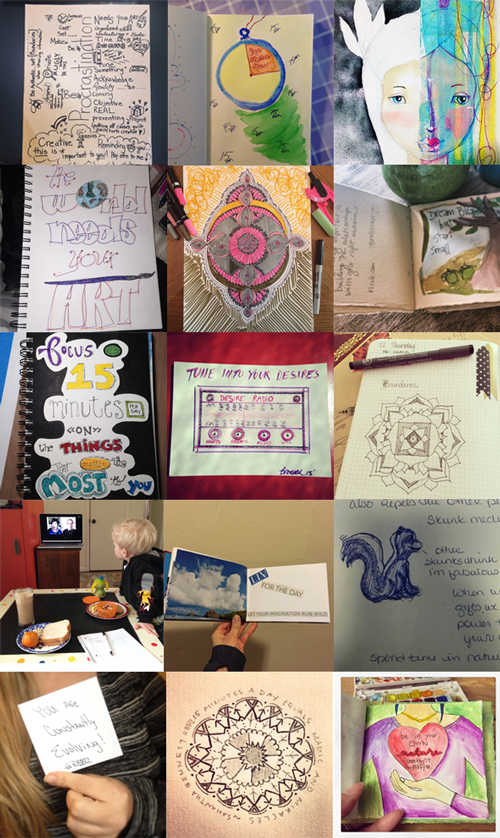 Featured Instagram pics from top left to bottom right @jbcstudios, @creativelyonward_julie, @annabelle_roa, @applejoydrt, @blisskitco, @thecollagecafe, @coyotemoonpapercrafts, @deluxewen, @hdlnow, @jessiemariestudio, @livde_haan, @scrapsoflife, @sharonrosetessandori, @82birds, @jennlee