When I think of action, clarity, and scrappy resilience, I think of my friend and awesome client Tiffany Han. I've known Tiffany since gosh maybe 2009 when we were Twitter buddies and have had the honor and pleasure of being her coach since the end of last year.
I've watched her raise her hand and say yes to getting 100 Rejection Letters and growing her business like gangbusters in the process (all while raising newborn twins btw!). Tiffany models what happens when you take bold action in your business, embrace creative risk and go after the things you want – even if they're outside the boundaries of your comfort zone.
Tiffany and I had the chance to chat for a quick bit about what inspired her to seek out rejection (I know sounds a bit crazy, right?). And about how collecting rejection letters has helped her sky-rocket her visibility and income. She also shares more about her signature 100 Rejection Letters program: a year-long coaching and mentorship program where she teaches you how to master the art of making the ask, clarify the story that your brand is trying to tell, achieve focus towards your goals, and create a habit of sustained action towards building a business you love – without letting fear hold you back any longer.
Not only will she be teaching you all of her pitching and branding secrets over the course of the year, she'll also be sharing a behind-the-scenes look at her own business as she continues her keep getting rejection letters. And she'll kick your ass into gear as the best bad-cop-cheerleader you didn't even know you needed!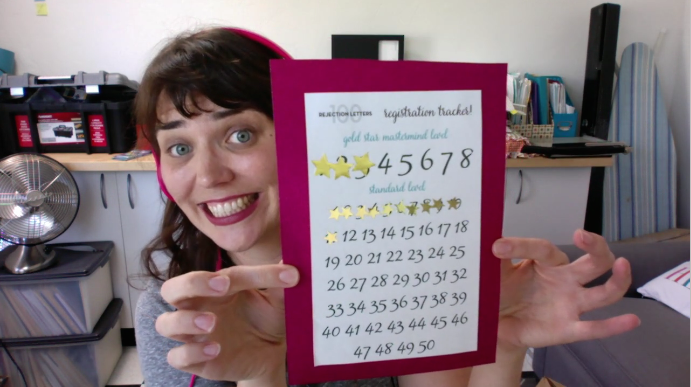 With a blend of mentorship, structure, support, and accountability, you'll be able to start doing all of the work you've only been thinking about doing up until now. And you'll walk away with a heaping dose of confidence, a jam-packed toolbox, and a business that is killing it. And the world will finally know what a badass you are!
Early-bird registration is open through October 19th and Tiffany is offering a bonus 45-minute 1-on-1 session to the first 50 registrants! BTW, her top level program is nearly sold out!
The time to start is right now. (No. Really. Now.)
(A quick heads up that, yes, clicking the links here throws some affiliate coin my way, but – as always – I'd never share something with you that I don't stand behind fully. This woman rocks!)