Are the summer months typically slower for your business?
If so you're not alone. Just because it can be more challenging to fill programs or launch new products while all of your peeps are on vacation, don't fret.
There is actually an upside to downtime.
Not only do you have more space to increase self-care (which I highly recommend!), but you also have time to focus on behind-the-scenes aspects of your business that may get neglected when you're running full steam ahead.
Sure, the slower months can sometimes spur you into an unconscious hustle/scarcity mode that causes a fruitless frenzy. But you can choose another more proactive approach – one that focuses on what's going to have the biggest impact on your business in the long run.
Use the Embracing Ease play sheet from my book Building Your Business the Right-Brain Way to jot down notes on ways you can improve your systems and get more support.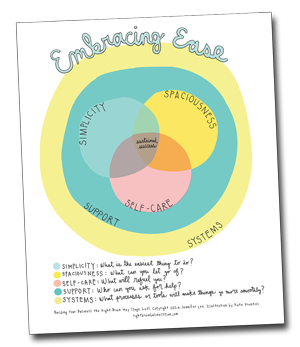 And here are some additional prompts to help you make the most of your downtime:
What to-dos always fall to the bottom of your list but you know will drastically improve your business or bottom line?
Where are there bottlenecks in your processes? Do you know where you're losing money? Are there areas of your business or operations that have you feeling frustrated, confused, in the dark or caught off guard?
Do you need a better way to track data like sales, inventory, profit, or leads to help you make better decisions? When my team and I created a simple shared Google spreadsheet to track raw materials and inventory of kits, we were able to finally stay ahead of when we need to replenish supplies.
Is there a waning program or product that is due for a reboot?
What improvements will make your brand experience that much more special and engaging? What will really make a difference for you, your team, and your customers?
Is there a back-end tool that will help integrate information or manage content more effectively so that you can focus on delivering value?
The silver lining of slower months means more space for thinking strategically and tending to your smooth sailing systems.
Focusing on infrastructure doesn't mean you need to invest in expensive systems (which can be especially challenging when sales are down). Remember, a nifty spreadsheet can work wonders, so get creative about no-cost solutions or process improvements.
Also, keep in mind that you don't need to overhaul everything. To start with, just pick one small infrastructure project that you can implement in a couple of weeks.
As your business matures you'll start to learn the natural cycles of your year. With that knowledge you can set aside money during your peaks to invest in infrastructure during your valleys.
If you're experiencing some downtime right now, how will you maximize this pause? How can you plan ahead to take advantage of other lulls in your business?