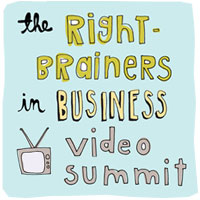 Today we had Pam Slim author of Escape from Cubicle Nation on the Right-Brainers in Business Video Summit sharing her wisdom about looking your finances in the eye. She brought such great practical advice to the concepts covered in Managing  the Moola – Chapter 5 of my book The Right-Brain Business Plan.
Plus we had Tori Deaux and her celebrity business plan Emmit join us live for a Show & Tell Spotlight.
Here are some of the lightbulbs and learnings from the #rbbiz twitter stream:
@Cassandrarae: About creating a budget for your biz: You can't know everything – It's okay to guess. Thank you! @artizencoaching #rbbiz
@lunajaffe: #rbbiz Write a love letter to money– What would you say? How do you feel? What do you want? Love it up!
@panoplyink: Look your money in the eye. Understand your relationship with it, shake hands and get down to business. #rbbiz
@avonessen: so great to have alter egos for the business my business plan persona, or my marketing and sales persona #rbbiz
@GoldnParachutes: Bringing in significant streams of revenue does not = greedy. What will money really allow you to do to enrich your life? #rbbiz
And some highlights from the chat:
Elizabeth C.: looking finances in the eye, standing shoulder to shoulder with your finances, linking arms or holding hands with the numbers — really important
Carolyn S.: Even financial analysts have to guess to build models. But it's your business, so your guesses will probably be more educated than you realize!
Jeremie M.: my budget secret: weekly cash budget. When cash is gone we are done spending for the week
Don S.: actually have a date friday and sat eve to go the a Faerie festival for drinks dinner and dancing, taking my moola along
Virginia S.: My moolah is going to take me out and buy me nice things.
Connect with your tribe of right-brain entrepreneurs the rest of this week at the Right-Brainers in Business Video Summit.
If you'd like to catch a replay of today's session, a recording is available until 9pm PST Tuesday, March 8th. You can sign-up for free at summit.rightbrainbusinessplan.com.