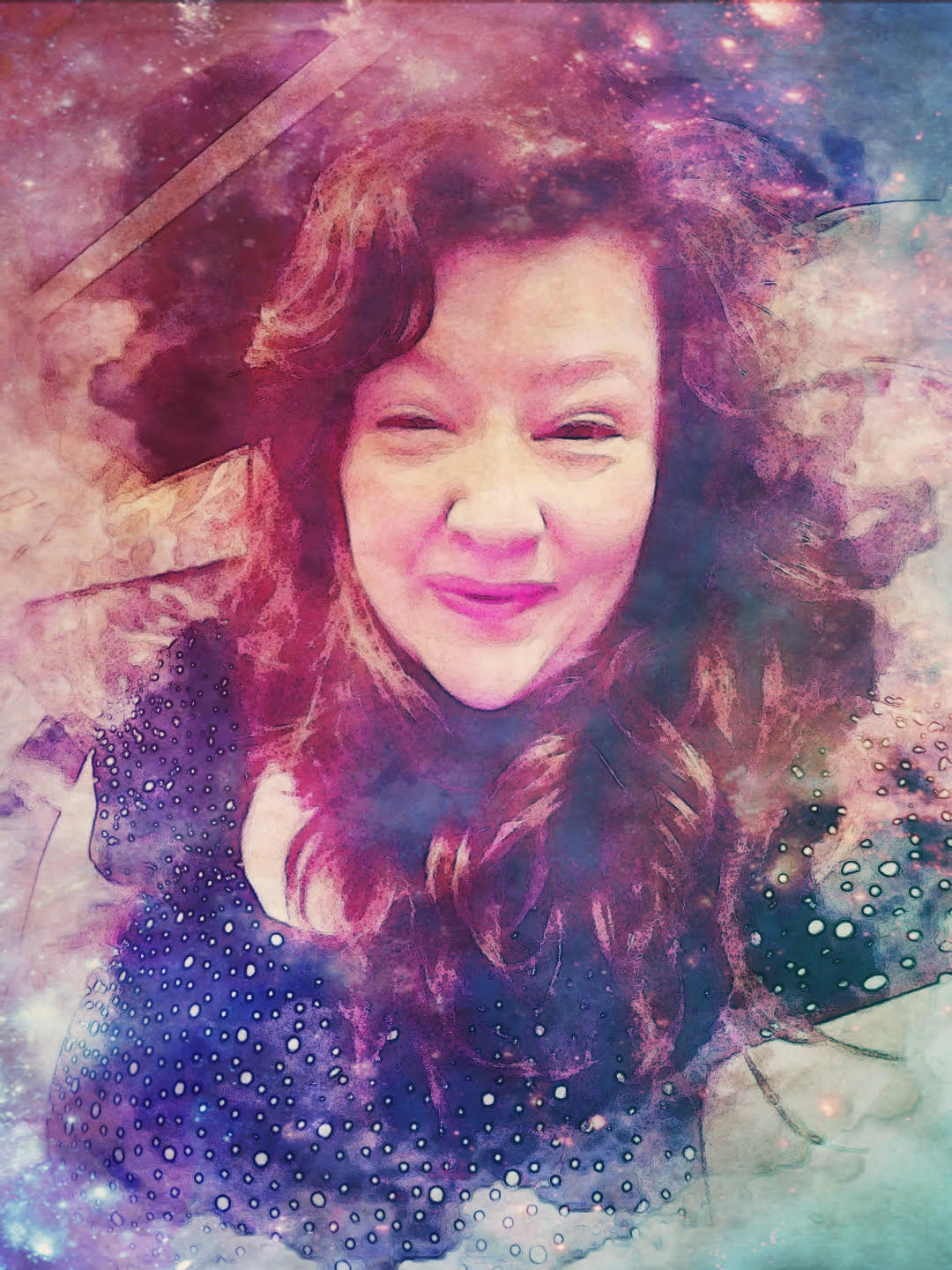 Name: Shealagh King
Company Name: A Nurtured Life Coaching
Website: www.anurturedlife.ca
Jenn will be a guest speaker on Shealagh's A Nurtured Life Online Body-Mind TLC Retreat which starts on January 28th! You can grab your free seat here. Read the spotlight below to find out how the Right-Brain Business Plan® helped Shealagh with her Big Vision for her biz and helped her dream up the retreat.

Watch Shealagh's fun RBBP show and tell video here and read her interview spotlight below. Enjoy!
What is your business and what makes your business unique?
A Nurtured Life Coaching [NLC] is an oasis of embodied TLC tools that support helping, teaching & business professionals fill their cup so fatigue & overwhelm stops costing them precious time, energy, money or relationships.
Taking the Nurture Wheel tool for a spin dials into one of the 7 Elements of A Nurtured Life. Each of the elements serve to bring the body into the conversation about where to start with self-nurture in order to create our own inner sanctuary.
Securely rooted in neuroscience & balanced with experiential discovery tools, A Nurtured LIfe embodied methodology & tactile tools support life / work balance like nothing else out there.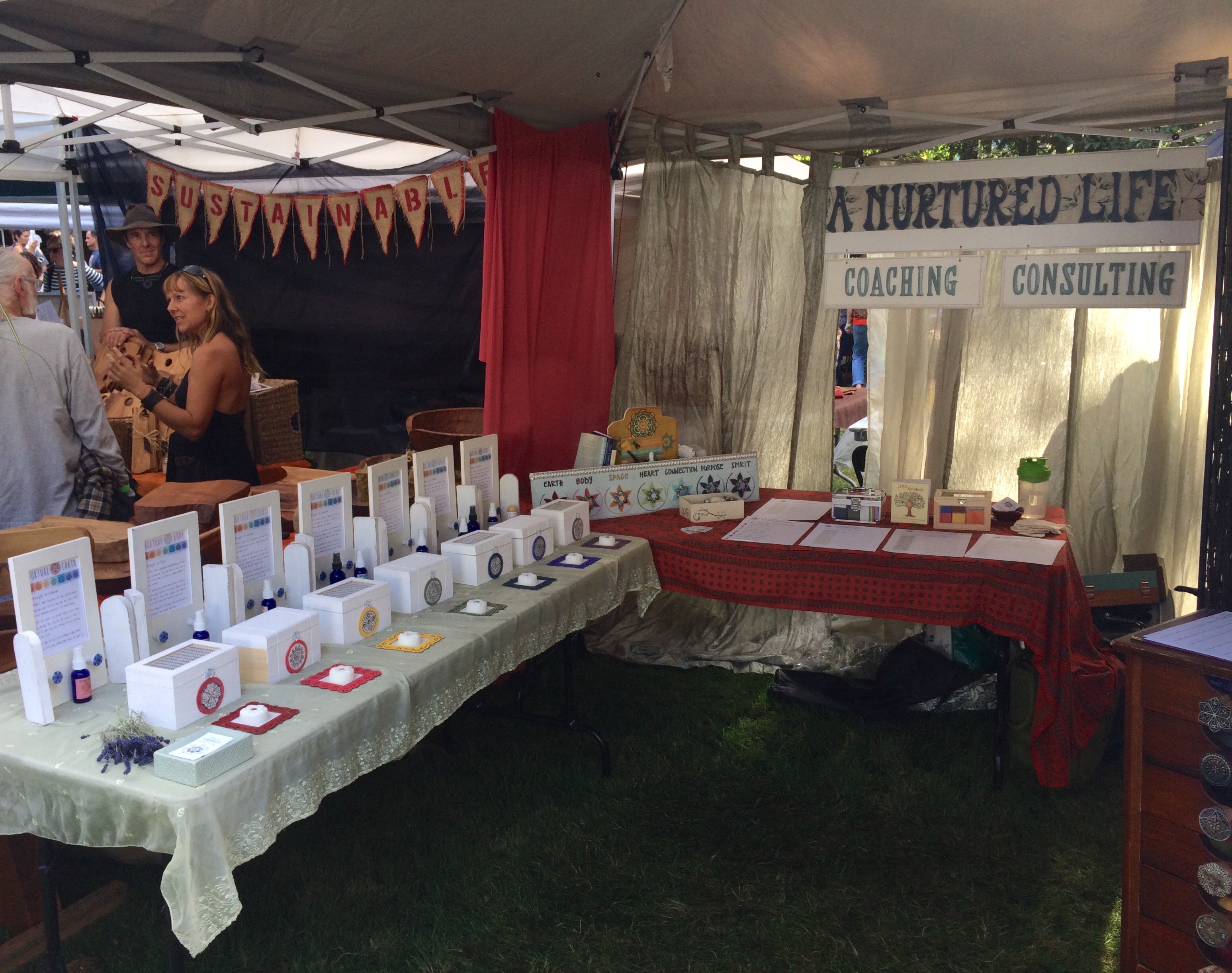 How has the Right-Brain Business Plan® helped you? What is different for you and your business after approaching planning in a creative, visual way?
Quite honestly, there would be no Nurture Wheel without RBBP!
The original summits got the concepts brewing that are at the centre of my work. Starting small meant 7 hand drawn mandalas on construction paper strung together while still working at the Chopra Centre. During a meditation, the 7 element methodology was born!
Jenn's offerings helped visualize how to take my skills & experience beyond 1 on 1, work steps out on white boards towards my vision & bring my balance back when things didn't work out. Creating the nurture dials & my business card with moving parts all stemmed from the Product Development Playground.
Her nudges to go with intuition led to a hilarious conclusion with logo design, & from sharing drafts with colleagues a hose handle 'place holder' pic in the centre of my logo became a moving part & VOILA! The spinable Nurture Wheel was born!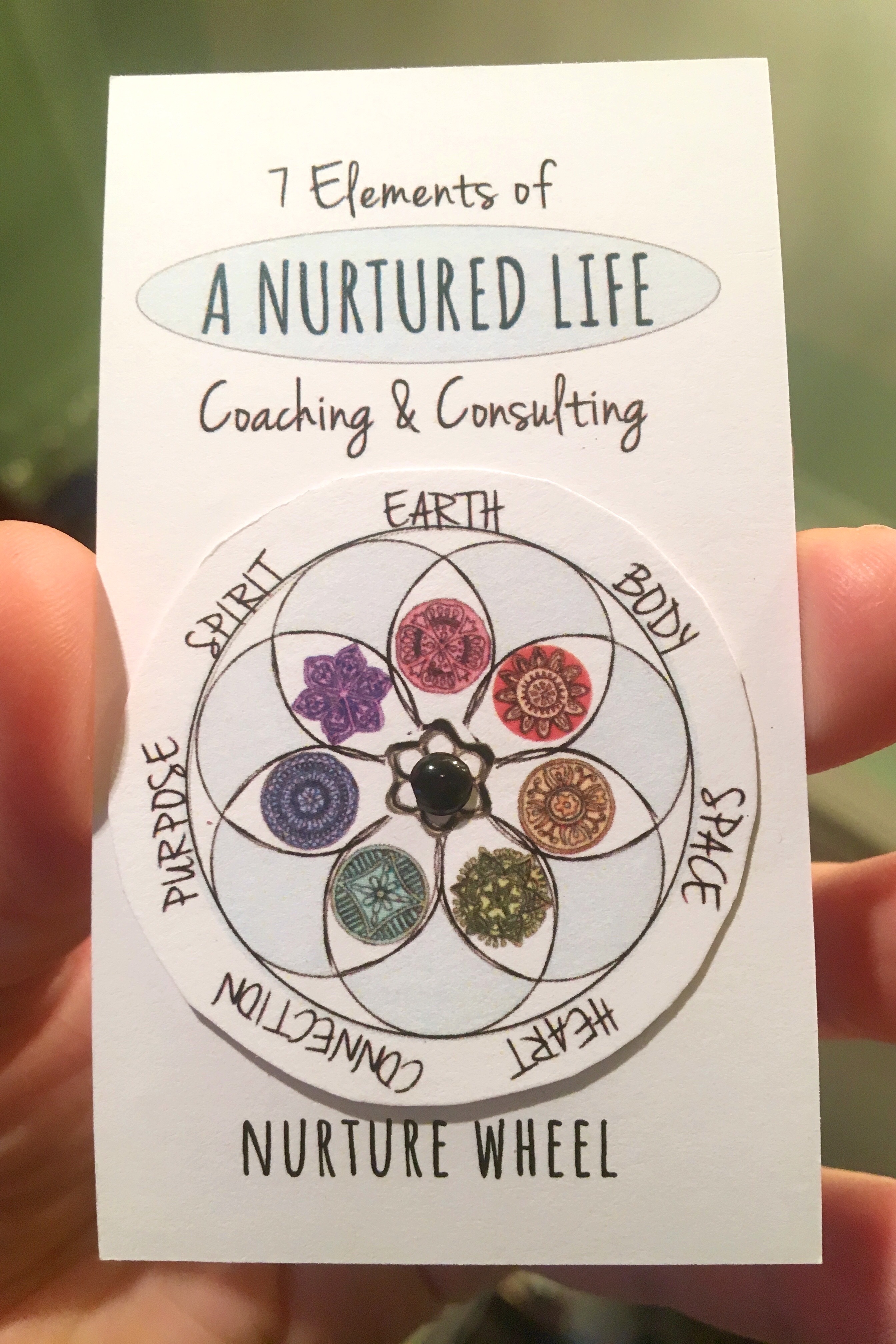 What goals (big or small) on your business plan have you already accomplished or have made progress on?
Completed a dynamic formal business plan to compliment RBBP
Designed methodology congruent with my values of organicity & mind-body unity
Created & crafted my own branding/signage
Naturally developed close, trusting relationships with local cohorts that have influence in both target markets [B2B & B2C]
Built an international network of relationships who are primed with my main message to tap into when I upscale
Designed individual & group programs that intro coaching tools
Designed / half produced a free offering of A Nurtured Life Online Body-Mind TLC Retreat for January 2019 to spread the message, methodology & tools to a wider audience.
Was part of a team for an international [79 countries] Embodiment Conference
7th year in Hakomi Body-Centered therapy training that helped me create my own inner sanctuary, as a place from which I can support others to do the same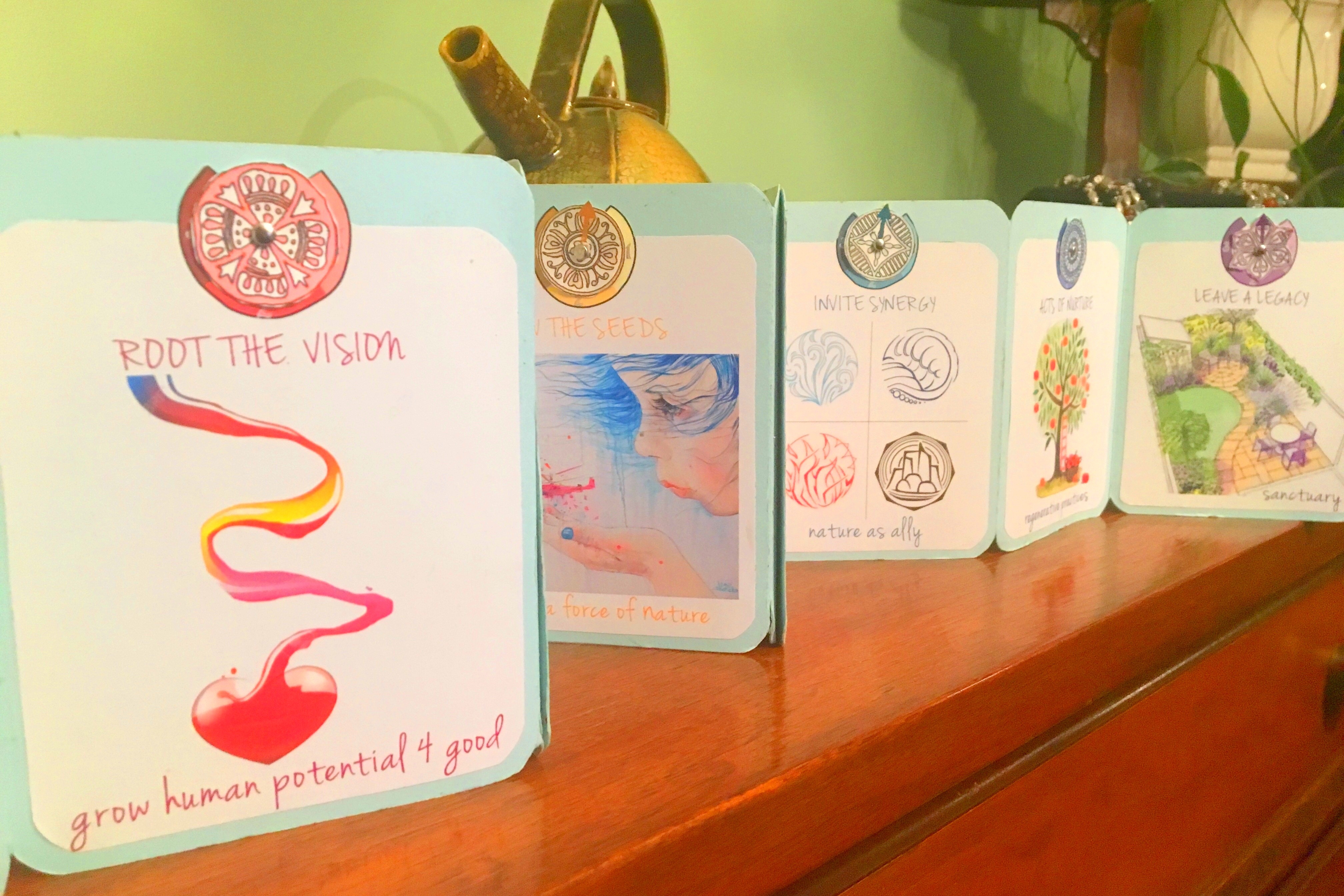 How do you use your creative intuition in your work?
The planning tool & process that I developed brings my body wisdom & imagination online when I experiment with posting a commitment on different timelines on the planner.
I use finger puppets (or sometimes just fingers) to help get in touch with the parts of me that are stuck, that are resisting, that are lazy, that are over the top so nothing is stepped over in the creative process.
I use white boards religiously to fool around with paper shapes, textures, imagery & sticky notes that represent concepts until things start to shape up or some kind of theme emerges. I have my little 1 inch binder collection that brings my project scraps together so I can see what I have.
I designed a timeline chart to move to do's around within a timeframe
I feel way more creative after reading this list over!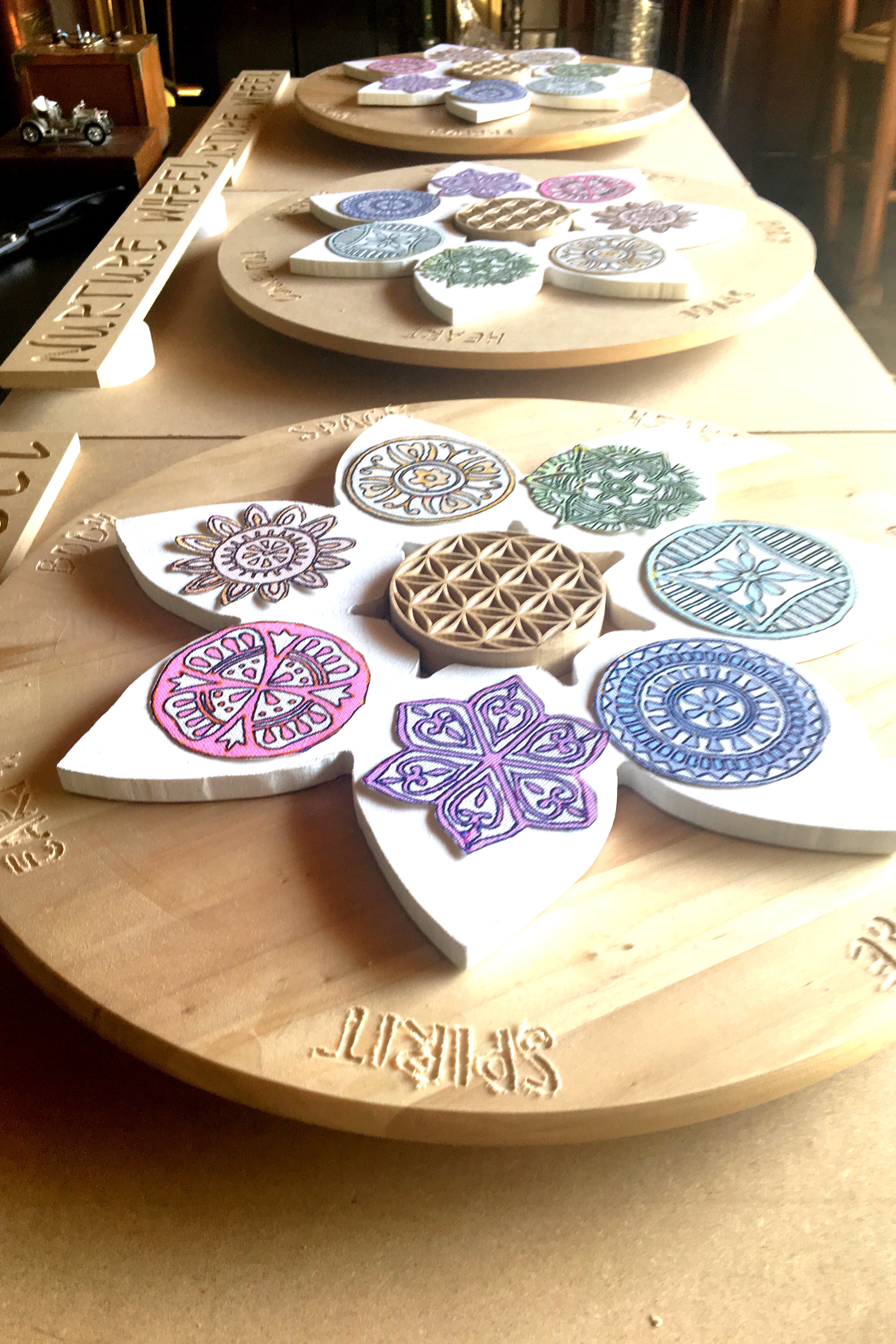 Is there anything you'd like to share about your Right-Brain Business Plan® in terms of what it's made out of or how you made it?
It's a accordion booklet with 8 sections I made myself (even 'chomped' the corners round)
On one side, the first panel is the title, & then a single image on each panel represents the vision & values plus all the rest of the 7 areas of the RBBP, including a short phrase to anchor it.
On the opposite side, I actually melded the concepts of the RBBP with the 7 Elements of a nurtured life so that my methodology informs everything I do in the business. I have glued pockets on each of the 7 panels, with a single colour, mini-collage values card for each element. In the pockets I have index cards with the concrete steps for the current quarter.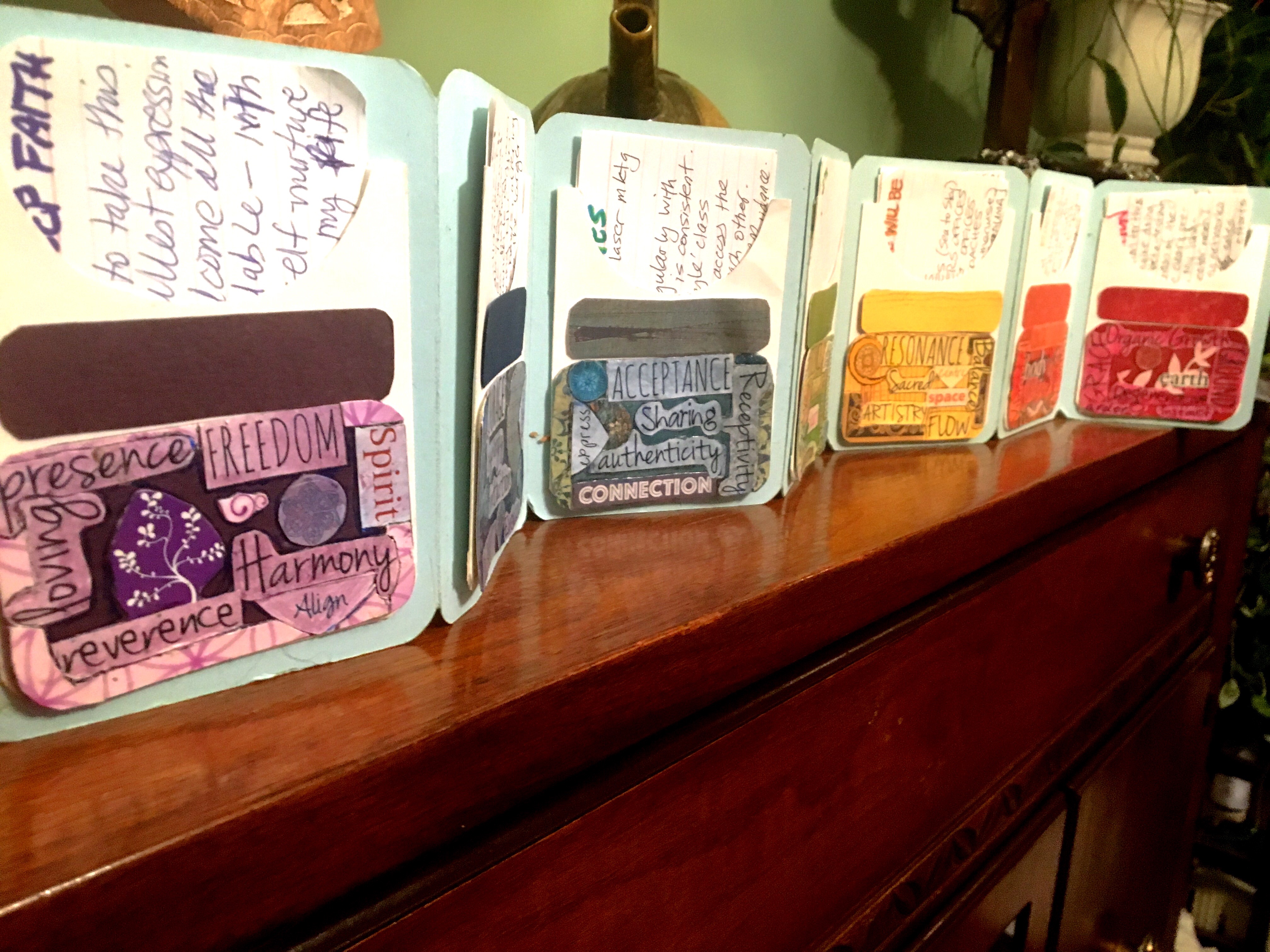 What's your big vision for your business?
A Nurtured Life as part of a collective movement towards more right-brain, holistic balance through a growing network of embodiment facilitators that support people to get back to their natural rhythm of life vs the unsustainable pace of modern society so that we live more aligned with & connected to the nature world.
With collaborative online & in person retreats, an online body-mind TLC course & bringing TLC tools & programs to helping, teaching & business organizations, we have the ability to expand the reach of the message & experience of self-nurture as a path to a more nurtured world.
Revenue will double from $30,000 to $60,000, and a portion of each year of sales will go toward a space where NLC teachings & awareness can continue to develop & expand it's reach.
What advice do you have for other creative entrepreneurs?
Come to terms with being an imperfect person in an incredible (but messy) process of discovery.
Let yourself be foolish – ridiculous even – because the state of play is the most creative way of being & always where our new path seems to sprout from!
Find friendly ways to be with the little kid inside you – she's got game when it comes to creative brilliance!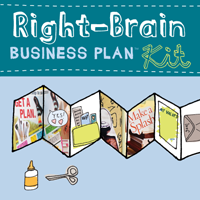 Want to create your own Right-Brain Business Plan®?
The Right-Brain Business Plan® Kit
includes supplies to make your own accordion book style visual business plan.