Name: Tori Deaux
Company Name: The Circus Serene
Website: http://www.CircusSerene.com
Twitter: @ToriDeaux
Note from Jenn: Yippee! The circus has come to town! And that means we get wonderful wit and wisdom from the brilliant Tori Deaux of The Circus Serene. Tori provides creative entrepreneurs with practical and spiritually-minded advice for running your business and your life. Reading Tori's work is truly a treat. You will laugh, you will find yourself in her tell-it-like-it is honesty, you will be moved to action, and you will feel seen in all of your quirky uniqueness. Grab some peanuts and popcorn and get ready to for a dose of magic from ringmaster, Tori and her fabulous Right-Brain Business Plan!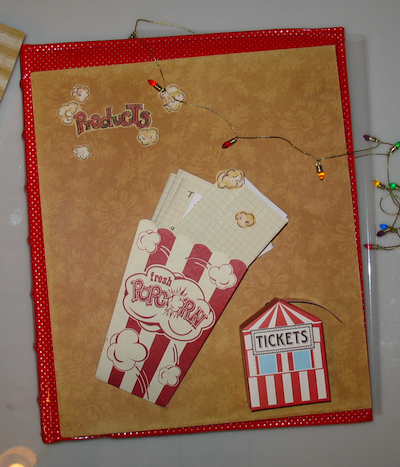 What is your business and what makes your business unique?
The Circus Serene! There's going to be a lot going on (what else would you expect from a circus?) including a mix of products that are in development, but the "center ring" of  the Circus is a website offering spiritual yet practical advice for running your business and your life.  There will be juggling and fear-taming, sideshow freak-outs, anxiety-defying acts of biggification, and an elephant-sized dose of calm, all plonked down right in the middle of life's chaotic center ring.  What isn't unique about that?
How has the Right-Brain Business Plan helped you? What is different for you and your business after approaching planning in a creative, visual way?
When I first came up with this-circus-of-a-business-idea, I knew it required a playful, experimental tone.  I wanted a  roadmap to follow as I set things in motion, but was afraid that a traditional, straight-laced plan would make the business feel traditional and straight-laced, too, hindering the sense of playfulness.
Taking the Right-Brained approach to business planning helped me form a map and goals that are every bit as clear as in a traditional plan, but also keep me on an appropriately quirky path for the Circus.  Outside of that?  I was surprised by all the new creative ideas the planning process spawned.  I mean, I'm usually pretty creative, right? But as I cut, painted and pasted together images for my visual plan, I came up with new product ideas, a better understanding of my right and perfect people, and how the financial end could be not only do-able, but fun!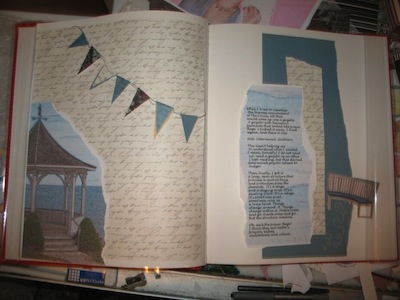 What goals (big or small) on your business plan have you already accomplished or have made progress on?
Well, let's see… I've designed and launched the site, I'm creating regular, engaging content, and am working steadily on product development. There's always so much more to do than I expect, but it's definitely getting there. I've also re-invigorated my activity in social media, and I'm building a network of lovely and helpful creative cohorts (plus a few circus clowns!). And I actively talk about the Circus to others, managing to create a bit of a fan-base before the site even launched. That's a Pretty Big Deal for social-media-shy me!
How do you use your creative intuition in your work?
I've never really thought of it in terms of creative intuition, but I try to crawl inside the heads of my readers, understand where they are coming from, what they need to hear, how I can present a message in a new and creative way.  That means understanding not just how words affect the message, but the impact of images, pacing, all sorts of things. There's really so much involved that a detailed, left brained approach gets bogged down, so I guess I'm pretty dependent on creative intuition after all.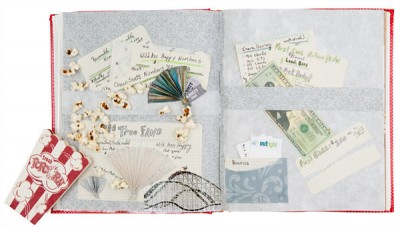 Is there anything you'd like to share about your Right-Brain Business Plan in terms of what it's made out of or how you made it?
There's nothing dreadfully unique about how  my plan is constructed,  but building a physical, tactile representation of an online business has been really eye-opening.  It makes it so much more *real*  – not quite brick-and-mortar real, but close enough.
As my RBBP continues to develop, I want to keep building on that  "realness", and incorporate as many senses as I can, using miniature doll house lights for movement, singing cards to provide sound, and maybe a popcorn or cotton candy scented air freshener, if I can find one!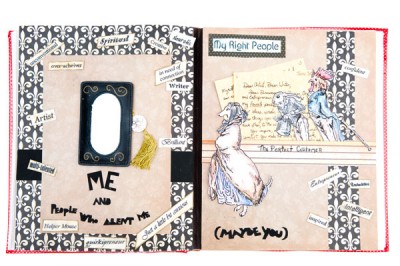 What's your vision for your business?

To provide an oasis of entertaining sanity  for over-stimulated, overwhelmed creative entrepreneurs. Oh, and there will be plenty of popcorn. And applause.
What advice do you have for other creative entrepreneurs?
Exploit your quirkiness! Put it on display, let it have a place in your business.  You don't have to shout it out like a side-show barker, being quietly quirky is just fine, too.  Just don't try to iron out your uniqueness so that you look like everyone else out there.  That's not what your future customers are looking for – or they wouldn't be looking for *you* in the first place.
So that's what I want to say:
Exploit your quirkiness!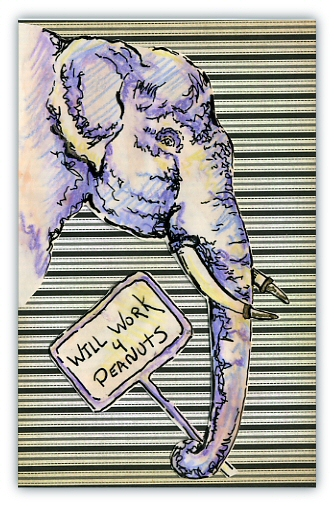 Is there anything else you'd like to share?
Well, actually, yes….  I have this odd habit of approaching everything in my life as an art project; it can be frustrating at times, because I fuss over things in a sometimes-not-so-productive way. My Right-Brained Business Plan has given me an outlet for that – a functional, productive ongoing outlet that actually helps me, instead of hindering.  I'm not sure that makes sense to anyone outside of my head, but… it's a really, really good thing.  Maybe someone else will relate to that, I don't know..

Creative Resources
Click here for more information about Tori Deaux.
Click here for Right-Brain Business Plan™ e-Course and the Right-Brain Business Plan e-Book.