Name: Nicole Fende
Company Name: Small Business Finance Forum
Website: www.smallbusinessfinanceforum.com/landing/rbbp.html
Twitter: @BizFinanceForum
Facebook: www.facebook.com/smallbizfinance

Note from Jenn: As a creative type and a financial professional, Nicole Fende has a great blend of right and left-brain talents. Check out her fabulous magnetic Right-Brain Business Plan® and meet her company mascot and villan! If you want to hear Nicole and me chat about the Right-Brain Business Plan® and managing the moola, listen to her interview me on her Small Biz Finance Radio Show. (All photos below courtesy of Nicole Fende.)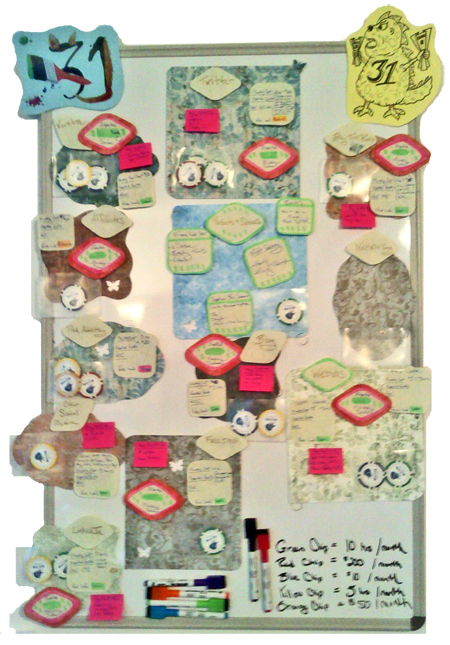 What is your business and what makes your business unique?
I am a Small Business Finance Tamer, specializing in unruly profits.
I help solopreneurs and small business owners overcome their finance phobias, grow their profits, and have fun doing it.  I make people LOL while teaching them secrets to numbers whispering.  Think of me as the right brain profit coach.
How has the Right-Brain Business Plan® helped you? What is different for you and your business after approaching planning in a creative, visual way?
I was fortunate enough to attend the Right-Brainers in Business Video Summit.  Even though my book hadn't arrived yet, the experience inspired me to create my own version of the plan.  This was the solution to my struggles in bringing all the elements of my plan together in a cohesive manner.
I knew I needed a visual plan that could easily change over time.  That led to using a large magnetic white board as my base.  I had some beautiful scrapbooking paper which I cut up and attached magnets to the back.  Each piece could represent part of my business plan and it could be rearranged at any time on my magnetic board!
After devoting an entire weekend to my Right-Brain Business Plan® I had the key pieces laid out in a way that I could review at a glance.  My only question, "Why hadn't I done this sooner?"
The single biggest surprise was the processing my brain did on the elements as I worked to create visual representations.  Of course I made it look nice, however as I crafted each piece I was contemplating its value and fit to my overall goals.  To get the most out of the process you must be mentally present as you craft the plan.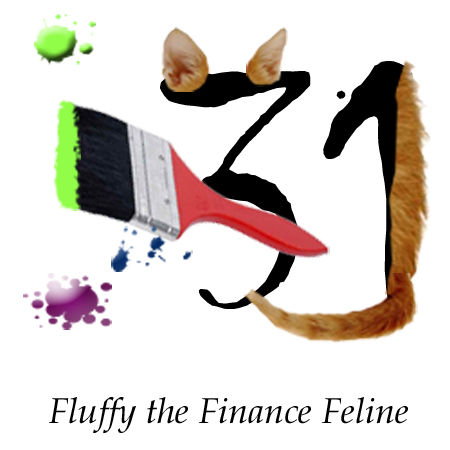 What goals (big or small) on your business plan have you already accomplished or have made progress on?
I've just wrapped up my first Rock Your Profits online course to rave reviews. The launch of the next course is underway.  Plus I've partnered with a colleague to offer an on-site two day business seminar, we've already booked two cities, and expect to make a formal announcement and launch by the end of May.
How do you use your creative intuition in your work?
Since my goal is to help those who aren't numbers people, I rely heavily on my creativity to translate finance into meaningful, manageable bites.  For example, I intuitively realized people relate well to mascots, heroes, sidekicks and villains.
First I created a mascot called Fluffy the Finance Feline with help and inspiration from Tori Deaux (and Emmit of course!) of Circus Serene.  Fluffy has been a huge hit in my Rock Your Profits eCourse, popping up in a variety of roles and outfits to deliver profit insights.
However I realized that a mascot wasn't enough.  I am in fact fighting a villain, the fear of finance.  In order to better reach my target market, and articulate the pain I cure, the Number Muncher was born.  The artwork was created by Jennifer "Scraps" Walker.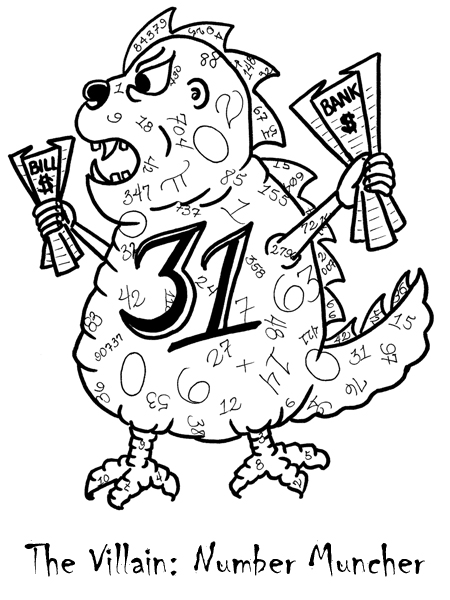 (Illustration by: Jennifer "Scraps" Walker)
What's your vision for your business?
To provide the tools and resources to make finance easy, approachable and fun, enabling solopreneurs and small business owners to grow their profits.
What advice do you have for other creative entrepreneurs?
As a former corporate executive, in a traditional and conservative industry, I was leery of appearing "different" or "quirky". Big mistake!  Those very characteristics are what make me effective and appealing.  As I've embraced my unique perspective my business has really taken off.  Be yourself, that's what people want.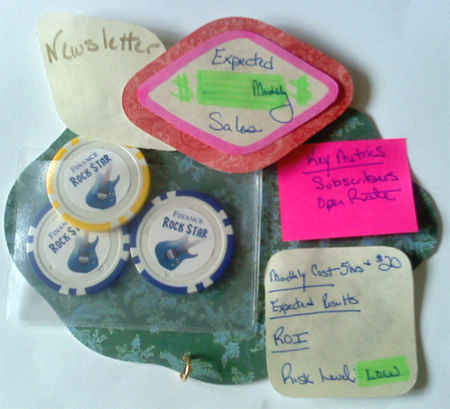 Is there anything you'd like to share about your Right-Brain Business Plan® in terms of what it's made out of or how you made it?
As I mentioned above, I used a magnetic white board as the foundation, with scrapbooking paper on magnets for the components. Then I added in a key component to reflect my business and outlook, gambling budgeting.
This easy budgeting tool treats your business like a trip to the casino.  Your poker chips represent the money you've budgeted for various things (like marketing), as well as your time.  Your time is an asset, spend it well!
I added clear plastic pouches to hold my bets for each component of the plan.  The kits can be purchased on my site.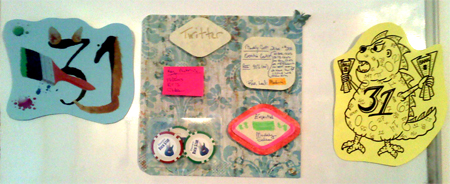 Is there anything else you'd like to share?
Numbers are like pets, they need to be trained.  You wouldn't ignore potty training for your dog would you?
Ignoring your finances can lead to a big stinky mess as well.
Start with the chapter "Managing the Moola" in the Right Brain Business Plan.  Looking for more?  Schedule a free 30 minute coaching session with me to see if I'm the right next step to growing your profits.

Creative Resources
Click here for more information about Nicole Fende.
Nicole's interview with Jenn on the Small Biz Finance Radio Show.
The Right-Brain Business Plan® Kit is available now.
Access a multimedia library of interviews and resources from the Right-Brainers in Business Video Summit and order the book The Right-Brain Business Plan: A Creative, Visual Map for Success.