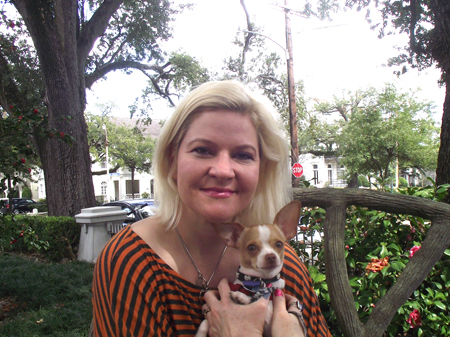 Name: Nevada McPherson
Company Name: Noisy Muse
Website: www.nevada-mcpherson.squarespace.com/

Note from Jenn: Note from Jenn: When I spoke at the Emerging Women Live conference in Boulder last fall, I had the pleasure of meeting this gentle creative soul, Nevada McPherson. I was so delighted when she came and introduced herself and let me know how the RBBP has helped her. How cool that she has created her own graphic novel! Read on to find out more about this lovely artist and her creative business.

What is your business and what makes your business unique?
My business is telling stories, whether through my screenplays, hand-illustrated graphic novels, or my handmade crafts. My graphic novels and craft items are unique in that they are visual representations of my voice in whatever quirky shape that takes, and so I formed Noisy Muse as a way to bring my books and other visual arts together. Also, my rescue Chihuahua, Mitzi, is a muse for me and is usually with me when I'm working. Sometimes she can be noisy, but mostly she reminds me to have fun and be myself.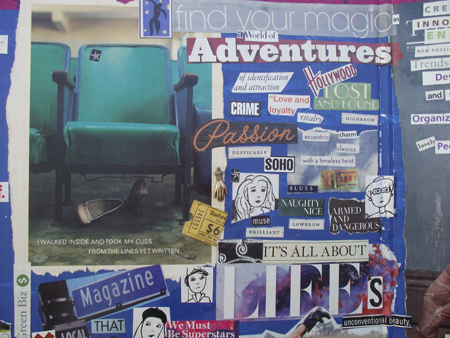 How has the Right-Brain Business Plan® helped you? What is different for you and your business after approaching planning in a creative, visual way?
I named my business Noisy Muse because I have several creative interests. The RBBP has helped me to focus on each of my offerings so that I'm not overwhelmed by left brain details but can handle them in an effective way that works for me as a right-brainer. I've been writing, drawing and creating art for years but it was the RBBP that finally helped me to see how my overall style and vision could become integrated and work as a business. I have gone through the parts of the RBBP once for my graphic novels and again for my crafts and now I am able to tailor my marketing and getting-the-word-out goals for my perfect customers in each area. Also, I've learned the importance of setting SMART goals, which are helping me to stay focused and to move past the places where I used to get stuck.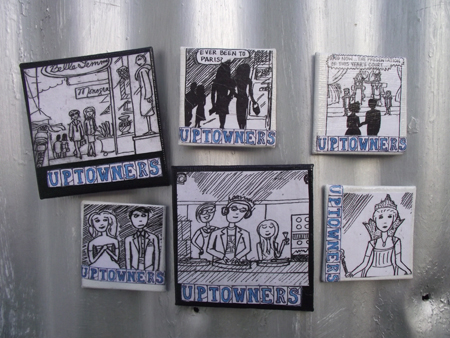 What goals (big or small) on your business plan have you already accomplished or have made progress on?
I still have several goals that I'm working toward, but one I'm proud to say I've accomplished is that I've started my business rolling and am learning day by day how to play big. As a true introvert, it's not always easy for me to put myself out there but I'm learning how to do that and find that the more actions I take to move forward, the more I want to take. I've published one graphic novel and am about to publish another, and I've opened up a shop called Noisy Muse on Etsy. One of my screenplays recently placed in the Austin Film Festival Screenwriting Competition. Thanks to Jenn's advice from the RBBP book I'm learning to reach out more for help and feedback, and I'm looking forward to collaborating with other creative entrepreneurs, forming strategic alliances, and becoming more involved in a larger creative community.
How do you use your creative intuition in your work?
When I find myself overthinking how to accomplish a goal or solve a problem, I step back and try to get a fresh perspective on what's going right and how I can amplify the positive and minimize the negative. Getting back to the nuts and bolts of the work itself and finding a way to make it better are places where I use my creative intuition to bring clarity where there was confusion and confidence where there was doubt. I trust my creative self, and bringing that out into the world is helping me to find my way forward in my business.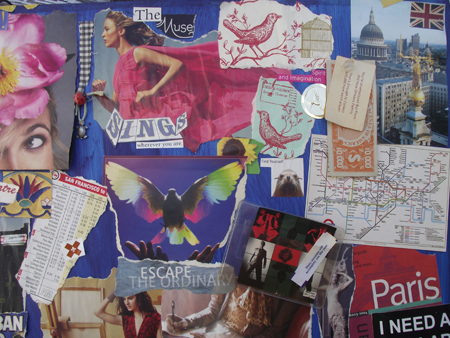 Is there anything you'd like to share about your Right-Brain Business Plan® in terms of what it's made out of or how you made it?
My Big Vision collage board keeps me focused, and constantly taking steps forward. The center is for my feelings about who I am as an artist/ storyteller and around that are pictures representing themes from my graphic novels and screenplays.
My business self-portrait is on poster board, folded like a book, with a picture of a vintage suitcase on the front to symbolize my journey as a creative entrepreneur and the journey my readers and perfect customers can take when they purchase one of my books or items that contains or tells a story. The cover reads, "The train is leaving the station–are you coming with us?" The interior features images of my characters, words and pictures that evoke emotional elements my stories deal with, and how I'm taking steps to market my work, face challenges, and successfully develop my business.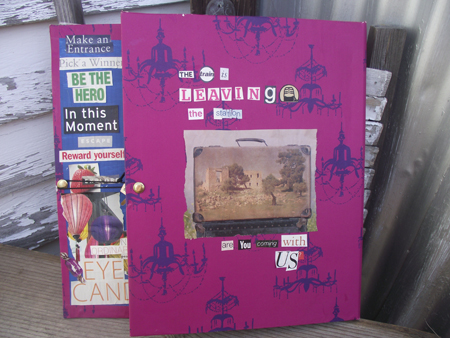 What's your big vision for your business?
To tell stories that resonate, entertain and inspire, and to make a positive impact in the world. I will also continue to draw on my years of teaching to help others develop their voices and story-telling skills through a set of workshops designed to foster creativity and provide an effective framework for self-expression. I'll continue developing my own creative voice and vision, and plan to publish all the graphic novels I've represented on my Big Vision collage, and see them made into successful movies!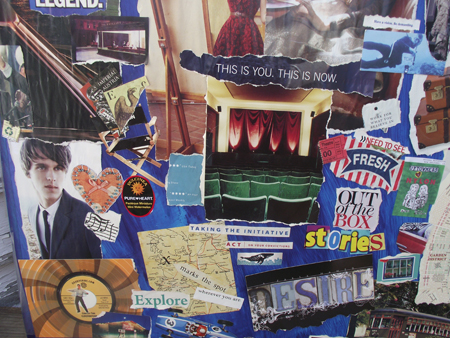 What advice do you have for other creative entrepreneurs?
Stay true to your creative vision and seek out people who are supportive and encouraging and can offer constructive feedback. Having a network of positive, like-minded folks is helpful when you're doing the heavy lifting of bringing your creative efforts out into the world.
Also, if you tend to get nervous (like I do sometimes) about putting yourself out there in a big way, realize that probably means you're stretching your comfort zone, which is a good thing! I find that if I channel that nervousness into enthusiasm for my project, it really helps.
Is there anything else you'd like to share?
My second graphic novel, Piano Lessons, a gay teen romance set in the rural south of the 1950's, will be available soon, and I'll be adding new sections to my Etsy shop, including book-related art & crafts.
I'm so grateful for this opportunity to share with other right-brainers, and for the opportunity I had to meet with other entrepreneurial and creative women last fall at the Emerging Women Live Conference in Boulder, CO. That's where I met Jenn and was able to tell her in person how much her book and newsletter have helped me!
Thanks, Jenn!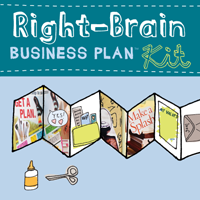 Want to create your own Right-Brain Business Plan®? The Right-Brain Business Plan® Kit includes supplies to make your own accordion book style visual business plan.