Name: Linda Kennedy
Company Name: Artzilla
Website: www.artzillacreate.com
Twitter: @lindartzilla
Note from Jenn: I had the pleasure of participating in a 10-month Expressive Arts Teacher Training Program with our featured spotlight guest, Linda Kennedy of Artzilla. I got to witness her creative force firsthand and experienced one of her delightful intuitive painting classes. Linda exudes passion, joy, and vibrant energy and when you're around her it's contagious. If you're in the Savannah, Georgia area, definitely check out her workshops.
Thanks, Linda for sharing some of your intuitive paintings and mixed media work and for giving us a peek into some of the work you did in the last Right-Brain Business Plan e-Course. It's so inspiring to see Artzilla taking shape!
(All images in this post courtesy of Linda Kennedy.)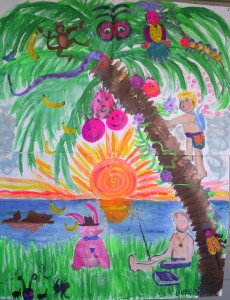 What is your business and what makes your business unique?
I teach and facilitate Intuitive painting and Expressive arts workshops.  When I speak with people about the thing I do they connect with my passion and energy.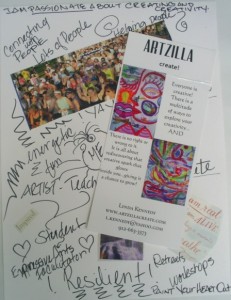 How has the Right-Brain Business Plan helped you? What is different for you and your business after approaching planning in a creative, visual way?
I began to think of this as a real business instead of a hobby, I could see how my vision could be translated into a real plan which makes sense to those who might not see my vision as I do.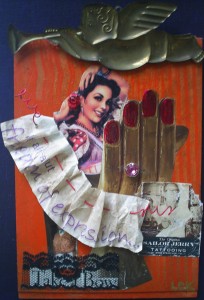 What goals (big or small) on your business plan have you already accomplished or have made progress on?
I have really looked at how I can get where I want to go and defined that even more.  It also helped immensely to break down the "financials" so I could see that I could actually have a plan for this and know what I need to do.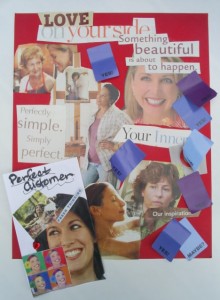 How do you use your creative intuition in your work?
I find it so easy to talk with people about what I do in my workshops and what they can discover.  In my artwork I have realized that I really LOVE the process of creating, no matter what it is and can see this applied to any media.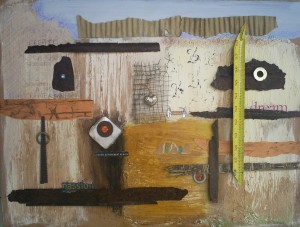 Is there anything you'd like to share about your Right-Brain Business Plan in terms of what it's made out of or how you made it?
I've used Bristol board to create each page so they can be put in a folder in a book form.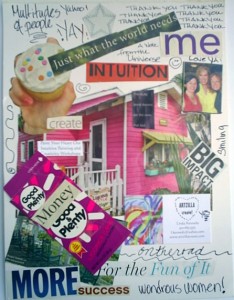 Is there anything else you'd like to share?

My favorite part is my Big Vision board, because until now, I have not put it all together in one place where I could see it…I really did this intuitively and I really LOVE it.  It proved to me the validity of intuitive art and the wonder of the process.
Through my Paint Your Heart Out workshops, I guide people in connecting to their creative spirit that I know is in everyone, but might need a little nudging to reveal itself.
Now, don't roll your eyes!  You are creative!  Simply painting, just doing it the way you did it when you were 4 years old, can bring a joyful playfulness back to your life.
We use simple materials: tempera paints and paper and yet….
It is this simplicity that grants you the power to transform yourself in  ways you cannot imagine.  You have permission to have fun!  You have permission to be messy, to make mistakes, to create with no agenda and to indulge yourself in the process with out assigning meaning or even resulting in a beautiful product… It is truly all about you loving all the parts of you, including the wonderful creative you.

Creative Resources
Artzilla intuitive painting workshops and classes held in the Savannah area or anywhere in the Southeast and beyond!  Please contact Linda directly for more information.
If you're interested in the Right-Brain Business Plan e-Course, the next session starts on September 20th. Find out more or sign-up now. Early bird special ends on September 7th.