Name: Lauren Brownstein
Company Name: PITCH: Fundraising and Philanthropy Consulting
Website: www.pitchconsulting.com
Blog: www.pitchconsulting.blogspot.com
Note from Jenn: More than two years ago I did my very first RBBP spotlight. It was on the fabulous Lauren Brownstein of PITCH Consulting and her paper plate mobile (which also is featured in my book The Right-Brain Business Plan). I love hearing from Lauren that she does a new RBBP every year to get clear on her vision and goals. She did her latest plan while vacationing on a tropical island (at one of my most favorite places in the world!). Thanks again for sharing your brilliance, Lauren!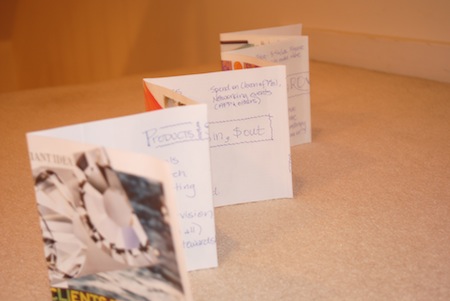 What is your business and what makes your business unique?
PITCH: Fundraising and Philanthropy Consulting brings together charitable dollars and great causes. This is primarily accomplished through fundraising consulting services for nonprofit organizations – grantwriting, prospect research, board training, staff training, fundraising campaign strategy, and "other duties as assigned"! PITCH also works with individuals to help them figure out how to make charitable contributions in ways that reflect their passion and purpose.
While I, and the consultants with whom I partner, take the work very seriously, we have fun with it! I always try to infuse the work with humor and joy. Because if we're out there changing the world, we should have a great time doing it, right?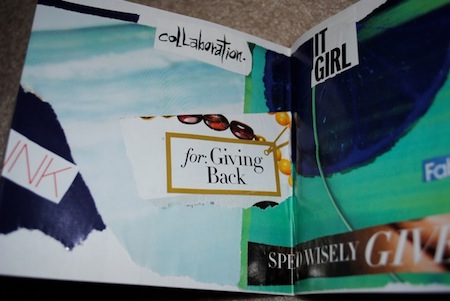 How has the Right-Brain Business Plan™ helped you? What is different for you and your business after approaching planning in a creative, visual way?
The RBBPs that I have created have adorned my office and served as constant (and, dare I say, attractive!) visual reminders of not just what I want my clients to be able to accomplish, but how I want my clients, and myself, to feel about the work. The experience that we will have together. The spark that this work will light up within us.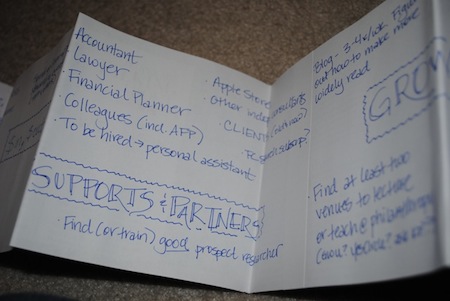 What goals (big or small) on your business plan have you already accomplished or have made progress on?
The RBBPs that I've created have really helped me hone in on my partners – the other professionals who are supporting me in my work. I've built a cadre of great people to work with. They've also reminded me to celebrate my accomplishments and take time out for planning and dreaming.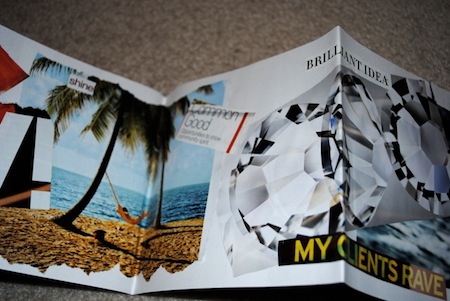 How do you use your creative intuition in your work?
My primary role is as a grantwriter, so I use my creativity all the time! It's a challenging type of writing – making an amazing project leap off the page, but doing so in a very clear and concise manner, and often in a fairly-restrictive format that the donor demands. I've also implemented some really fun and creative training sessions: getting trainees to pick visual representations of where the nonprofit is, or where it's going; having trainees role play or create in small groups; leading writing exercises with trainees; etc.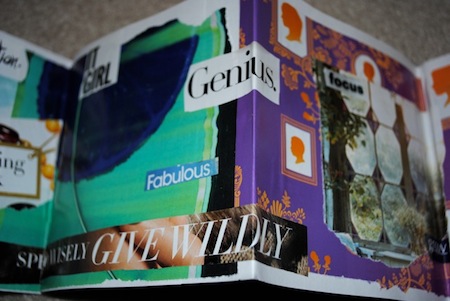 What's your vision for your business?
Work less, earn more. Keep working with clients who are changing lives and changing the world.
What advice do you have for other creative entrepreneurs?
Don't let your creativity be something you feel you have to hide, so you'll seem "more professional." Let is shine through, as something that sets you apart in the marketplace.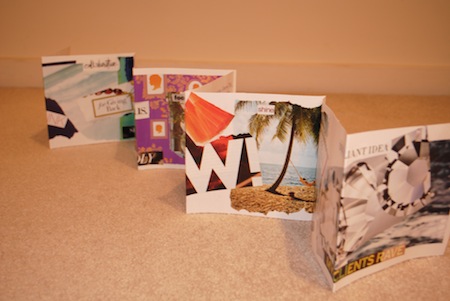 Is there anything you'd like to share about your Right-Brain Business Plan in terms of what it's made out of or how you made it?
I'll just share that I created the current RBBP in my bungalow on the island of Moorea, in French Polynesia.  My dream vacation! My boss works me really hard, but she's very liberal with the vacation time (ha, ha). Have paper, magazines, and glue stick… will travel! My gorgeous setting really enhanced the visual elements of this RBBP.

Creative Resources
Click here for more information about Lauren Brownstein

Access a multimedia library of interviews and resources from the Right-Brainers in Business Video Summit and order the book The Right-Brain Business Plan: A Creative, Visual Map for Success.