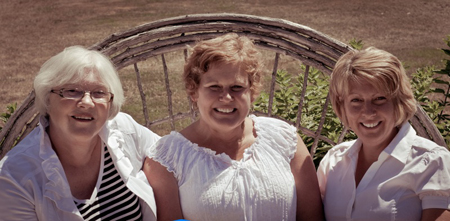 Name:  Julie Brown
Company Name:  Our Vintage Flair
Website: www.ourvintageflair.com
Blog: Blog


Note from Jenn: I love seeing a team of people using the Right-Brain Business Plan to get clear on what they want to accomplish in their business. And how cool that this creative team is a trio of family members with a flair for all things vintage and beautiful. Their gorgeous and unique RBBP definitely evokes their brand. Read on to get inspired about creating your own RBBP.

What is your business and what makes your business unique?
We assist women with beautifying their homes and and gifting in style via our elegant, vintage-inspired line of handmade cards, gifts and home decor. We believe that objects of beauty enrich everyone's lives and that handmade items, in particular, offer a deeper meaning and uniqueness that can't be found in mass-produced items. As a creative trio (three family members), our talent runs deep. We each bring our own interests and strengths to the mix which is what makes us (and our work) truly unique. Our current focus is on mixed media designs which allows us to incorporate various techniques into our work … the end result being items with an incredible amount of detail and style. And, since there's always something new to learn and emerging trends that come along, we're never at a loss for inspiration !!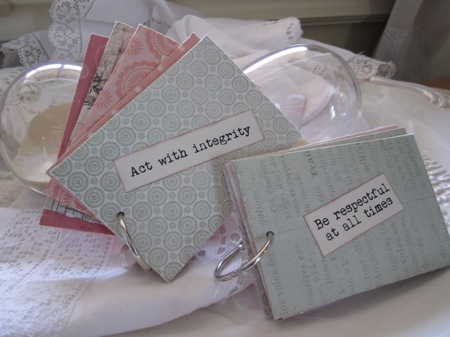 How has the Right-Brain Business Plan® helped you? What is different for you and your business after approaching planning in a creative, visual way?
We knew that, in order to take this from a hobby to a full-time business, we needed a plan. Although there were many (valiant) attempts at creating a business plan, we could never quite pull it together and agonized over this until we stumbled upon the Right-Brain Business Plan. After reading the book's summary via Amazon, we knew immediately that it addressed our 'world view'. Meaning, it confirmed that there actually were alternative ways to form business plans (who knew?) and second that, even though 'creatives' don't necessarily think in traditional business ways, they can still be successful in business. The process of creating the business plan was incredibly helpful; however, for us, the real benefit has been in surrounding ourselves with the visual inspiration boards. They serve as a daily reminder of where we're at and where we want to go.
What goals (big or small) on your business plan have you already accomplished or have made progress on?
The SMART goals play sheet (included as part of this program) allowed us to focus on establishing some initial, short-term goals. These were ones that we wanted to accomplish within the first three months. These goals included reaching certain sales levels through a focused marketing effort (both a specific number of items sold and a dollar value for these items), securing a wholesale contract, and running an online or onsite class.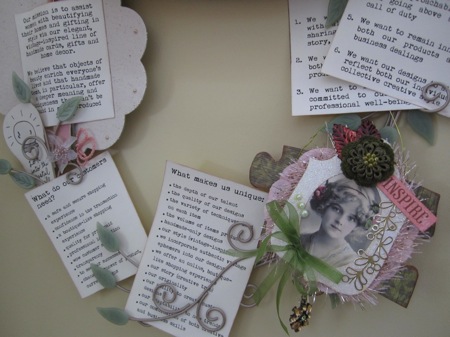 How do you use your creative intuition in your work?
We always allow our intuition to guide us through the creative process. We each have our own way of approaching the design of any given item and allow that process to unfold. We never follow a set pattern, rather we start with a canvas or base item (ie. a greeting card) and build it as we go. Design ideas will come to each of us individually (when we're not working) that we always share. We'll then often set them up as challenges to see who comes up with what !!
Is there anything you'd like to share about your Right-Brain Business Plan® in terms of what it's made out of or how you made it?
We decided to use supplies that we had on hand; therefore, our first project was to map out our big vision using a cork board and magazines. We leafed through magazines and initially cut out anything that we thought we could use that catered to our vision. We then narrowed it down based on what we felt would be most important to use as daily visual inspiration. To display our values, we printed out and attached each value to a small, decorative envelope and then added them to a binder ring for convenience. We used a decorative wire wreath to display printed versions of other important notes. We loved the style/look of the play sheets provided with the program; therefore, we printed some of them onto sturdy cardstock, completed them and also displayed them as part of other boards that we created. Minimal cost with major impact !!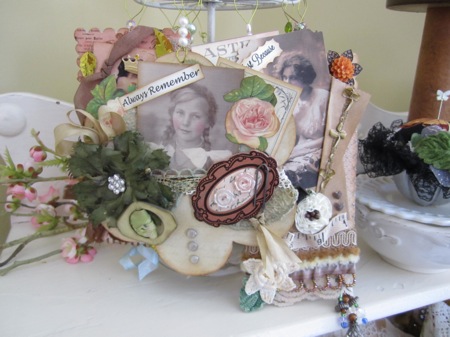 What's your big vision for your business?
We'd like to continue to build the brand, Our Vintage Flair, such that we become known not only for the items we make and sell, but for sharing our talent (ie. catering to the DIY market). We envision running a series of both onsite and online classes that allow others to benefit from both our creative and business knowledge. We plan to blog more consistently so that our readers can follow our story and benefit via daily tips, ideas, updates, etc. We'd also like to explore wholesaling our items; however, only to a very select number of stores that cater to our style (ie. the type of store that we would open for ourselves).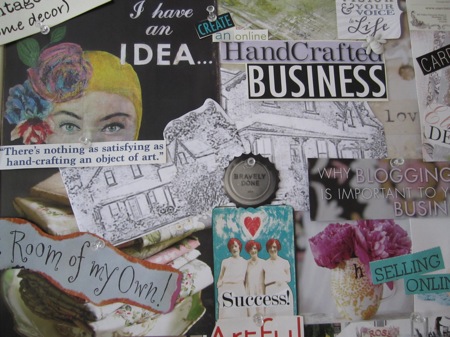 What advice do you have for other creative entrepreneurs?
Like most artists, we struggled for a long time placing value on our work (both from a monetary standpoint and from a design perspective). We worked hard to find a niche market that would recognize and appreciate the quality inherent in our designs and be willing to pay for what we had to offer. We would encourage all artists to do the same. Create small goals, define the tasks that need to be done to accomplish these goals and then commit to working on them consistently every day. Consistency is the key !!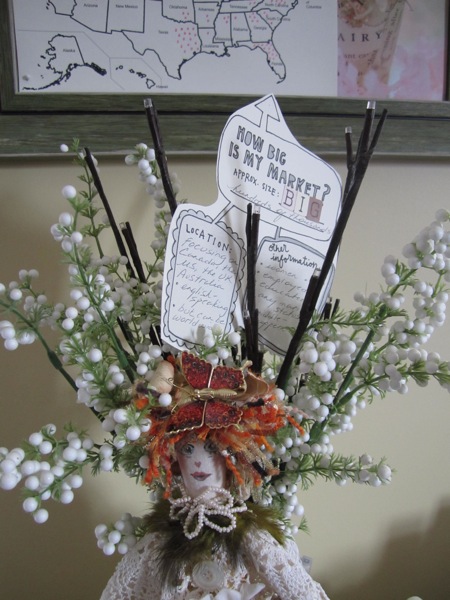 Is there anything else you'd like to share?
We read through the book several times initially and now refer back to it routinely for ideas and inspiration. Similar to the message it delivers, the book is laid out in a creative, easy-to-follow format. So happy to have found it and recommend it highly !!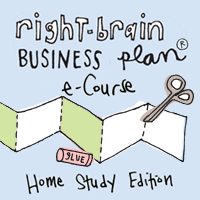 For more support with developing your RBBP, check out the Right-Brain Business Plan® Home Study e-course happening all the time.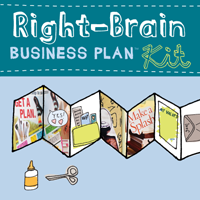 Want to create your own Right-Brain Business Plan®? The Right-Brain Business Plan® Kit includes supplies to make your own accordion book style visual business plan.