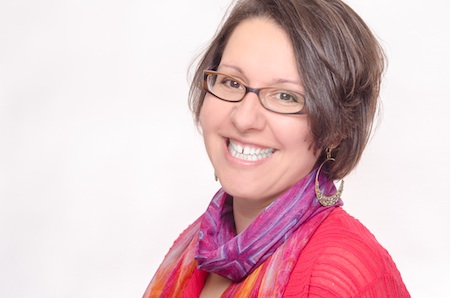 Name: Helene Rose
Company Name: Be Brilliant Network LLC
Website: www.bebrilliantnetwork.com
Note from Jenn: Helene Rose has been part of my Cohort Circle for a couple of times now and it's been such a treat seeing her getting her gifts out there in a bigger way. Helene certainly has a way with words and she inspires women to write their stories.

What is your business and what makes your business unique?
My business is Be Brilliant Network and my purpose is to support women on who are on the path of self-discovery. Through our virtual community "Women Who Write Rock," women receive writing prompts and audio guided experiences which allow for deep self-awareness, self-expression, and access to the inner voice. Writing is a way to free the soul. To bring into our awareness what needs to be seen, felt, and experienced. To acknowledge our being in the world! We are exploring our inner world. Putting our thoughts, feelings and experiences into words, opens a window from ourselves to ourselves. We see more clearly. We respond to life more authentically. We heal and transform and live our fullest potential as radiant women. We live our brilliance!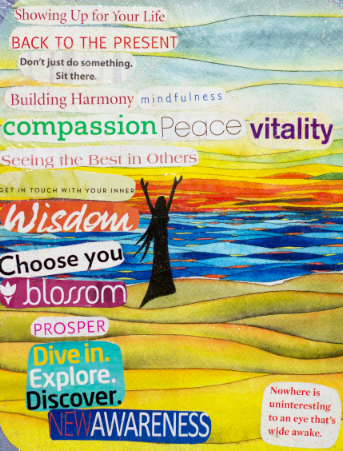 How has the Right-Brain Business Plan® helped you? What is different for you and your business after approaching planning in a creative, visual way?
The RBBP course has given me the tools to create a strong and grounded foundation in my business. I am clear about who I am serving and how I am serving them. The entrepreneurial ecosystem was particularly helpful in seeing the bigger picture of my business. I've been able to create a successful and authentic offering for the world and the support from Jenn and the cohort circle have been invaluable in helping me to do so. I've begun to earn an income and women are joining my programs. I've appreciated the feedback and encouragement that I've received while being a part of the RBBP cohort circle. I absolutely love creating collages as a part of my RBBP and I use these collages as "logos" for my offerings.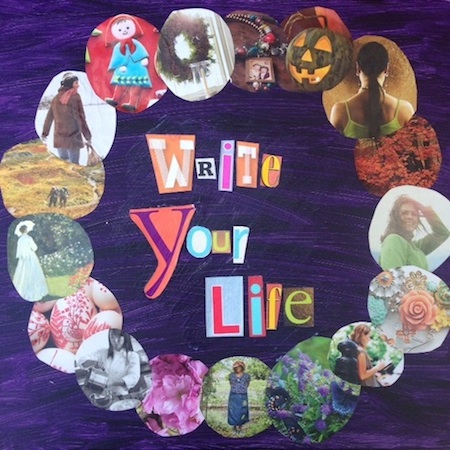 What goals (big or small) on your business plan have you already accomplished or have made progress on?
>>> "Women Who Write Rock" pilot program was launched in which 140 women participated. About ten percent of these women signed up for the next round of the program. Because the program has huge impact on the lives of many women, it is now running as a monthly membership. I feel good knowing that women are wanting to join this program and that I can serve them in this way.
>>> "Write Your Life", a memoir writing mentoring program has also been created. The pilot program of this begins in June.
>>> "Love Poems" was also published.
>>> I'm making progress on collaborating with others and desire to collaborate more with people who have a similar mission.
How do you use your creative intuition in your work?
I use my creative intuition in my work when I'm writing love letters to my followers, writing poetry, or creating a new offering. It's important to me to have plenty of self-care time and reflective time through dance, yoga, nature, writing and bodywork so that I am able to tap into my creative side, and give to others from a space of fullness. When I am well-tended to, I can better support my clients.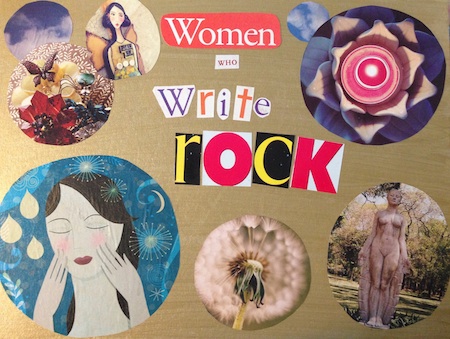 What's your big vision for your business?
My big vision is for every woman on earth to live her brilliance and to support any woman who is called to the work that i offer.
This is a poem I wrote about the women I serve:
What I Believe About You
*
You are a woman of great strength and courage.
You have the ability to express yourself. It may or may not need prodding. But it's there.
You have a right to be heard, your voice booming out to the world, for all to witness.
You have a unique story to tell. All women do.
Your presence on the earth is magnificent, and we need you. We need your unique contribution.
Your life is filled with challenge and heartache, but it's for a purpose. To serve your soul.
Your inner creatrix yearns to be free, to express, to just be, without judgement.
Read more Here >>> http://bebrilliantnetwork.com/our-services/women-who-write-rock-membership/
What advice do you have for other creative entrepreneurs?
Don't make money your goal. Instead, pursue the things you love doing, and do them so well that people can't take their eyes off you. All the other tangible rewards will come as a result.
~Maya Angelou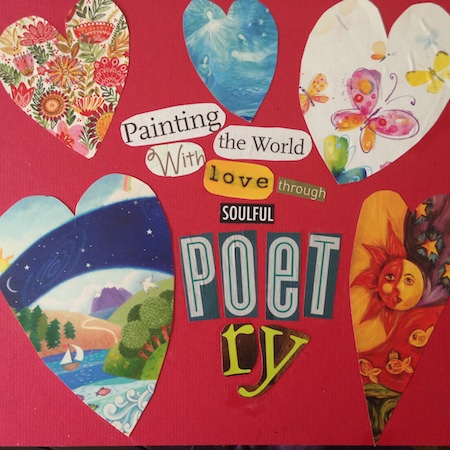 What advice do you have for other creative entrepreneurs?
If you really have a dream, make it a reality. With focused excitement and commitment we have the ability to create whatever we want.
Is there anything else you'd like to share?
Through creating my RBBP, I've realized that I am my own perfect customer. I have traveled (and am traveling) the road of self-discovery. I am facing my fears, healing and accessing greater brilliance as a result of my own inner work. I believe that every woman has the ability to bring healing to herself. My desire is to see every women on our planet in love with herself. Fully healed. Fully embodied. Living ecstatic and vibrant lives. Writing with the intention of self-discovery is one pathway to creating the lives of our dreams. I'm doing it and so can you.
And a video I would love to share: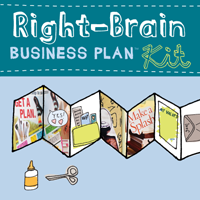 Want to create your own Right-Brain Business Plan®?
The Right-Brain Business Plan® Kit
includes supplies to make your own accordion book style visual business plan.