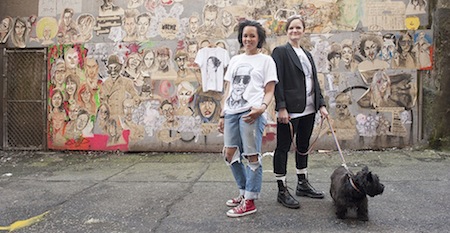 Name:  Anna and Katrina Thorsen
Company Name:  By Post Street Apparel, Inc
Website: katthorsen.com
Note from Jenn: Okay, could this mother-daughter team be any cooler?! Not only have they collaborated together in their creative business "by post street," together they also used their Right-Brain Business Plan® to help them do the legwork that eventually helped them land funding for their venture. I'm so bummed that I missed meeting them when they were in SF last month at an event where they promoted their business but am thrilled that they are sharing an inside peek into their work and RBBP here. Thanks Anna and Kat!!

What is your business and what makes your business unique?
"by post street" is a limited edition unisex apparel and accessories company, founded in January 2013 by Anna and Katarina Thorsen (a mother-daughter team) and features original design by Anna and art by Katarina. The main product- the bamboo t-shirt made of material milled in Canada, is designed, sewn and printed locally in Vancouver, Canada. The company uniquely engages the customer through an online store, international and collaborative interactive art events, street art and social media with a focus on fashion, art, music, global urban culture and portraiture.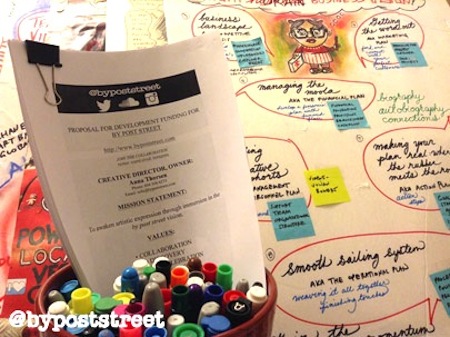 How has the Right-Brain Business Plan® helped you? What is different for you and your business after approaching planning in a creative, visual way?
The RBBP demystified the process of creating a business plan and allowed us to create our business from the ground up- from dream, to plan, to formal vision and to action. It encouraged us to celebrate and reinforce our talents and skills and guided us through each step with nonjudgmental language and engaging exercises. It supplied us with confidence and eased anxiety. It made us realize our right brains are an asset and that money is not to be feared but is simply an exchange of energy. It allowed us to create a tight document that received rave reviews from bankers and mentors. We are consequently inspired to stay intimately involved with the business plan and keep it evolving as the business evolves. We are now confident in our vision, talent and our abilities to be both right and left brained in our approaches. Indeed, we now VALUE ourselves!
What goals (big or small) on your business plan have you already accomplished or have made progress on?
Our initial RBBP was created with zero dollars in our accounts. Before receiving funding, we did art events and scraped together enough funds to create our first two collections. This allowed us to test, trim, focus and identify our mission and vision. We sculpted our RBBP and consulted with mentors, attended seminars, planned collections, mindmapped next steps and clearly outlined our goals. We pre-planned allocation of money and once funding was in place, we were clear on how to execute. We have created promotional videos and completed a successful trip to San Francisco (that included art events, photoshoots, pattern making, networking, street art). We have placed our tees on celebrities and key people traveling the world who share their "by post street" experience on social media. We continue to collaborate with DJs, modeling agencies and venues. We launch our new collections and new website and online store October 2013.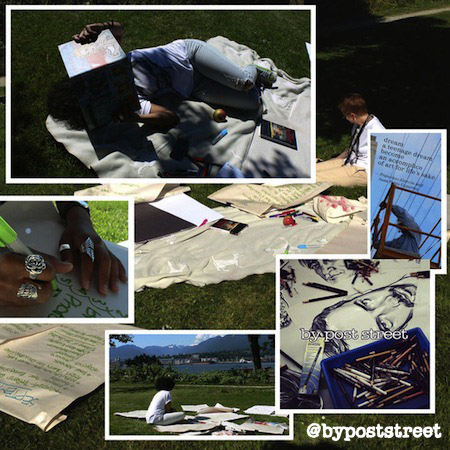 How do you use your creative intuition in your work?
As creative souls, we plunged feet first into our dreams and used the RBBP as our wings. All our lives we have been continuously immersed in the creative process through journaling, mindmapping, daily art creation, reading, blogging, sharing and teaching. All this is incorporated into our business. We have a natural predilection for sharing our work and this has organically engaged our customers. Our instinct and desire to share our art for free has found its way into our "by post street" street art, thereby engaging the customer in a unique way, and drawing them into our culture and thereby encouraging the customer to purchase product. We naturally and intuitively document everything and this has proven invaluable to maintaining records and for revamping our RBBP. We allow ourselves to move through the fears, cry as needed, brainstorm freely and fill our workspace with laughter.
Is there anything you'd like to share about your Right-Brain Business Plan® in terms of what it's made out of or how you made it?
We use large foam boards, as well as felt pens for our mindmapping, brainstorming and vision boarding and relish in new stationary supplies and maintaining organization. We keep all the mindmaps and have certain boards visible at all times to stay on target. We are the brand and wear our work. We even tattoo our dreams and desires on our arms and delight in watching the vision unfold. We fine tune together and review and read aloud our notes and type out the formal documents. We are inspired by the background sound of marathon TV and the atmosphere of cafes. We understand the importance of "acting as if" and the importance of feedback, mentors, seminars, asking questions- taking advice but setting boundaries and being true to your passion and clear in your message. We tie our vision and passion in our business to everything else in our lives.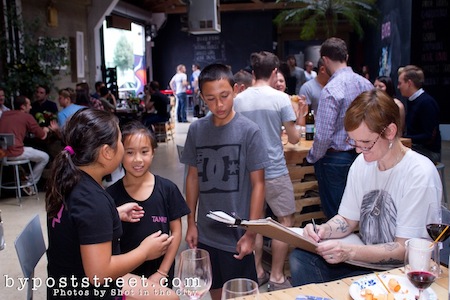 What's your big vision for your business?
We are expanding to include new product and expanding our international presence at events such as Miami Art Basel and Burning Man. We are increasing our name through street art and collaborations and continue to push the envelope while dancing to the pulse of the street. Our overarching goal is to become an internationally recognized networking hub to form partnerships and collaborations between established artists, deejays and fashion designers. We intend to change the way the human learns through collaborative art, creating online art classrooms with an unrestricted reach and a permanent space for students from around the world to express and share their creations at established art galleries globally.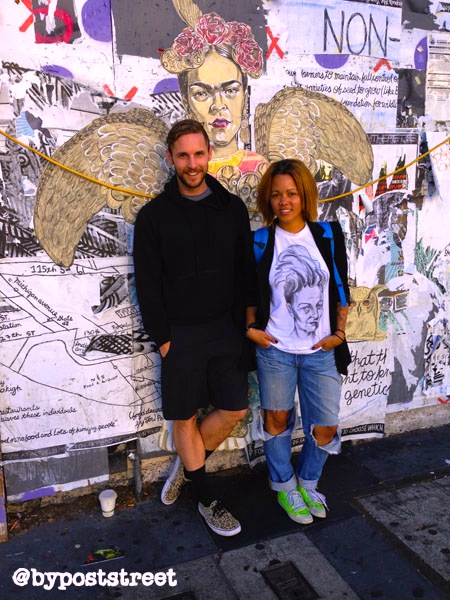 What advice do you have for other creative entrepreneurs?
Witness how much you can do before funds are in place. Embrace mind mapping. Realize your unique qualities. Understand that similar companies are your colleagues. Customers are not just there to buy product but to engage in your brand as they are your ultimate marketing tool. Allow the flow of the creative process. Stay up late and work! Dive in and take smart risks. Identify your core values and revisit lessons learned. Redefine the meaning of failure. Do what you love. Do self-work. Pay attention to the soul and heart of the business and the soul and heart of you.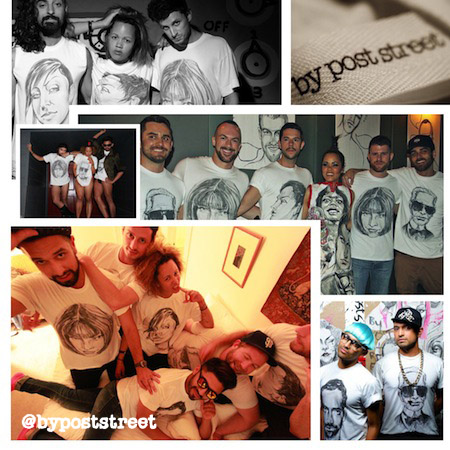 Is there anything else you'd like to share?
The first draft of our right brain business plan was bulky, there was no clear outline for financing and fund allocation, yet the CORE of the business was there. We were turned down at a traditional bank initially, but not having funding in place turned out to be a blessing- we were forced to readdress all aspects of the RBBP and to decide what was working and what wasn't. This also forced us to "act as if" and to proceed with the business in a more minimal way, allowing us to build our brand and gain attention. We took all the lessons and feedback received from mentors and seminars and stripped the document down to identify the key goal of our business: to sell product. We focused on three company areas: product, branding and operations. Once this was established, all our supporting documentation contributed this central goal. Our mission and vision statements became clear and concise. The resulting "final" version of the business plan was a tight document that received rave reviews. When we attained business loans from Vancity Credit Union and the Canadian Young Business Foundation in August 2013, we simply proceeded to execute the plan laid out in our RBBP. We know that our RBBP is an evolving document – and we evolve with it.
You can also read about their RBBP process on their blog.
To see what we're up to behind-the-scenes, check out our You Tube videos and follow us on Instagram @bypoststreet.
What is 'by post street'?

https://www.youtube.com/watch?v=3UxGu6tFKVs
The Creation of Karl Collaboration 1: https://www.youtube.com/watch?v=0hgtnY5TvbY
Ricki Hall Time Lapse: https://www.youtube.com/watch?v=5izkSXq07ck
If you share your expression, you are an artist -by post street
Photo 1 credit: WE Vancouver
Photo 4 credit: Shot In The City
All other photos property of By Post Street Apparel Inc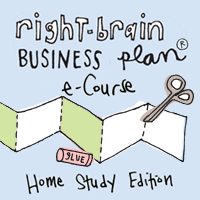 For more support with developing your RBBP, check out the Right-Brain Business Plan® Home Study e-course happening all the time.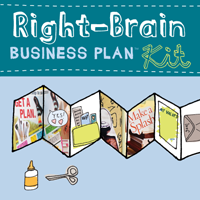 Want to create your own Right-Brain Business Plan®? The Right-Brain Business Plan® Kit includes supplies to make your own accordion book style visual business plan.