Name: Amy A. Crawley
Company Name: Moonroom Crafts
Website: http://www.AmyACrawley.com
http://www.MoonroomCrafts.com
Blog: http://MoonroomMuse.wordpress.com
Facebok Fan Page: Amy A Crawley Fine Art
Twitter: @acrawley
Note from Jenn: Artist Amy Crawley is a talented artist who works primarily in polymer clay. You can check out a few of her delightful pieces below along with photos of her Right-Brain Business Plan™. Be sure to visit her websites to see more of her whimsical work. Amy offers some excellent advice to other creative entrepreneurs below. Thanks, Amy! And congrats on your upcoming polymer clay classes. Very exciting!
(All images in this post courtesy of Amy Crawley.)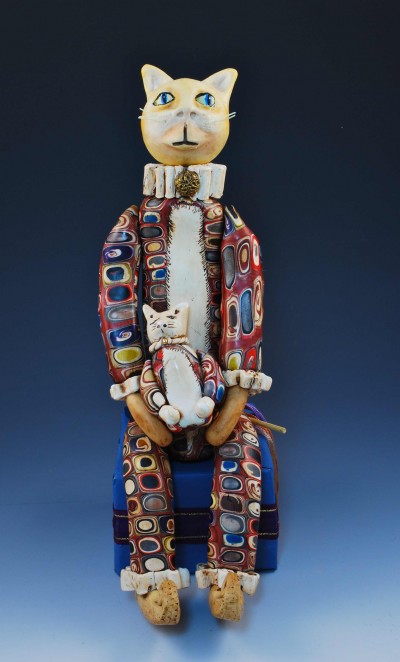 What is your business and what makes your business unique?
I am the owner of two art businesses: Amy A. Crawley Fine Art and Moonroom Crafts. Amy A. Crawley Fine Art showcases my small-scale sculptures called Spirit Messengers. I sell these pieces on consignment and at retail shows. They may also be purchased directly from me.
Moonroom Crafts is my functional art line. This includes wine bottle stoppers, business card cases, and perfume pens. These items are sold via Wholesalecraftscrafts.com and local consignment stores. They may also be purchased from me directly.
Originally, both aspects of my art business were found under the Moonroom Crafts company name. In 2008 I decided to separate the two art forms because they represent two very distinct aspects of my creative muse. Maintaining both can be a little tricky, as it requires a division of my time. Some days I have to focus on wholesale orders when I'd rather be working on something sculptural.
Having these two lines of artwork makes my business unique. It allows me to meet a variety of customer needs and leverage several sources of income. It allows me to move between production work that consumes fewer brain cells and deeply creative, spiritual and sometimes humorous work that speaks to who I am as a person.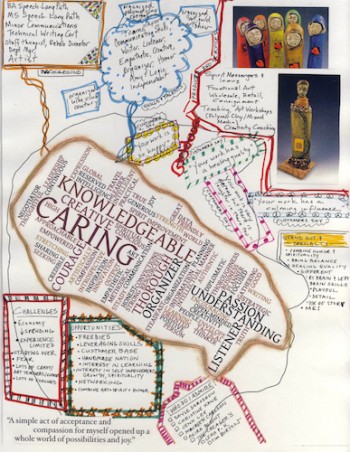 How has the Right-Brain Business Plan helped you? What is different for you and your business after approaching planning in a creative, visual way?
The Right Brain Business Plan has helped me become better focused on the vision for my business. For the last two years I found myself floundering about the direction I wanted to take. I knew I wanted to move away from the functional art business and that I wanted to dedicate more time to my Spirit Messengers and to start teaching and coaching. However, every time I tried to sit myself down to write a business plan, I'd freeze, especially around the money aspect.
I think what made the biggest difference for me was getting clear about my vision and creating that vision with pictures and words. Writing down my vision in the traditional format just wasn't exciting. But meaningful words and pictures seemed to bring it to life and made my vision seem real. I think that I was also finally ready (mentally and emotionally) to move away from my functional art and pursue this next phase of my business.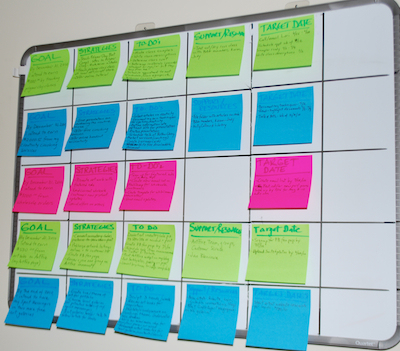 What goals (big or small) on your business plan have you already accomplished or have made progress on?
My biggest accomplishment so far has been meeting with a local art/craft store to talk about teaching polymer clay classes. The meeting was great and I'll be teaching their first polymer clay class on October 1. I'm also offering a 3-part workshop in my studio in October.
I created a Facebook Fan Page for Amy A. Crawley Fine Art, signed up for and created a studio page on ArtFire.com, and completed my six-month revenue review and developed goals for the next quarter. I'm also in the process of researching other area art/craft stores for teaching opportunities.
Last, all of this has awakened my muse. I've recently been inspired by the vegetables growing in our garden and a recent visit to a Chinese grocer in Chinatown. I'm learning how to use Photoshop Elements to create digital art with a vision to create a line of cards, prints, and Spirit Messengers all based on and inspired by the shapes and colors of produce.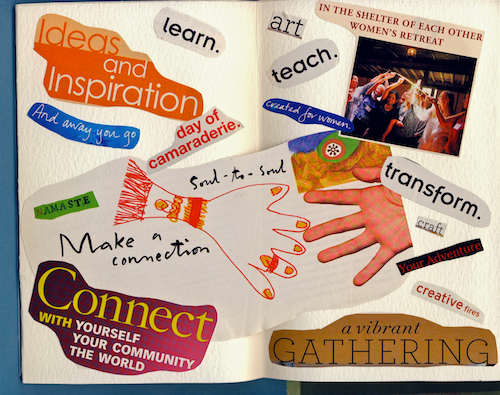 How do you use your creative intuition in your work?
One thing I've learned over the years is that when an opportunity in presented and it doesn't excite me, it's often my inner voice telling me not to pursue it. However, I have to be sure that my lack of excitement or interest isn't due to fear. If fear is keeping me from pursuing an opportunity, then I need to understand where that fear
is coming from. Once the fear is understood, then I can decide if the opportunity is one I want to pursue further.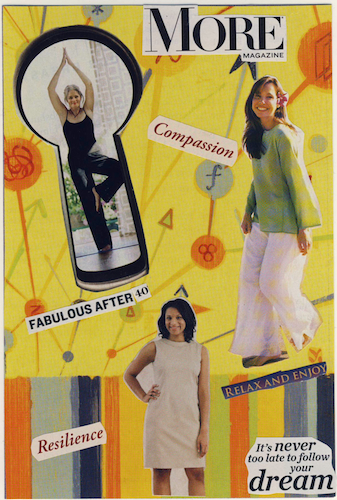 Is there anything you'd like to share about your Right-Brain Business Plan in terms of what it's made out of or how you made it?
My Right Brain Business Plan is made from the covers of an old craft book. I removed the binding and replaced the book's pages with accordion fold pages. The cover is created with fabric from Revel, France. I chose this fabric because it was during my trip to France in 2009 when my desire to teach polymer clay classes, to work with women on engaging their creative muse, and to focus more on my Spirit Messengers was ignited. In many ways, my Right-Brain Business Plan honors that dream.
More details about how this piece was created can be found on my blog: http://moonroommuse.wordpress.com/2010/06/03/having-visions/
What's your vision for your business?

I am passionate about guiding others to discover their creative muse in a safe, respectful, and empathetic environment. My long-term vision for my business is to offer art classes, creativity coaching, workshops, and retreats for women.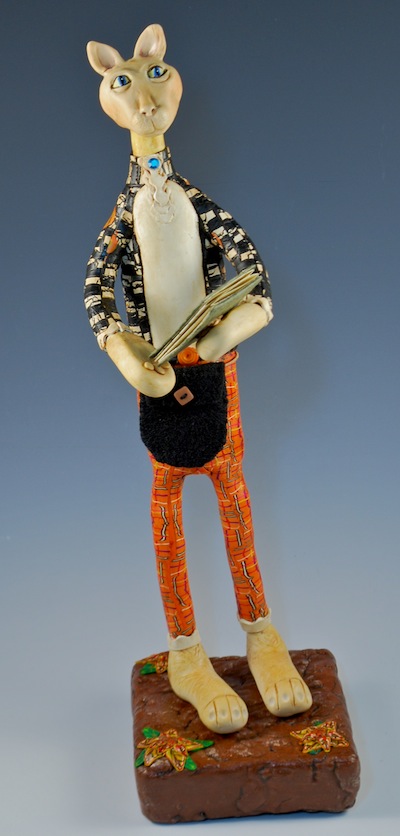 What advice do you have for other creative entrepreneurs?
Be prepared for challenges and move forward anyways.
When the challenges come, give your self 15 minutes of whine time, and then kick the challenge in the butt.
Have at least one type of support network, whether online or in-person.
Jot down your ideas, all of them. And do so without judgment.
Don't fear failure. It's a learning tool.
Take lots of walks
Take naps
Celebrate your successes, the big and the small ones.
Know that you are embarking on a journey that will bring you happinessand a few tears as you step into your power as a brilliant human being. Remember, anything is possible.

Creative Resources
Click here for more information about Amy's polymer clay classes.
The next Right-Brain Business Plan e-Course starts on September 20th. Find out more or sign-up now. Early bird special ends on September 7th.