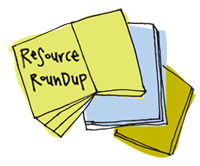 I've been in Vancouver British Columbia this week for some masterminding with the brilliant Andrea J. Lee and fabulous fellow participants of her Wealthy Thought Leader mentorship program. On Tuesday, Andrea hosted TEDxYVR and we watched eight TED talks around Andrea's theme of "Playing with Possibilities."
My favorite talk that we watched was this one from Tim Brown on creativity and play from a couple years ago. I really loved the experiential exercises he did with the audience (we did them too, well, except for the slingshot things – you'll just have to watch!). He gave fascinating examples about using exploring, building, and role playing to increase your design creativity.

I also enjoyed Matt Ridley's talk on When Ideas have Sex. His discussion about the meeting and mating of ideas to make new ideas made me think about the organic emergence of #emmit that happened in the Twitterverse this week. It's as if the Right-Brain Business Plan had sex with a clown (it's not that dirty, really!).
Tori Deaux is hosting an #emmit chat this Saturday, December 11th at 3pm EST. Visit her post for the latest info on tomorrow's chat. There's bound to be lots of great meeting and mating of ideas on having fun in your business!