Did you know that the wildly popular Right-Brainers in Business Video Summit is back for it's 3rd year?
If you've been with us before, you know how much learning and action happens during this innovative virtual event. If you're new 'round these parts, I do hope you'll join us live February 25th-March 8th. It's FREE and it's an amazing way to connect with thousands of creative entrepreneurs from around the world.
And even before it all begins in a couple of weeks I've got a special somethin' for ya!
When you grab your no-cost video summit ticket, you'll instantly receive an audio download of a mega-inspiring and info-packed interview with me and Marney Makridakis. Marney is the author of the bestselling book Creating Time and the founder of the popular site Artellaland.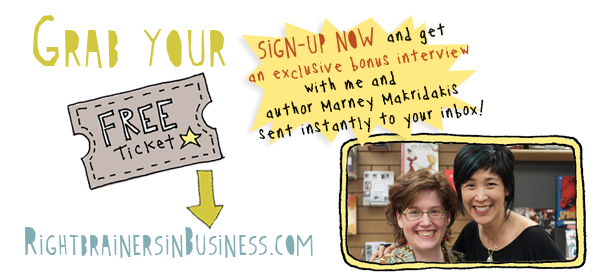 So, even weeks before we dive into the creative feast that is the 10-day summit, you can whet your entrepreneurial appetite with this magical MP3. It's yours to listen to again and again, no matter if you're able to make it to the live event or not.
And, you may be wondering, "Hey, Jenn, if it's a video summit, why is this bonus interview an audio?"
Well, you'll have to listen to find out! There's actually a fantastic action-and-impact-related teaching point that Marney and I couldn't resist sharing with you.
In this exclusive fun-filled interview I also admit why I've been so jealous of Marney through the years and she lets us in on all her best secrets for staying so productive and profitable. This is a woman who doesn't let anything stop her and there's so much you can learn from her (she doesn't hold back on this interview!).
So, make sure to grab your no-cost ticket today and get a head start on the summit wisdom by listening to your special instant bonus audio.
I'd love to hear what you take-aways from our chat and what it sparked for you as we head into the summit!
I can't wait to see you LIVE in a couple of weeks.