Have YOU ever wanted to make your own info product?
Or have you already made a product but need some inspiration and support to get your next one done?
Stop being stuck in the money-for-time-box and learn how to package your know-how so you can reach more people at once, make more moola, and be a thought leader to boot!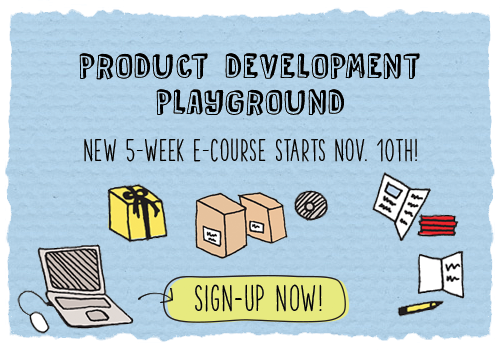 My business shifted when I began to develop products. And yours can, too.
In fact, my first 9-page illustrated e-Book that I created in 2008 became the seed for my best-selling book The Right-Brain Business Plan, which in turn became a foundation for growing my multiple 6-figure business!
Starting
November 10th
, I'm leading the Right-Brain
Product Development Playground
and I'll be sharing my secrets for getting your fabulous product ideas out of your head and into the hearts and hands of your peeps.
Maybe you've been spinning your wheels on your product idea for a few months (or years!) but don't know how to get started. Or you're soooo busy working with your clients that you can't find the time to work on your product (hint: You may not realize it, but you actually have been working on your product! I'll show you how.)
Your next product is ready to be born and your perfect customers are waiting to receive your gifts. Don't let them wait any longer!
"Thanks to Jenn and her step-by-step strategies for factoring in both sides of the brain I've been able to successfully develop and deliver six products in less than two years. Jenn is an amazing guide who has taken a complex process and broken it into manageable chunks that will get you closer to having your product in the hands of your perfect customers in no time." – Kiala Givehand, www.kialagivehand.com
Grab your spot before the super-affordable early-bird rate expires Friday, November 7th at 9pm PT.
Not only will you learn about how I've created my portfolio of creative products, you'll also get an inside peek into the product development journeys of these super inspiring entrepreneurs.

How cool would it be to have your new offering ready to go before the new year even starts!