With 2011 right around the corner, I like to take this time to start planning for the new year. I actually get excited about planning because for me it means, rolling up my sleeves, whipping out colorful markers, and mapping out all of my creative ideas.
Here are some of my favorite right-brain business planning supplies and tools that make the process fun and effective:
This Paper Source giant wall calendar is the bomb. I tear off each month and tape them all along a wall in my creative space. I plan out my projects and plot my milestones using sticky notes and colorful markers.
Of course sticky notes are a staple and you can spruce up your collection by getting fun shapes like flowers, stars, and arrows.
Like many creatives, I'm usually working on multiple projects and ideas at once. I love tucking away my clutter and chaos in these colorful boxes from IKEA.
I've been swearing by Levenger Circa Notebooks for more than a decade. I love the versatility of this cross between a spiral notebook and three-ring binder. I have the hole punch, too, so I can add in my own paper and doodles.
My latest Levenger love is the Oasis Concept Pad. It's large pad of paper with a blank middle perfect for placing sticky notes and mind mapping flanked by two lined columns for notes and to-dos. You can also fold the sheets in half, hole punch, and stick in a Circa notebook. Heaven!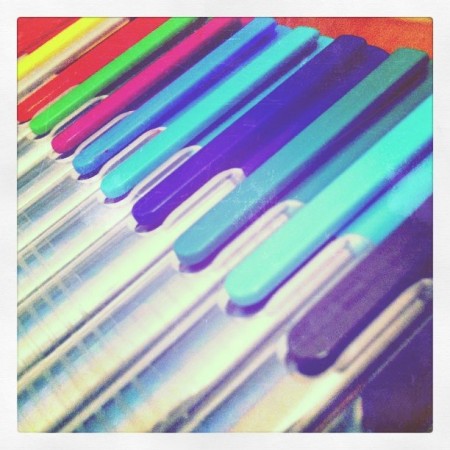 My Staedler Triplus Fineliner pens are my trusty note-taking companions. I love that the carrying case transforms into a stand.
I also love having a magnetic bulletin board where I can post my goals, vision boards, and other inspirational goodies, a small easel on my desk to display my values cards, and a mini notebook to carry around in my purse so I can capture ideas on-the-go.
What tools do you use in your creative planning process? I'd love to hear. May your planning for the new year be filled with sparkles and magic.