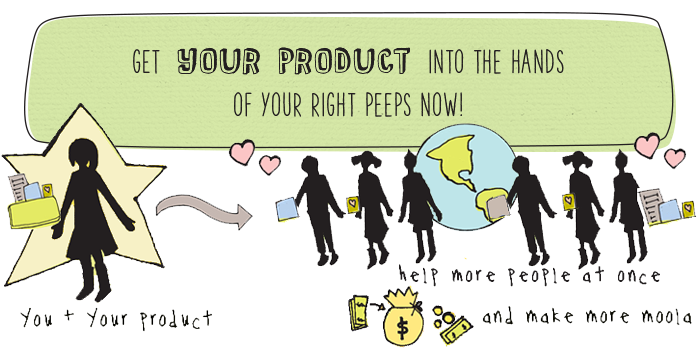 Do you dream of having your own card deck, kit, e-book, e-course or other creative product to help more people experience your gifts (and finally free yourself from the money-for-time box)?
I hear from so many creatives how they long to extend their reach beyond what they can do working 1:1 with clients or selling handmade pieces. And I also hear how daunting it can feel to venture into the world of Product Development, especially when you have no clue where to start.
That's why I created my 6-week Product Development Playground – to help creatives just like you understand how to package your ideas into products that help you reach more people and make more moola.
I give you detailed, exclusive inside peeks into the same proven process that has helped me write my 2 books, develop my various tangible kits, and digital products.
Maybe you've been spinning your wheels on your product idea for a few months (or years!) but don't know how to get started. Or you're soooo busy working with your clients that you can't find the time to work on your product (hint: You may not realize it, but you actually have been working on your product! I'll show you how.)
Your next product is ready to be born and your perfect customers are waiting to receive your gifts.
Don't let them wait any longer!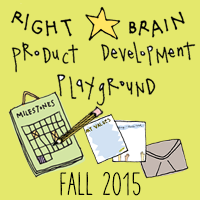 And, how cool would it be to have your first 2016 offering ready to go before the new year even starts? Or hey, if you're feeling really ambitious, maybe you'll launch something just in time for the Holidays. It is possible if you stay focused and take full advantage of the support we provide!
This facilitated e-Course will give you the structure, guidance, and accountability to help you take inspired action to get your product done.
Since taking the course in 2014 artist Jennyann Carthern has launched 3 products with more to come:
"Jenn's course helped me finally finish something. I no longer spend my days overwhelmed, stuck and confused. I now know how to take an idea, create a prototype for it, and test how it works, to see if it's worth pursuing. Since I've taken Jenn's course I've launched The Monster Chores Coloring Book, A Personal Art Project called Painting Black Faces, and just recently I launched my very first Mini 5 Day E-Course, called Starved Creative. I'm also diving deeply into my other offerings with more confidence & strength now!"

– Jennyann Carthern, Artist. Illustrator. Muralist. paintisthickerthanwater.com
How's that for inspiration to bring your product idea to life?
Come join us! Early-bird savings end TONIGHT at 9pm PT so sign-up now for the best deal and your special bonus gift (an example of one of my digital products!).