This morning creative souls from around the world gathered for the first of 5 Greatest Hits encore replays from the past 3 Right-Brainers in Business Video Summits. We just couldn't wait until the big event in 2014 when my 2nd book comes out to connect live with you guys, so now we have opportunities every other Wednesday through March to meet up in the chat room.
If you missed today's replay of Danielle LaPorte's "vintage" interview with me back in February 2011, it's definitely worth catching. Sign-up here to watch the replay and to get access to the other 4 popular interviews we'll share through March 26th.
In today's live part, I shared my 5 Core Desired Feelings that I uncovered using Danielle's awesome new book The Desire Map.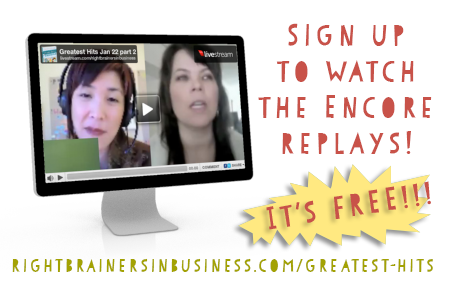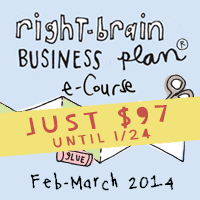 Plus, I shared an exciting announcement. We are offering a facilitator-led Right-Brain Business Plan® e-Course starting on February 3rd and you can get in for the lowest-ever price of $97 if you grab your spot NOW through Friday, January 24th at 9pm PST.
One of my star RBBP facilitators, Kiala Givehand, will be there to guide you through the 8-weeks of videos from me, to support you with the exercises for each key piece of your plan, and to answer your burning questions.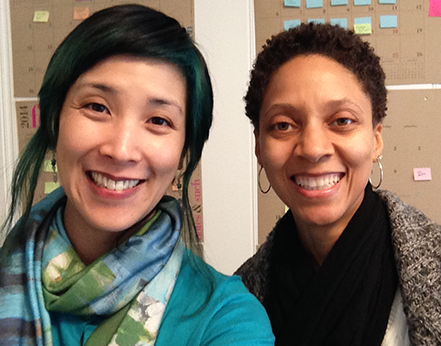 Plus, she'll be leading 3 live group coaching calls and some catalyst chat sessions so you'll have live touchpoints with an expert RBBP leader throughout the entire program. You will be in good hands with this incredible woman!
Make sure to grab your spot now in the e-Course for the super, affordable rate of $97 before it goes back up to the already low price of $147 after this Friday.
And if you missed our live Greatest Hits session today, sign-up here to catch the Greatest Hits replay and to make sure you get the reminders about the other 4 awesome speakers that I'll be reprising in the coming weeks.