Before we head into the holidays next week, I wanted to make sure my right-brain peeps heard the latest and greatest news!!
I'm gearing up to give a FREE Live Right-Brain Business Plan workshop on creativeLIVE. Together, we are going to prove that all you need to build a beautiful, comprehensive business plan is a fantastic idea that fills a need and a box full of markers, paper, scissors and miscellaneous crafts!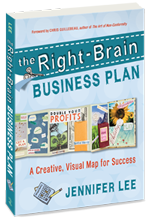 During the 3-day workshop (Jan 18-20), you'll learn my secrets for growing a business in a profitable, sustainable way that's driven by what makes us all unique – our imagination and creativity. I want to stress that this is a FREE live workshop, and I will showcase all of my best tips from my award-winning book, The Right-Brain Business Plan, and my extensive experience working with creative entrepreneurs from around the world.
If your new year's resolution is to finally get your small business off the ground, or to take your existing business to the next level of profitability and impact, then get ready to make business buddies with your right AND left brains, grab every artistic tool in your arsenal, and tune in for my creative workshop!
We all have a great business idea, but that's not good enough. You need to make it real and that's why I will not only show you how to take that idea and craft it into a business vision but I'll also take you step-by-step through the planning process. You'll also learn you how to build your business team, manage your moola, and get the word out with a marketing plan. When all is said and done, you'll have a clear idea of how to set and achieve your business goals while using your creativity and having fun.
So what are you waiting for? Join me and get that business off the ground! And even if you're already in business, wouldn't you love a fresh approach to breathe new life into your work and help you expand your enterprise in ways you never thought possible?
More details on the workshop can be found on my creativeLIVE course page.
And hey, did you know that YOU could have a chance to meet me in-person and coach with me LIVE during the workshop? Find out how you can participate in-studio with me in Seattle.
For those of you who have participated in some of my other live video sessions, let me tell you that this course through creativeLIVE will take the experience to a whole new level! I have a feeling you'll love it. I can't wait to connect with you in January!