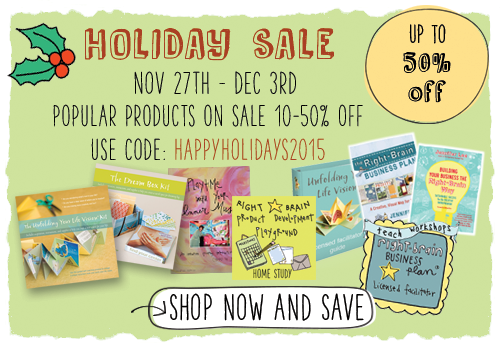 Our biggest sale of the year starts today, November 27th!
You can save between 10-50% on some of my most popular offerings including my autographed books, my kits, our Associate Coaching package (get individualized support to kick off the new year), and my licensing programs.
Simply enter the code HAPPYHOLIDAYS2015 at checkout.
New Items
We also just launched a few new offers including the Product Development Playground Home Studywhere I share all of my secrets for making your own information products (like all of these goodies for sale).
And two short, super-affordable courses on Pinterest and on DIY Graphics with Canva and PicMonkey.
So grab that creative resource you've been eyeing for yourself or get a unique gift for a cohort.
RBBP e-Course Lowest Price Offered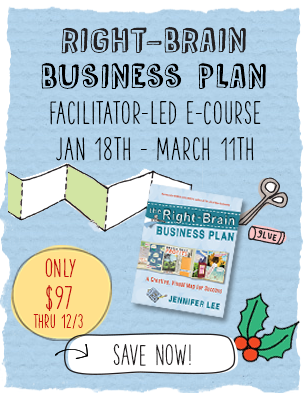 You also have the chance to grab a pass to the facilitated version of my flagship Right-Brain Business Plan e-Course that starts in January for only $97 during the Holiday Sale only.
Besides, I'll let you in on a little secret… RBBP e-Course grads automatically get access to the home study, so in way it's like getting two for one. Here's the thing, though, if you get during the Holiday Sale, you'll get the facilitated version of the course AND the home study for a mere $97 (which is like saving nearly $200 if you were to buy both separately!).
All Sale Items come with $97-value Bonus Gift
PLUS, when you purchase a sale item through Dec. 3rd, you'll receive a special BONUS GIFT – my Right-Brainers in Business Video Summit Greatest Hits (valued at $97).
This awesome bundle features a popular session from each year including Danielle LaPorte, Jen Louden, Dan Pink, Michael Port, and SARK!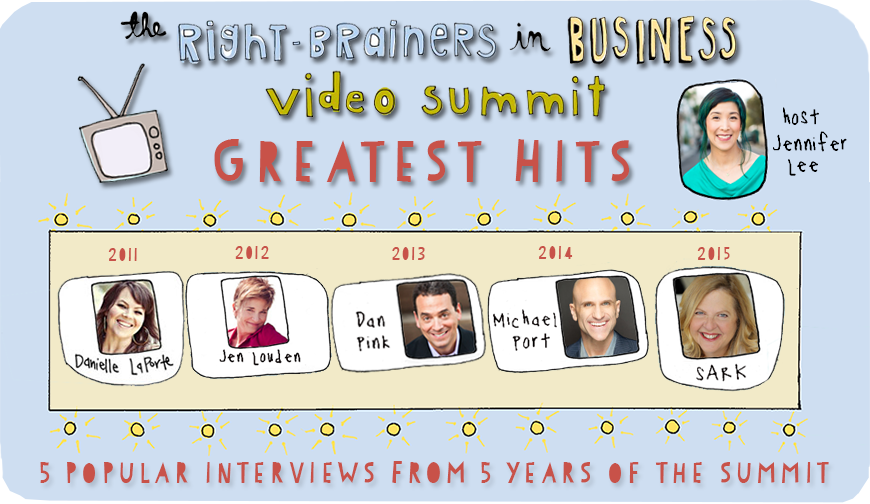 So to recap: When you purchase any Holiday Sale item not only will you save up to 50% off the regular price, you'll also get a valuable bonus gift!For example, you can get my latest book Building Your Business the Right-Brain Way for just under $18 AND you'll get access to a bundle of 5 super awesome video summit interviews (valued at $97). Pretty sweet deal, right?
The Holiday Sale ends on Thursday December 3rd, so make sure to act now.
Quantities are limited on tangible products. Please note that discounts or bonus gift cannot be applied to previous purchases.