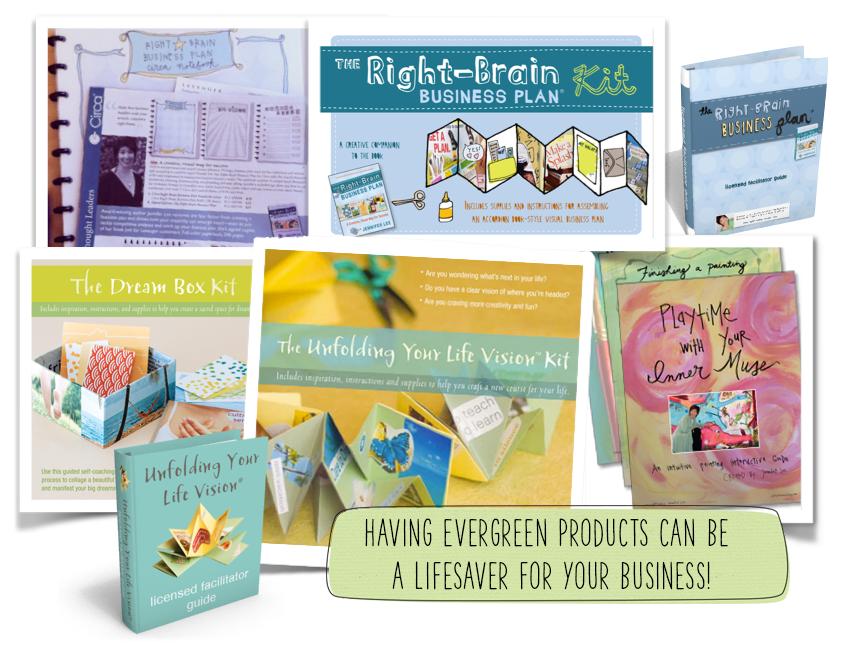 Let's face it… life can throw you curve balls. I see it happen all of the time in my own life and with my clients.
You have a sudden health crisis, a loved one unexpectedly needs care-taking, your dear pet gets ill, or someone close to you passes and you need to step away from work to tend to other priorities.
Or sometimes it's not that dire (thank goodness!), but you simply need to take some time off. Hey we all need vacations every now and then, right? But as an entrepreneur you still need to bring in money to pay the bills even when you're on holiday.
Or maybe you experience cyclical dips in your business and need more immediate, reliable opportunities for income that don't always have to equal money for time.
When you're in a pinch, do you have anything in your entrepreneurial back pocket to quickly sell (without you needing to be there)?
If not, you might want to consider adding some evergreen information products to your portfolio.
These are perennial offers like e-books, e-Courses, kits, or self-paced programs that you can sell at a moment's notice. With your products you can package up your "know-how" such as your process for helping your clients tap into their creativity, or your proven tips for increasing flexibility and balance through simple yoga poses, or whatever it is that you're passionate and knowledgeable about, into a format that's easy for your peeps to reference or experience on their own.
You put in work upfront to create the product and then once it's done, you can launch it (and re-launch it later) to bring in some extra cash. Yes, there is some effort to put together a launch plan and you must have the follow-through to execute the plan but here's the cool thing once you have that process in place, you can repeat it.
Which is what makes having information products such a great lifesaver!
You can run a sale on your product(s) during slower months, you can promote a self-study course instead of needing to actually deliver the entire course live, and you can still share your gifts and impact people in powerful ways even if you need to step away from your business for a bit.
Don't have an info product yet? Or stuck trying to get your next product out there (because you have so many ideas or your idea is just too big)?
Our upcoming Product Development Playground may be just thing for you. We'll cover how to create and launch your next product.
By the way, a great example of being able to leverage existing products to bring in money when you're in a bind is SARK's Love Boat. I donated some 2015 Right-Brainers in Business Video Summit Booster Passes to help their cause (if you missed the boat earlier on the final video summit earlier this year, you can grab your pass for nearly half-off!).
Want to have you own info product that you could sell at a moment's notice? Join us in our 6-week facilitator-led Product Development Playground e-Course starting on September 28th. Early-bird ends on September 25th, so act now to get best savings!