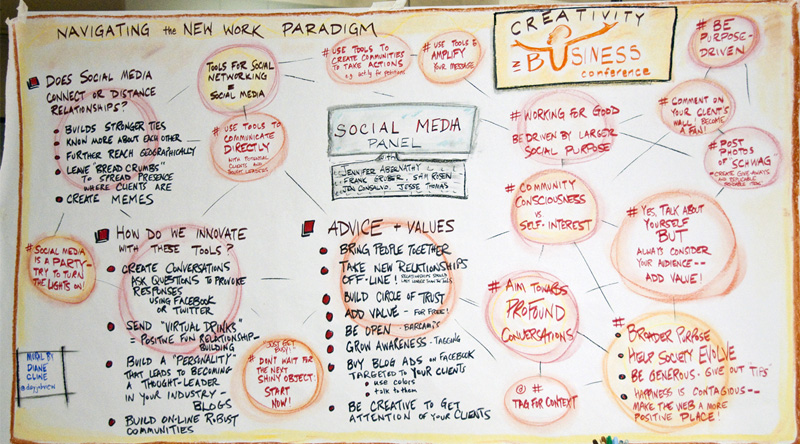 The Creativity in Business Conference in D.C. this past weekend rocked!  What an incredible experience connecting with so many creative visionaries and forward-thinking people.  From improv games to on-the-spot tweets, from informative presentations to experiential, expressive exercises,  I learned so much from everyone I got to play with.
Photo by ShinyHeartVentures via Flickr
Thanks to conference founder, Michelle James, for bringing together such an amazing community and for giving us a fun and engaging forum to explore navigating the new work paradigm.  I had a blast leading the breakout session on the Right-Brain Business Plan and was inspired listening to the new insights that participants gained from accessing their creative intuition.  I also enjoyed sitting in on the other breakout sessions.
Here were some of my take-aways:
Social Media Creativity and Innovation Panel with Jennifer Abernethy, Frank Gruber, Sam Rosen and Jesse Thomas, moderated by Jen Consalvo
The expert panelists provided some great insights and tips:
The improv principles of "Yes, AND" and "make everyone else look good" also apply to building relationships in social media.  They help us co-create a conversation that adds value and we help promote the good work of other people.
Using hashtags helps you connect with others who have similar interests.  I loved being able to find fellow conference goers on Twitter in real-time by searching for the hashtag #bizcreativityconf.
While it's great to meet people online, it's even more impactful when you can build those relationships off-line.  I couldn't agree more!  The past several months I've had the pleasure of getting to meet some of my online friends in-person in the Bay Area and in Boston and D.C.
Grow awareness by tagging people who are in your photos and posts on Facebook so that it will show up on their news feeds.
I learned about the cool new online gratitude journal thankfulfor.com that was started by panelists Frank and Jen.
Graphic recorder Diane Cline did awesome job illustrating notes of some of the sessions.  The visual map above documents the Social Media panel (you can click on the image to see a larger version and more tips).
Brand Story Mojo to Increase your Brand Value with Michael Margolis
Michael shared his framework for storytelling:
Believe in yourself first and why you're communicating what you're communicating.  Authenticity is key.
Successful leaders are ones who can tell a story.
We are always telling stories (most of them in our heads).  Facebook and social media are a way for us to externalize our stories and co-create them with others.
Entrepreneurship is about making something better and getting others to care.  Stories help get others to care.
People need to identify themselves in your story and then it will become their story.  It's a way to engage people.
Improv Principles and Practices in Business for Breakthrough Performance with Mike Bonifer
Mike gave some great examples of companies who use improv principles to enhance their business success and facilitated exercises to help us embody the learning:
Companies tend to focus on the successful outcome.  They try to re-create the next innovative product/outcome but fail because they really should've tried to institutionalize the successful process.  The game is the process.
Mike defines games as engines for exploring the theme of your narrative.  They help create focus and discipline and they energize and invite team members to perform. Good games attract the good players.
He had us play with the improv principles directly by inviting us to co-create a message around a random thing.  It was amazing to see what our group came up with to market cookware.  It was even more fun to get up in front of the room and "perform" it!
Improv asks us to be very present with each other and to look for what we can build on.  What a great way to leverage creativity in the workplace.
For more session notes, please check out Ana Ottman's great write-up about the sessions she attended (including mine!).
I was thrilled to connect with Sam Horn, author of one of my favorite books POP! Stand Out in Any Crowd.  I'm grateful for the insights and advice she generously offered.  And in our improv session we learned we both don't like to cook ;)!
During the evening festivities, "quantum comedian" Vanda Mikoloski had me in stitches with her irreverent enlightened humor that pokes intelligent fun at spirituality and personal growth.  She also did a great job of reminding all of us that we're doing important work in helping to shift the consciousness of the planet and that's nothing to laugh at!
To top it off, I had the good fortune of catching a ride to the airport with Jeff Klein, author of Making Good: Making a Difference While Making a Living.  I enjoyed learning more about the inspiring work he's doing with conscious capitalism.
I look forward to staying connected online with all the great people I met and continuing to learn from their creative genius.