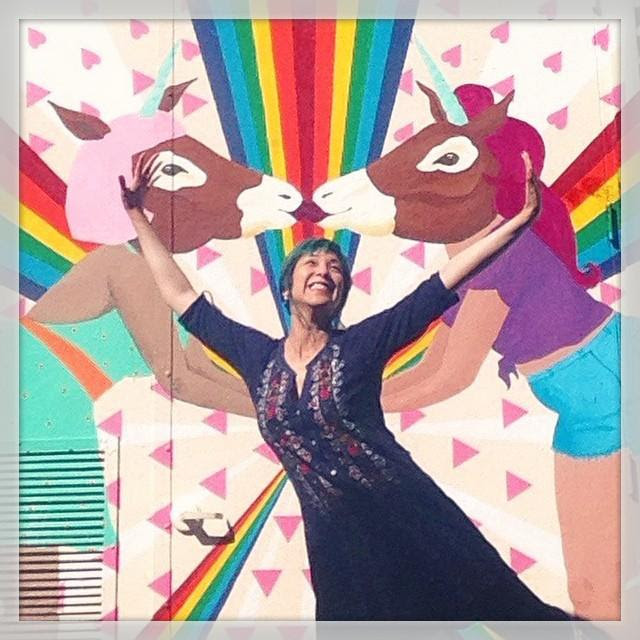 At the end of June 2006, I said farewell to my decade long journey in Corporate America. I walked out the doors of Gap Inc. on Folsom Street in San Francisco and never looked back. This was pre-iPhone, otherwise you know I would've taken a selfie to commemorate the moment! 😉
Of course venturing into the unknown scared the bejeezus outta me, but I knew that I had to follow my heart.
Now, another 10 years later, I'm grateful for all that's transpired since I took the leap!
Just for fun, you might get a big kick out of reading this fake future press release I drafted up right after leaving my corporate job.(BTW, it's such a powerful exercise in articulating your dreams – I highly recommend doing it yourself!)
While not everything came true exactly as I wrote it, I'd say that some things are close enough or the essence of those visions have manifested in some form or another.
TODAY only to celebrate my 10-year solopreneur-versary, I'm hosting a sale on my Unfolding Your LifeVision® licensing program and YOU can save 40% on this fun, done-for-you program. This is the lowest price you'll get on this comprehensive system.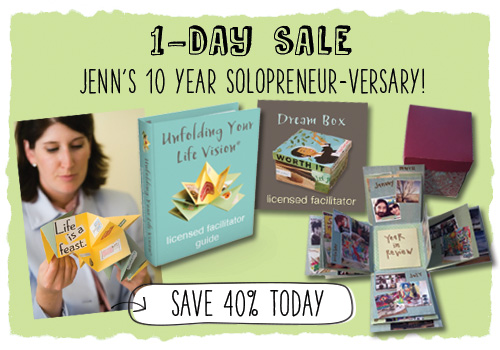 Hold inspiring life vision workshops based on one of my bestselling creative works without spending a fortune or spinning your wheels! I've taken out all of the guess work for you and share my best secrets, so you can focus on teaching inspiring and profitable workshops now.
Not only do you get rights to lead my Unfolding Your Life Vision® Workshop but you also get rights to lead my inspiring Dream Box Workshop as well!
Plus, for this special occasion I've added in the never-before-offered Exploding Box Year-in-Review workshop guide. If you're not sure what an exploding box is… here's a quick video of my box from my 2015 reflection process.
That means you get not 2, BUT 3 workshop guides for the price of 1, on sale to boot.

Save a whopping 40% now through 9pm PT, TONIGHT, June 28th by entering the code: CELEBRATE at checkout. The discount cannot be applied to previous purchases.