Did you know that the first Right-Brain Business Plan was born during Art Every Day Month in November 2007? Yep, right there on my kitchen table! I had no idea this seed of an idea would turn into the what it has today. So you can bet I believe in the power of this creative challenge!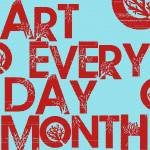 I've been participating in my pal Leah Piken Kolidas' annual challenge since 2007 and highly recommend it for anyone wanting some structure and community around flexing your creativity muscles. It's a great way to experiment, try new things, see what tickles your fancy. I love the reminder that it's okay to mess things up and not be perfect. All fabulous things for right-brain entrepreneurs to pratice!
Leah has an Art Every Day Month Survival Guide for anyone needing a little encouragement and extra support throughout November.
Hope you'll join in the fun! I'll be Instragramming my itty bitty sketches every day.