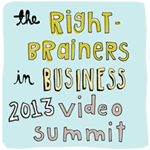 It's hard to believe that our 3rd annual Right-Brainers in Business Video Summit has come to a close.
Missed the live event? We've extended 3 replays through the weekend, so sign-up for free to catch up on these amazing interviews.
We had record-breaking turn out to our live interactive event with more than 23,000 viewer hours! It seems that right-brain entrepreneurs from around the world are hungry for business-building resources that speak their right-brain language. Creative souls joined us from 60 countries – from the US, Canada, and across Europe and Asia, plus Australia, and even Nepal, Afghanistan, and Latvia!
You can get a taste of this incredible learning experience by watching The 2013 Right-Brainers in Business Video Summit – Week 2 Highlights Recap Video above. This week we heard from Corwin Hiebert, Elle Roberts, Kari Chapin, Tiffany Han, Charlie Gilkey, Casey Truffo, and Jill Badonsky.
Here's what folks had to share about this year's event: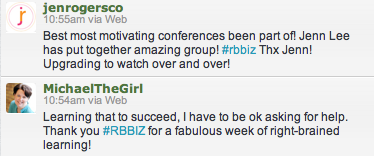 And from the chat room:
JackieB: This has been life-changing for me. Seriously.
PamSani at SBO Studios: There has not been one boring moment on this entire summit! Glad I upgraded!
Patrish16: Thanks to ALL of you! I have drawn so much from you all these past 2 weeks and will continue to do so from this day forward! THANK YOU for helping me re-discover my right brain!
DebraMarrs: thank you so much, Jenn. 3rd time participant and LOVED every day all 3 years
Laurel: Jenn, this was the best summit yet, and you are the best of the best! Thank you!! xo
Want unlimited access to these info-packed inspiring and practical sessions? You can upgrade to the Booster or Premium Pass and get the pep talks you need from your favorite mentors at the click of a button!
The early-bird rates end on Wednesday, March 13th and our 2nd group coaching call at the Premium level is on Thursday, March 14th, so act now to take full advantage of this special offer. We've got a fabulous group of right-brain entrepreneurs already connecting on our private, facilitated Premium Facebook group. Would love to have you!