Today's the day! Multi-Passionate Must-Haves is out and I'm super pumped to let you know about how you can help your multi-passionate self, give back to others (by supporting breast cancer research), & get 95% off some of the best products created by and for multi-passionates (including moi!).
30 courses, audios and ebooks – worth $2046.95 – that allow you to integrate your many passions into your life and use them as fuel for income, are yours for just $97 'til Thursday at midnight. That includes my intuitive painting product, Playtime With Your Inner Muse, along with:
365 Writing and Blogging Prompts by April Bowles-Olin ($47 value)
Bewitch: Cast your Spell to Get the Customers You Crave by Kris Oster ($99 value)
Board of Your Life by Tanya Geisler ($150 value)
Brilliant Boundaries by Kylie Bellard ($27 value)
Business By Design by Megan Auman ($99 value)
The Digital Launch Playbook by Joel Zaslofsky ($67 value)
Easier Email by Cairene MacDonald ($67 value)
An Effective Escape by Michelle Ward ($9.95 value)
Energy Management 101 for Introverts by Tanja Gardner ($47 value)
Facebook for Artists by Cory Huff ($25 value)
The Fierce Love Course by Molly Mahar ($97 value)
Find your very own GPS readings by Sas Petherick ($142 value)
The Good to Know Project, Zines 1-5 by Amy Ng ($10 value)
How to Build a Blog You Truly Love by Liv Lane ($49 value)
How to Say No by Tiffany Han ($25 value)
Journal Yo Feelings Out by Jenipher Lyn ($15 value)
Journaling Your Awesome Future by Deb Cooperman ($15 value)
Launch Your First Profitable E-Course by Halley Gray ($97 value)
Life is Messy Planners by Mayi Carles ($40 value)
Marketing for Creatives by April Bowles Olin ($27 value)
Playshop in a Box by Melissa Dinwiddle ($37 value)
Playtime with your Inner Muse by Jennifer Lee ($27 value)
Power Play by Amanda Genther ($97 value)
The Purpose Paradigm by Laura Simms ($18 value)
Sex, Love, Liberation by Ev'Yan Whitney ($27 value)
The Soul Fire Code by Satya Colombo ($75 value)
Supporting Multipotentialite Kids by Emilie Wapnick ($27 value)
The Ultimate Virtual Retreat by Jen Louden ($198 value)
World-Changing Writers Workshop by Pace Smith ($297 value)
You Again Yoga by Caren Baginski ($89 value)
The 2nd best part? $10 from each sale is going to Michelle Ward's team for the Avon 2-Day Breast Cancer Walk in NY. Michelle was diagnosed with breast cancer in November 2011 and declared cancer-free in June 2012, and this will be the 3rd year she'll be walking 39.3 miles with Avon over 2 days with her mother and bestest friends. Given that my mom, 2 aunts, my sister-in-law, and one of my book club ladies all had breast cancer, you can bet that this is a cause near and dear to my heart.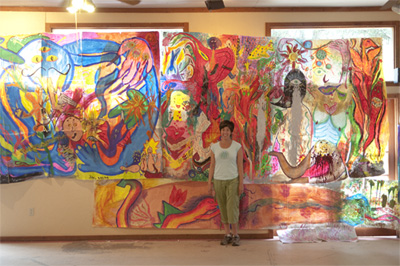 (You can probably guess, then, that clicking the links here throws some affiliate coin my way, but – as always – I'd never send you to something I don't stand behind fully. And I stand behind this, so fully that I'm buying one for myself. I mean, have you seen that Jennifer Louden, Megan Auman, Michelle Ward, Emilie Wapnick, Tiffany Han, and Cory Huff are all here?).
The Multi-Passionate Must-Haves sale will be gone at midnight Pacific Thursday, so check it out now. Your creative, multi-passionate life awaits!
P.S. If you don't know what it means to be multi-passionate, or are unsure if you are one, take a look at this page and jump to the Q&A at the bottom of the page.