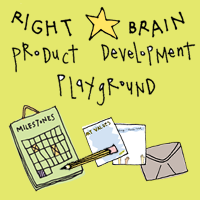 I wanted to let you know about an exciting opportunity for the next 72 hours to get your hands on some valuable resources, including my Right-Brain Product Development workshop, where I share my secrets for turning your teachings into products.
I'm joining more than 20 other creative leaders in a not-to-be-missed bundle sale that's happening from NOW through midnight Thursday, May 16th.
More than $1379 worth of e-courses for ONLY $97!
The "Multi-Passionate Must-Haves" is designed specifically for those of you who have a LOT of different interests, projects, and creative pursuits in your life.
I couldn't be more honored to contribute alongside these products from these amazing experts (some of whom you might recognize from past Right-Brainers in Business Video Summits):
BYOB Build Your Online Business Guide by Natalie Sisson ($37)
Pitch Perfect™ Pack by Dyana Valentine ($57)
The Creative Ignition Kit by Melissa Dinwiddie ($37)
Renaissance Business by Emilie Wapnick ($49)
Productivity for Multipotentialites by Michelle Nickolaisen and Emilie Wapnick ($67)
Operation: Creative Career Cheer by Michelle Ward ($37)
Social Media Rehab by Tiffany Han ($59)
Reclaim Your Dreams by Jonathan Mead ($47)
Life is Messy Planners by Mayi Carles ($40)
Creating Your Own Mastermind Group by Jen Louden ($100)
The Declaration of You by Jessica Swift and Michelle Ward ($57)
The Comparison Cure by Kylie Bellard ($15)
Ethical Selling that Works by Pamela Slim ($97)
Help, I Need More Time! by Bev Webb ($46)
How to Describe the Indescribable by Alexandra Franzen ($17)
The Art of Earning + The Art of Growth by Tara Gentile ($40)
Spin Your Story by Amanda Oaks ($10)
The Joy Equation by Molly Mahar ($147)
52 Weeks to Awesome by Pace & Kyeli ($52)
The Right Brain Product Development Playground by Me! Jennifer Lee ($97)
How to Take a Career Break to Travel by Alexis Grant ($29)
Small Army Strategy by Srinivas Rao ($2.99)
The Kick Burnout Kit by Michelle Nickolaisen ($17)
The Yearly/Weekly Planner Bundle by Michelle Nickolaisen ($23)
The Courageous Living Program by Kate Swoboda ($125)
The Momentum Kickstart Kit by Charlie Gilkey ($47)
Guerrilla Influence Formula by Tyler Tervooren ($49)
My left-brain tells me that the total retail price for all of these products comes to $1,379. But for the next 72 hours, you'll be able to snag them all for only $97, a price I'm sure your right-brain will love
Grab your Multi-Passionate Must-Haves Bundle TODAY!
And because we feel strongly that the power of multi-passionates needs to be used for good, we're going to be donating $10 from each sale to Michelle Ward's team for the Avon 2-Day Breast Cancer Walk in NY. (Michelle was diagnosed with breast cancer in November 2011 and declared cancer-free in June 2012, and this will be the 2nd year she'll be walking 39.3 miles with Avon over 2 days with her mother and bestest friends.)
Enjoy!