Hello, my right-brain friend! Thanks for your interest in helping me and Teahouse Studios spread the word about the upcoming Right-Brain Business® Plan workshop in Berkeley. We appreciate your help!

Below is some sample marketing copy that you can use to share with local people you think may be interested.
Teahouse Studios Affiliate Program
The studio that I'm teaching through, Teahouse Studio, has an affiliate program if you'd like to earn $25 for every person who signs up from your link. Just click here to sign-up for their program. (You'll also be able to make a commission on any of their other inspiring and creative workshops. And please note this is separate from the Artizen Coaching affiliate program.)
Badge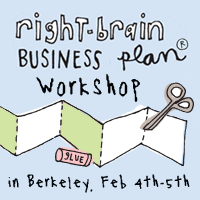 Here is a badge you can use if you want to include a graphic. Just right-click and save the image to your computer. And upload it to your site or blog and include your affiliate link or the HTML below.
Sample marketing copy
You can copy and paste this text to use in a personal e-mail to local friends, include in a newsletter, put on a Facebook post, or a blog post.
SUBJECT LINE: Jumpstart 2012 with the Right-Brain Business Plan
Maybe you're like me and the thought of writing a business plan makes you gag. But you know important it is to have clear goals and action steps for your business to succeed. Well, here's something for you that might be just up your alley. Instead of staying stuck and frustrated, how about having fun and moving your business forward with the Right-Brain Business Plan workshop, based on Jennifer Lee's bestselling book The Right-Brain Business Plan.
Author and certified coach Jennifer Lee is leading a weekend workshop in Berkeley on Feb 4th-5th from 10am-5pm. This is a rare occasion to get to work live and in-person with Jenn.
The course will guide you through a visual, creative, and accessible process to clarify your business vision, goals, and actions steps. You'll even touch on the traditional (a.k.a. "intimidating") parts of the plan like competitive analysis, marketing, and finances in a way that's creative, inspiring, and engaging.
You can find out more details here: http://www.teahouseartstudio.com/rbbp (OR REPLACE WITH YOUR AFFILIATE LINK). There's a special bonus of complementary access to the Home Study version (valued at $147) which includes monthly calls with Jenn.
Hurry, the early-bird special ends this Friday, January 13th and space is limited.
This is the perfect time to create your roadmap for a prosperous 2012!
Thanks!
YOUR NAME GOES HERE
Sample Tweets
Bay Area peeps: A rare chance to work w/ @artizencoaching on your Right-Brain Biz Plan http://www.teahouseartstudio.com/rbbp #rbbp
Does the very thought of writing a business plan make your skin crawl? http://www.teahouseartstudio.com/rbbp #rbbp
Where are you with your business plan? Join the Bay Area #rbbp workshop on 2/4-2/5 http://www.teahouseartstudio.com/rbbp