Entrepreneurial Ecosystem
Hi there!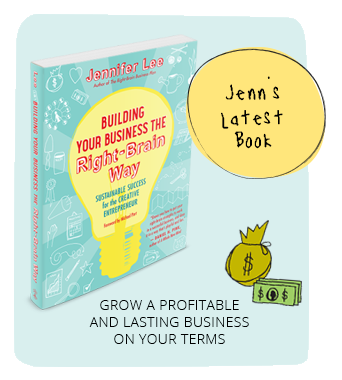 Here is an 18-min. video class where I walk you through assessing your Entrepreneurial Ecosystem.
This exercise is from Chapter 2 of my book Building Your Business the Right-Brain Way.
Make sure to have a blank piece of paper handy and your favorite set of colorful markers (I love Mr. Sketch!). Enjoy!
Want ALL of the colorful illustrated play sheets from my book plus more?
If you haven't already, make sure to sign-up for the full Right-Brain Business Bundle – not only will you get all play sheets from my book, you'll also get a 10 min. guided visualization to help you connect with your unique gifts.
I'd love to see your Business Flowers.
Tweet me at @artizencoaching with the hashtag #rbbiz.
Share you #rbbiz pics with me on Instagram at @jennlee
By the way
If you're wondering where I get the fun calendar in the background it's the academic wall calendar from Paper Source. And the notebook I'm using is my Right-Brain Business Plan® Circa Notebook through Levenger.