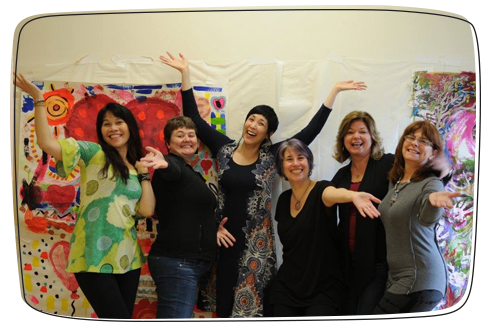 Dear Creative Soul and Right-Brain Entrepreneur,
For the first time ever, I'm opening up my studio to the public for an intimate day-long intuitive painting and entrepreneurial leadership retreat.
And I'd love for YOU to join me!
Expressive arts and the intuitive painting process have played an important role in my own personal development and the success of my business.
This practice helped me move through the doubts, blocks, and emotional ups and downs that came with writing my first book. Plus, busting through my limiting beliefs and painting BIG empowered me to be more visible at a time when I was really ramping up my business and growing my audience.
I know I'm not alone in these challenges that many creatives face.
Perhaps you've been playing small? Or maybe you want to get your gifts out there more broadly, but you're a prisoner to perfectionism? Or you're letting fear, comparison, or uncertainty stop you?
Let your creativity lead the way!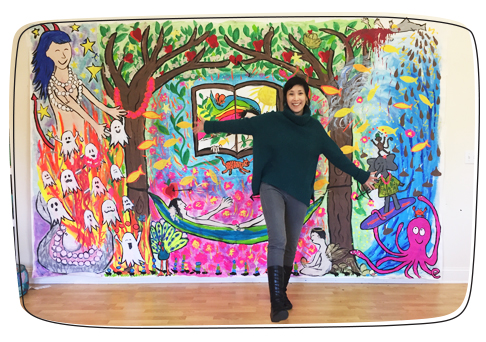 I know firsthand how trusting the brush helps me lean into my own intuitive genius. I'll share my secrets for stepping into your own bigness (one of the keys to increasing your visibility and building your leadership muscles and something that has made all the difference in my business).
You'll learn how to harness your creative wisdom on and off the canvas and you'll cultivate more confidence and courage in your life and business.
Join me on Thursday, March 30th from 10am-4pm at my studio in El Cerrito (in the SF Bay Area just north of Berkeley, CA)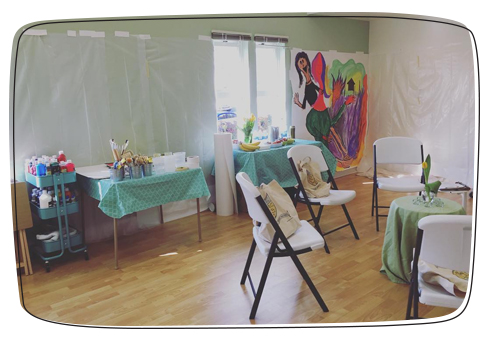 My studio is quite cozy, so we have a limited number of seats available.

In this interactive and empowering retreat you'll: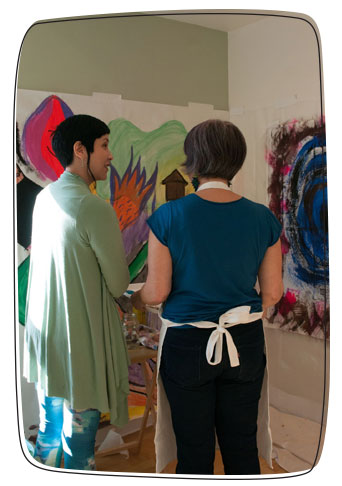 Connect deeply to your inner wisdom and practice taking action from that grounded knowing
Access your authentic voice through the surprising power of the paintbrush and intuitive imagery
Experience the freedom of full creative expression. You have permission to be silly, wild, messy, and more! There's room for it all.
Allow yourself to be seen as you take up space and strengthen your visibility muscles. Owning your bigness will help you get your gifts out into the world in bigger ways!
Discover strategies for by-passing your Inner Critic and continuing to move toward your aliveness. Imagine how these skills can help you bust through the inhibitions holding you back in your creative life and business.
Keep your momentum going after the retreat with our follow-up Integration Session
Open up to possibilities you haven't even considered yet

Your day-long retreat includes: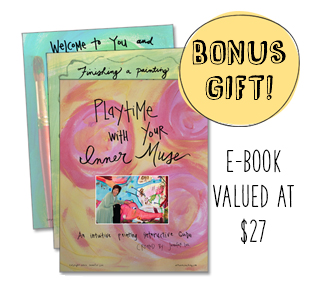 Prep questions to help you identify what you want to get out of the experience and where your biggest challenges are
All art supplies
Experiential exercises to help you feel your creative wisdom in your bones and lock in your learning
A guided meditation to help you ground and stay present
Hands-on loving guidance from a seasoned coach and facilitator in a safe, sacred space
Light snacks and tea. Please bring your own sack lunch
A follow-on 1-hour Integration Session facilitated by Jenn. This group webinar will take place on Thursday, April 6th at 12noon PT one week after the retreat to help integrate your learnings into your day-to-day life (the virtual session will be recorded if you can't make it live)
BONUS GIFT: My Playtime With Your Inner Muse e-book ($27 value) will be your go-to-guide when you practice intuitive painting on your own. It'll be like I'm right there with you!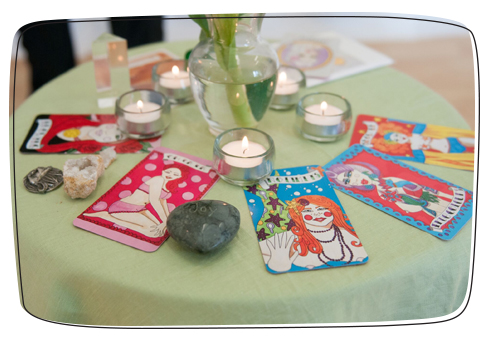 Come join the fun
Please note that unfortunately we've had to postpone the retreat due to an illness in the family. Sign-up below to be notified when we reschedule registration. Thanks!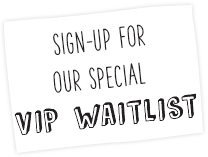 Some Left-Brain Details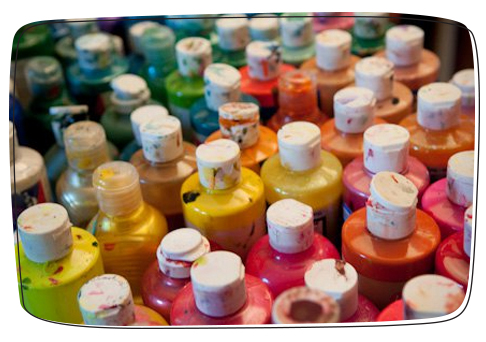 The retreat will take place at my studio in El Cerrito, CA (just north of Berkeley). The location will be provided upon registration. It's a short Lyft-ride from the Del Norte BART station. If you're driving to the studio, there's a parking lot behind the studio.
Please remember to bring your own sack lunch. We'll have an ice chest but there is no refrigerator or microwave, so a salad or sandwich are good options. We will provide light snacks and water/tea.
We will provide art supplies.
Dress comfortably and in layers. We will be moving around the room and of course we will be getting messy! Aprons are available.
If you have any additional questions, please contact info @ artizencoaching.com and someone from the team will be in touch as soon as possible.
What Past Painting Participants Had to Say

"Jenn sparkles with creative force! She led me into a magical place where all my dreams were possible. Her attention to detail and solid presence created an exquisitely safe container to try on new and expansive aspects of myself." – Danielle S.
"I definitely feel like I am ready to put myself out there in a bigger way, feeling more comfortable stepping into my power and operating from my center." – Lisa D.
"Jenn brings imagination and an abundance of creativity to her leadership. As a leader she has a warm and bright presence that puts people at ease." – Erin B.
"In Jenn's intuitive painting class you are led on an amazing journey of self-discovery. Her imaginative and compassionate approach opened new creative worlds for me." – Linda K.
"Jenn brings refreshing, creative, magical energy to her classes. She has imaginative idea that assist you in expressing your feelings in a playful way. I felt safe and nurtured in the environment that Jenn created. She was tuned in to the needs of the group." – Nadine H.
About Jennifer Lee
Jennifer Lee (she/her/hers), CPCC, MA, is the founder of Artizen Coaching® and the author of Building Your Business the Right-Brain Way and the bestseller The Right-Brain Business Plan, which has helped tens of thousands of entrepreneurs around the world launch their creative businesses.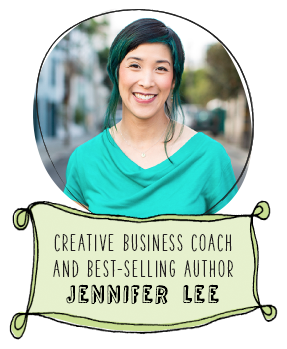 After spending 10 years climbing the corporate ladder and getting tired of living her dream "on-the-side," she took the leap to pursue her passions full-time. Jennifer has been featured in The Wall Street Journal, U.S. News & World Report, Entrepreneur, Whole Living, Family Circle, Cloth Paper Scissors Studios, and Choice magazines, numerous radio shows, and on ABC7 TV and partnered with Levenger to develop the Right-Brain Business Plan® Circa® Notebook.
She received her coaching certification and leadership training through the prestigious Coaches Training Institute.
Jennifer is also a certified yoga instructor, a certified Expressive Arts Facilitator, a certified meditation instructor, and holds a B.A. in Communication Studies from UCLA and an M.A. in Communication Management from USC.
She is a 4th generation (Yonsei) Japanese/Chinese-American, cisgendered, heterosexual, able-bodied, highly-sensitive/empathic, introverted, female-identifying person in mid-life. She lives on the Big Island of Hawai'i with her creative, rather left-brain husband, and their sweet husky-lab mix.
There's a space in the studio just for you!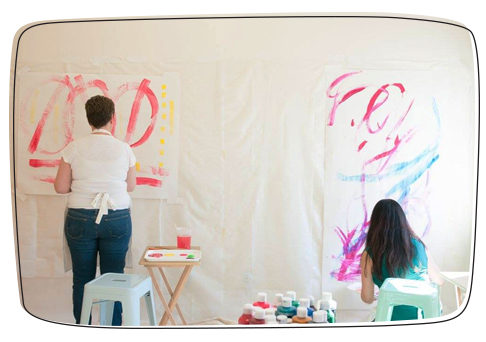 Don't miss this rare opportunity for intimate, face-to-face coaching with me! I'd love to have you in the studio. Remember, early-bird ends on March 24th, so act now.