Featuring 36 info-packed interviews
Dear Right-Brain Entrepreneur,
In celebration of the 5th anniversary of The Right-Brain Business Plan book launch and Video Summit we've cooked up something special for you.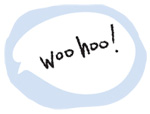 For five consecutive years thousands of creative souls joined us from around the world to engage with the best and brightest entrepreneurial leaders. Just because we've closed a chapter on our wildly popular live summit doesn't mean that you can't learn from these experts and luminaries, now. The teachings are timeless and the inspiration endless.
As a thank you to our fabulous right-brain community we've repackaged some of our most popular video summit sessions into super-affordable bundles around topics that creative entrepreneurs struggle with most.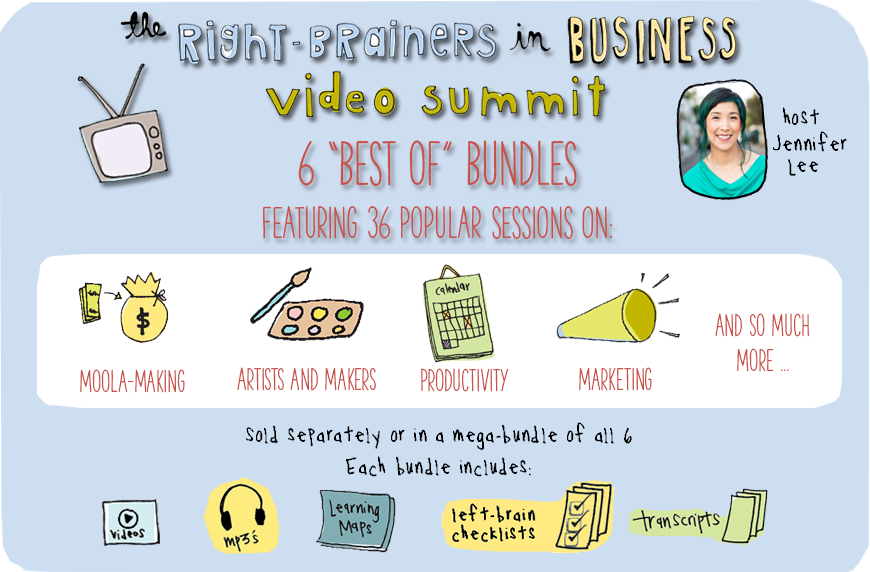 So whether you need help with marketing, moola-making, productivity or more, we've got a bundle for you – 6 fabulous bundles, in fact. Read on to see which bundle is best for you and your business.
AND if you want the whole she-bang, you can GET ALL 6 BUNDLES for a special price.
Here's to your success!

When you're sick of being a starving artist…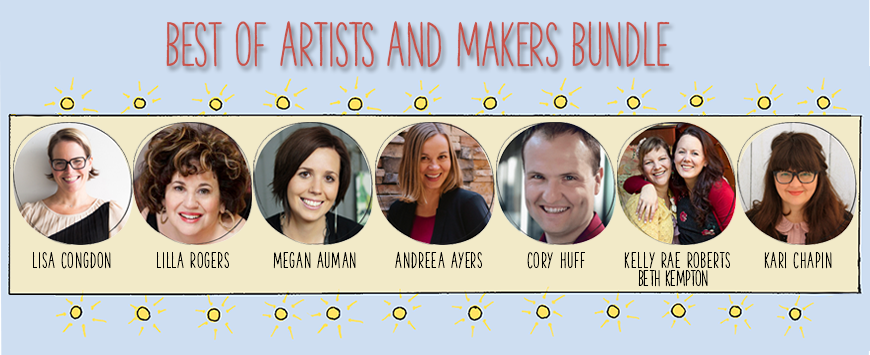 When you need real-life role models who prove that you absolutely can make a living from your creative work, watch this super-inspiring panel of 8 speakers in our Best of Artists and Makers Bundle.

When you need to get sh*t done…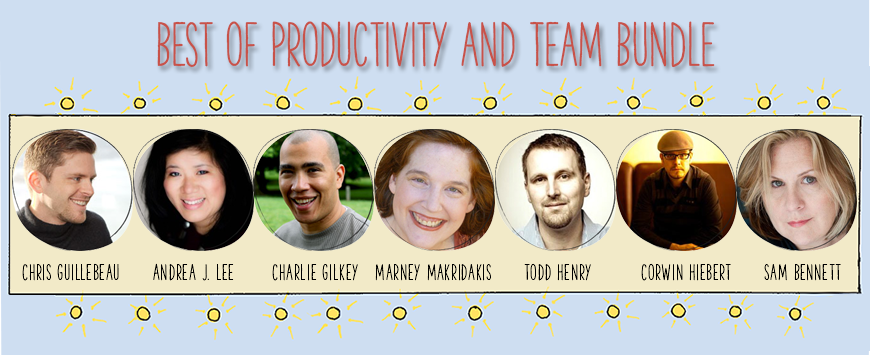 When you need a kick-in-the-pants to get sh*t done fire up these practical interviews with 7 entrepreneurial experts and go-getters in our Best of Productivity and Team Bundle.


When you need to authentically marketing yourself…
When you need to stop hiding and start connecting with your right peeps watch these 7 empowering experts share their secrets for authentic marketing in our Best of Getting the Word Out Bundle.


When you need grounding and mindfulness…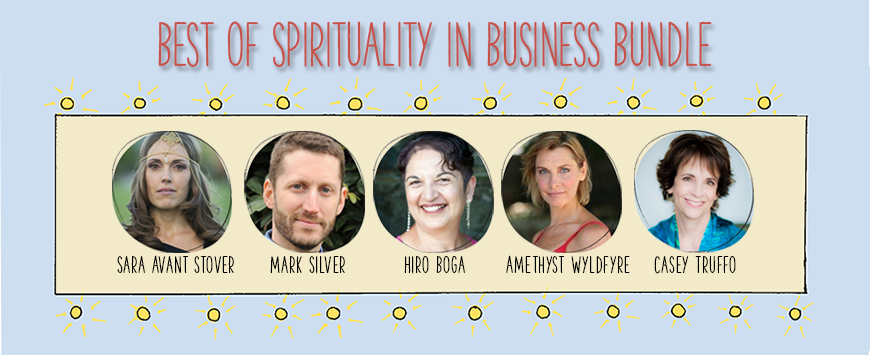 When life is a whirlwind and you need grounding and mindfulness to bring your best self to your work cozy up to the 5 wise leaders in our Best of Spirituality in Business Bundle.


When you need to face your finances…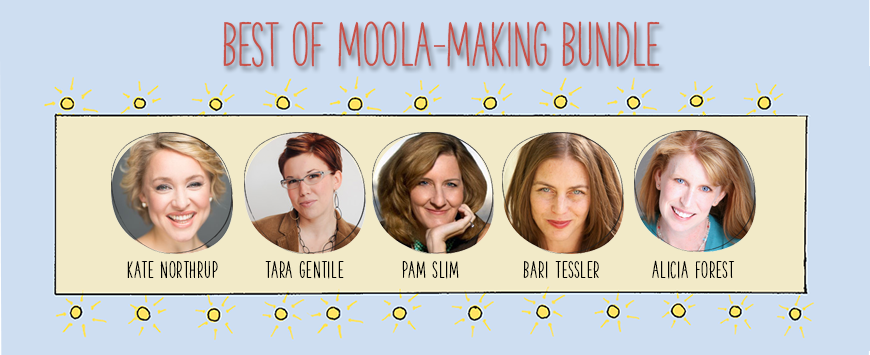 When you need to face your finances with compassion, tune into these 5 savvy money guides in our Best of Moola Making Bundle.

When you need a boost from industry thought leaders…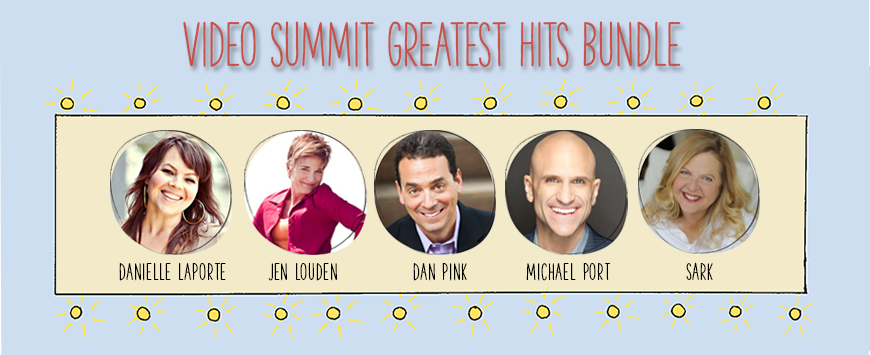 When you need a booster shot of expert guidance from top entrepreneurial luminaries, dive into our Greatest Hits Bundle with 5 of our most popular sessions from the 5 years of the Video Summit.

When You Need a Whole Team of Virtual Mentors at Your Fingertips…
Can't decide which bundle is right for you?
You can get the Mega-Bundle of all 6 bundles for $297.
Why not have the very best in marketing, financial, productivity, creative advice and more at your finger tips?
You can create an entire conference weekend for yourself in the comfort of your own home and binge watch these bundles to your heart's content! Make sure to take action, too, please cuz that's what will make all the difference in your business.
Or dip into specific interviews or checklists while you're on the go or when you need a quick practical pick-me-up. Our bundles include various easily digestible formats that suit your different learning styles and needs.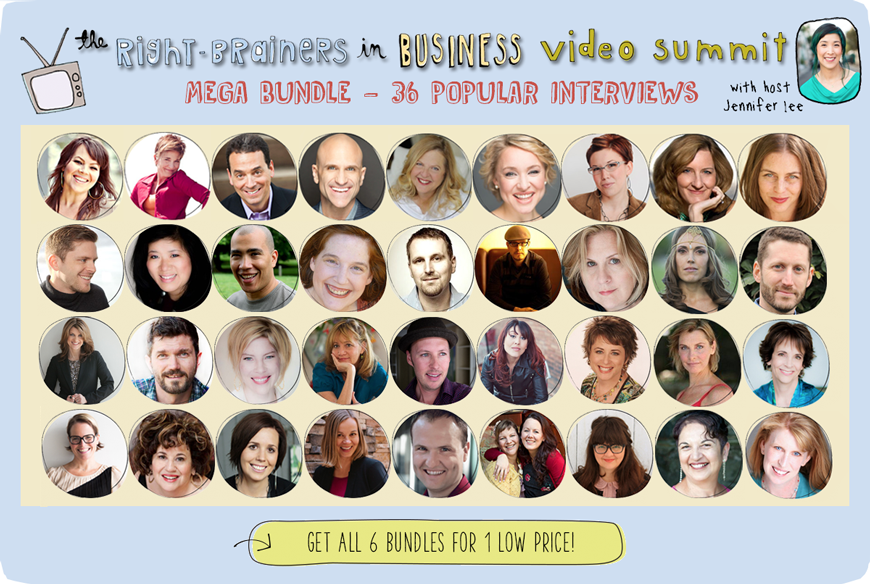 If you were to each bundle separately at regular price you'd pay more than $700! So, enjoy all 36 hand-picked interviews for nearly 70% off. It's a no-brainer.
We get that you might feel like a kid in a candy store with so many interviews to dive into with these bundles. That's why we created our special Aha's and Actions Guide with tips and suggestions to help you work through and implement the materials.
Interested in hosting your own summit one day?
The Mega Bundle is a fantastic case study of a successful 5 time flagship offer and the Aha's and Action Guide includes some things to look for as you deconstruct the event for your own learning and research purposes. We've also included a nifty speaker-by-year list so you can watch the Mega Bundle chronologically and see how the summit evolved over time.

Buzz from this video series:

"I think I've attended all of your RBBIZ Summits and just feel like it is time to say thank you! By using your play sheets, I started my business at the first summit. Every year, I leave the summit with a plan for how I'll grow in the rest of the year. My business is something I'm so proud. It has given me financial security and confidence, and I want to let you know you had a hand in creating it."
Elizabet Wendt
, www.eastbayesl.com
About Jennifer Lee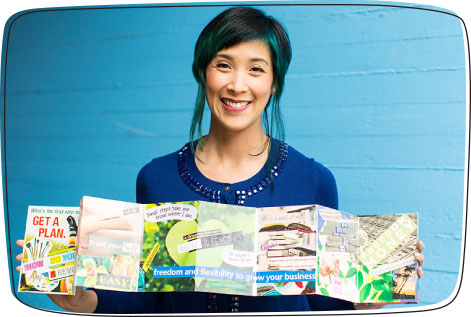 Jennifer Lee, CPCC, PCC, MA, is the founder of Artizen Coaching® and the author of Building Your Business the Right-Brain Way and the bestseller The Right-Brain Business Plan, which has helped tens of thousands of entrepreneurs around the world launch their creative businesses.
After spending 10 years climbing the corporate ladder and getting tired of living her dream "on-the-side," she took the leap to pursue her passions full-time. Jennifer has been featured in The Wall Street Journal, U.S. News & World Report, Entrepreneur, Whole Living, Family Circle, Cloth Paper Scissors Studios, and Choice magazines, numerous radio shows, and on ABC7 TV and partnered with Levenger to develop the Right-Brain Business Plan® Circa® Notebook.
She received her coaching certification and leadership training through the prestigious Coaches Training Institute.
She is also a certified yoga instructor, a certified Expressive Arts Facilitator, and holds a B.A. in Communication Studies from UCLA and an M.A. in Communication Management from USC.
She lives in the San Francisco Bay Area with her creative, rather left-brain husband, and their sweet husky-lab mix.