4 Months of 1:1 VIP Coaching
Ongoing, individualized support to help take you and your creative business on to a bigger stage.
I can't wait to work directly with you to create sustainable success.
It's your time to shine!
You feel it in your bones and have those butterflies in your belly… Your intuition is telling you subtlety (or not so subtlety!) that THIS is YOUR year.
Your business, your message, your life beckon you in bigger ways and you know you must make bold, courageous moves to meet those callings NOW. And that probably makes your heart beat faster and your palms sweaty.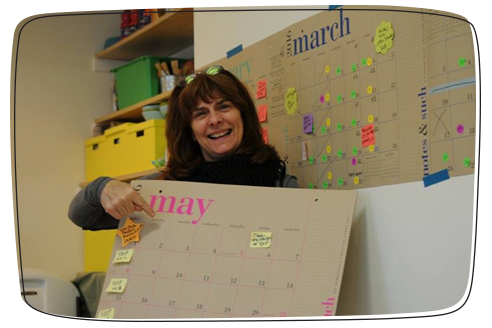 You don't want to embark on this transformation alone. And you certainly don't want to burn out as you reach for new heights.
You want the hands-on guidance from someone who has been there before you and can light the way while you create, execute, and fine-tune a long-term strategy that works for you.
As an ongoing VIP client you get direct access to my experience and expertise to help propel you forward into a wildly successful and fulfilling year (with ease and fun, of course!).
I can't wait to partner with you!

Read on for more info or if you're ready to sign-up, apply now!


Tiffany broke 6-figures AND learned to chill out and let go of what wasn't working
"It is no coincidence that my business blew the hell up after I started working with Jenn!
Hiring her was a no-brainer and the results speak for themselves: not only did Jenn provide specific structures and strategies that led to doubling my mailing list and tripling my revenue in one year, she also taught me how to chill out and let go of things that weren't working so I could focus on what was.
I was able to surpass the coveted 6-figure mark in my business and find the sweet spot in the products I love delivering as much as my clients love being a part of!
Working with Jenn has been GOLD for me, and the best part? She's super fun!"
Tiffany Han
, Business & Branding Coach for the Highly-Creative Woman, tiffanyhan.com
Do any of these sound like you?
You've already experienced great growth and now you want to hit a new moola-milestone with more ease or you're redefining what success means to you
You want to authentically expand your audience so you can serve more people with your unique message and special gifts
You've got some systems and infrastructure in place, but know you need to strategically streamline so you're not drowning in details
You have an established arm of your business but are now looking to branch out into a new market or craft new offers that align with who you are now
You're burnt out from pushing so hard to reach your current level of success and you know there has to be a better way that honors your natural rhythms and energy

Michelle made twice her investment back already and has streamlined her business
"You have helped me IMMENSELY in just 3 sessions – you're magic. I hired you to help me figure out how I could streamline my business in a way that maximized the impact I was having (as well as the enjoyment!), and my "busy work" has been shut down almost immediately. You being here through these Backscratching Calls and while I craft these new offers has also showed me how much $$$ I've been leaving on the table, constantly. It's great to see how I can rectify that moving forward, in a way that feels good to me.
I've made twice my investment back from help you've directly given me. I'm also more confident in what I'm (not) offering because I know it's aligned with what I want to be working on, what my (prospective) clients want from me and what is (not) giving me results."
Michelle Ward
, Creative Career Coach, www.whenigrowupcoach.com
VIP Coaching Package Includes:
An in-depth assessment to help you get clear on where your business is at overall
Four monthly 1-hour sessions focused on your biggest burning issues
A rare insider's look into what it takes to grow and run an established business based on your own authentic, creative expression. I'll also share pitfalls to avoid plus my hard-earned lessons learned and insider secrets from my 16+ years in business
Suggestions of specific action steps, resources, and referrals tailored to your needs
Recordings of all sessions so you can refer back to the juicy information at your leisure
E-mail support in-between sessions for additional accountability or feedback
Looking for more info?





Jo transitioned from web designer to popular artist and course creator
Being a Shining Star was the perfect thing for me at a time when I was making a lot of changes in my business which included creating new products and offerings which needed different methods to bring to life than what I had done with my client-based work. I especially loved my 1:1 coaching calls with Jenn, she helped me to make sure I wasn't undervaluing myself what I had to offer, and that I was creating a product by focusing on people's needs and desires, breaking down the launch process into smaller steps, getting organised with my marketing as well as getting over the fear of marketing (especially as an introvert), how to reach out to people, and lots of clever tips to make my offerings more attractive throughout the whole process.
During my mentorship I have: successfully funded Darling Legs, my own custom leggings design, into production; created and launched Flowing + Thriving, a design biz course for designers; collaborated on a Moon Energy Calendar which sold out within weeks; created Darling Tats, a new range of metallic temporary tattoos; and have take big steps to make a living from the work I enjoy most.
Everything that I learned during being a Shining Star and through my coaching with Jenn contributed to making all this happen in my business."
Jo Klima
, Artist & Designer, www.thedarlingtree.com
VIP Coaching with Jenn is for you if:
You've been in business at least 2 years.
You take your business seriously (while still having fun, of course!). It's not a hobby and you're equipped and ready to answer in-depth questions in the application about your business, income, marketing, overall goals, and more.
You already have paying customers and a decent following.
You've experienced great successes already AND you know you're now at the cusp of breaking into a new income level or you can feel that you're expanding into new moola-making methods or new markets and need hands-on guidance from someone who's been there and can show you the ropes.
You want to be able to pick my brain in more detail and ask advanced questions specifically related to moola-making methods and getting the word out approaches that will fit your unique business.
You want to build your entrepreneurial leadership muscles and really step into being the CEO of your company. You're willing to do the deep, personal work to get to the next level and to make courageous decisions that honor what you're taking a stand for in your life and business.

VIP Coaching is not for you if:
You're a total business newbie or are unclear about the direction you want to go in. If you're brand new to business or are still figuring out what your business is, this level of support will be too advanced. Instead, the Right-Brain Business Plan® Home Study might be a good option for you to start with. Another option for getting more foundational support is you can work directly with one of our Right-Brain Business Plan® Licensed Facilitators.
You're looking for a quick fix. Transformation takes time, commitment, and conscious action. You need to be in it for the long-haul to fully experience the results you want.
You're looking to me to provide you with all of the answers or step-by-step solutions. I hate to break it to ya, but there are no cookie cutter approaches. You need to be willing to do the work and make the decisions that will best serve you, your business, and your customers. I'll provide you with an experienced perspective, suggestions, and insights but you are in the driver's seat!

Vanessa authentically grew her community and now has had more than 150 participate in her Priestess programs
"Working with Jennifer Lee is the best business and life decision I've ever made. Her kind encouragement and mentorship quite simply mean the world to me. Under Jenn's guidance, I built my list by offering my Enchant Your Everyday: Pilgrimage to Your Beautiful Life programs to 100s of people by tapping into my values, passions and gifts. Because I built my list through community engagement and really listening to the needs of the highly sensitive empaths who were drawn to my work, I was able to launch my Sage Priestess Training year-long program (now Self-Study and Certification programs).
Jenn has generously encouraged my creative spirit to shine at every step of the way. As a result, my Priestess programs have now reached over 150 people across the world. I went from making very little and juggling other jobs to having a full-time sustainable business that is a joy to do.
I can honestly say that I'm a better person because of working with her. She believed in me and my vision and gave me the practical tools I needed to make my dreams come true. I continue to be inspired by her professionalism, genuine care for her community, and the way she models heart-centered success. I feel blessed to be a part of the community she so loving nurtured and created. It significantly changed my life for the better, and for that I will be forever grateful."
Vanessa Sage
, PhD, Priestess, www.vanessasage.com

Maring gained more confidence and landed a new client after our first session
"Just wanted to give you a little update and let you know that I booked a client!!! I did a discovery call, and she signed up for 10 sessions!!! So exciting! This time I felt much more confident pitching myself and in what I had to offer! I'm having a very proud moment 🙂 I even feel comfortable with charging a little more next time!
Already I feel like I'm getting so much with having accountability to you, clear action steps and goals! So thank you!"
Maring Higa
, Acupuncturist & Life and Wellness Coach, www.maringhiga.com
Ready to get going?
I can't wait to receive your application and to have the opportunity to partner together!

Pay in full for VIP Coaching Package
4 monthly hour-long sessions
$2200

Cash flow-friendly option for VIP Coaching Package
4 monthly hour-long sessions
4 monthly payments of $625
for a total of $2500


An established therapist and clinical director right-sizes to become more profitable and create space for her art and coaching
"With strategic 'roll-up your sleeves' direction from Jenn, I was able to transition from an unsustainable, burden-filled business, to a solo ease-infused business that eliminated business debt within the first year of this transition.
Being a solopreneur has opened up space, time and energy to focus on increasing my visibility as a healer, creativity coach and workshop/retreat facilitator through summit interviews​ and​ creation of free gifts.
I launched my first destination collaborative retreat that has become an annual event, Intuitive Soul Art & Yoga Retreat. I​ also​ launched my first free e-course, Wise Woman: 7 Day Creative Journey, as a way to list-build… and I have begun to create and sell more of my own art​, Firefly Art​​​.​
I was able to dig deep into what held me back, implement strategies for focused energy on developing successful projects and achieve my moola goals while embracing ease."
Susan Miller
, PhD, LPCS, NCC, Lighted Path Coaching , www.lightedpathcoaching.com
Important Left-Brain Details
Application and Approval Process
After you register, you'll receive a link to the application. These questions are meant to help you reflect on where you business is now, where you want it to go, and what will help get you there and will ask you to really dig deep into your business. The application process alone will be enlightening, I promise! Please be thorough with your answers. Not only will they help me get to know you and your business, but they'll also help us use our time more efficiently in our session. And, of course, the sooner you send your application in, the sooner we can get started!
I'll personally review your application and will get back to you within 2 business days. If you're approved you'll receive information on how to schedule your sessions.
If, after reviewing the application, it doesn't seem like VIP Coaching will best meet your needs at this time, we will let you know within 2 business days and will refund your payment promptly. We can also explore what support might be better suited to you, so you can make sure you get the guidance you need.
No Refunds/Cancellations
There are no refunds for any reason and all payment plans must be paid on time and in full. The exception to this is if your application does not get approved.
We hold firmly on the no refund policy because we believe as an entrepreneur you need to be able to make informed, authentic, and clear decisions about where to invest your time, money, and energy and to honor those decisions (and impacts of those decisions) with integrity. So if you need more information to help make the decision, please email your questions to info@artizencoaching.com. This decision to work together is a commitment on both our parts. My team and I put our all into providing the best service for you, so please take full personal responsibility for following through on your part. Thank you!
Package Duration
Please note that the sessions are designed to happen monthly within 4 consecutive months. This ensures the most effective accountability between calls and helps to maintain momentum.
More Questions
If you still have more questions, please send them to us at info@artizencoaching.com and someone from my team will be in touch.

Edna reconnected to her bliss and sold a picture book to a publisher
"I had to do something different. Going to large conferences and trying to change course on my own wasn't cutting it. The opportunity to do VIP Coaching with Jenn presented itself following a period of grief and loss—my mother had passed away, the art studio I taught at went out of business, and my momentum in the field of publishing had stalled. As a traditionally published author/illustrator in children's literature, I lost a bit of confidence in myself and I held onto my stories with a tight grip, hiding them away in folders to avoid any chance of rejection in the bottom-line business of publishing.
With Jenn's insightful coaching, I found my creative and business mojo again. I broke through barriers of fear-based thinking and took decisive action in creating a business plan that resonated with my dreams and goals. I reinvented my brand, designed a new logo and created a new website. Most importantly, I took my stories and paintings to the next level, producing new and revised works with greater confidence and commitment.
Putting my creations out into the world is an extension of the creative process I've come to recognize in all that I do as a heart-centered entrepreneur. That I can approach the business of publishing with the same level of passion, creativity and zest I feel toward my projects is a boon. I'm excited and grateful that I recently sold one of my picture books to a publisher and am now working on paintings for the book. I have found my *bliss* again."
Edna Cabcabin Moran
, Author and Illustrator , www.kidlitedna.com

Ginny developed a preview copy of a picture book to go along with her popular plush toy for kids
"I am tremendously grateful to have Jenn as my business coach! As a creative-minded business owner I have often felt like a lone fish in a frog pond. Jenn's insight and expert guidance, allow me to be comfortable owning my style, process, and priorities.
Jenn skillfully focuses in on particular areas to uncover my blocks, or open up another perspective. She asks just the right questions to light a path forward. She communicates with me in a way that ignites the thought process and affirms the direction that feels right for my projects and overall business.
I leave our sessions feeling a renewed sense of empowerment with do-able steps that sit well with where I am and nudge me just the right amount to keep an exciting level of progress without overwhelming.
With the nurturing, fertile environment Jenn holds, I've accomplished several small projects and one big project: I am super excited to have a tangible preview copy of the book, Meebie has Feelings, that will soon be offered as a picture book to go along with our Meebie toy. Possibly more satisfying: I feel the stage is set for my other goals to move and shine. Knowing I can reach out to Jenn is huge.
I appreciate Jenn's sensibility, deep experience, modeling of good business practices, and willingness to share her wisdom and wealth of resources!"
Ginny Campbell
, Owner of Orkid Toys and Creator of Meebie, www.orkidtoys.com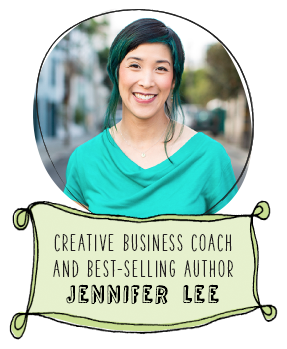 About Jennifer Lee
Jennifer Lee (she/her/hers), CPCC, MA, is the founder of Artizen Coaching® and the author of Building Your Business the Right-Brain Way and the bestseller The Right-Brain Business Plan, which has helped tens of thousands of entrepreneurs around the world launch their creative businesses.
After spending 10 years climbing the corporate ladder and getting tired of living her dream "on-the-side," she took the leap to pursue her passions full-time. Jennifer has been featured in The Wall Street Journal, U.S. News & World Report, Entrepreneur, Whole Living, Family Circle, Cloth Paper Scissors Studios, and Choice magazines, numerous radio shows, and on ABC7 TV and partnered with Levenger to develop the Right-Brain Business Plan® Circa® Notebook.
She received her coaching certification and leadership training through the prestigious Coaches Training Institute.
Jennifer is also a certified yoga instructor, a certified Expressive Arts Facilitator, a certified meditation instructor, and holds a B.A. in Communication Studies from UCLA and an M.A. in Communication Management from USC.
She lives on the Big Island of Hawai'i with her creative, rather left-brain husband, and their sweet husky-lab mix.
It's always good to know a little bit about your potential mentor, so here are some highlights from my entrepreneurial journey:
Unlike many other creative business coaches out there, I'm a certified coach who is trauma-informed and has received extensive, world-class training on how to effectively and skillfully help clients reach goals that are authentic to them.
I have developed workshops, e-Courses, e-Books, tangible products, and coaching programs, wrote an award-winning book with New World Library, a well-known publisher, co-developed a product with Levenger, a national catalog company, partnered with CreativeLive as one of their first general business instructors, and was a pioneer with hosting a video summit, so I know how to take an idea and make it real (and make money with it).
I worked for 10 years as a business consultant in large corporations including Gap Inc., Accenture, Sony, and HP, so I understand the complexities that go into making companies successful (from the high-powered board rooms to your kitchen table).
Through both of my licensing programs I have hundreds of facilitators who lead workshops worldwide based on my unique and visual approach to life and business coaching.
Over the years I have invested in myself and my business by hiring specific coaches to help me through various stages of my growth (including life coaches, business coaches, leadership coaches, spiritual coaches, a product coach, a book coach, an equity/inclusion/decolonization coach and somatic-based therapists). I appreciate having someone in my court who can help me reach my goals and be the best version of myself I can possibly be.
I'm an artist at heart, so I totally get how important it is to express your creativity in all that you do and I've learned how to make that creativity work for me in my business.
My practices and training in mindfulness and meditation have taught me, a recovering perfectionist and workaholic, how to slow down, be present and embrace ease.
With the help of coach and educator Weeze Doran, I began my intensive anti-racism and decolonization journey in 2019 and am committed to the life-long process of continually unpacking the layers of conditioning related to the intersection of my identities and privilege. As a melanated person who holds certain levels of marginalized identities, I value creating and participating in inclusive and equitable spaces and doing the work of repair when harm is done.
Through the 20 years I've been coaching and the 17 years of being in business for myself, I know firsthand the ups and downs of the entrepreneurial journey…
I've gone from coaching part-time while holding down a demanding day job (because I was too afraid to leave), to finally taking the leap yet struggling to come close to my cushy corporate salary, to building a business that reached multi-6-figures and then eventually learning to define and live from my own liberated version of success.


Kelly quit her full-time job, gained clarity and confidence to run her business based on her values, and landed her first International gig
"One of the big take-aways I learned through coaching with Jennifer is how to make my business an extension of me and my values. My business flows with more ease if I align my business decisions with my personal life goals. During the nine months that I coached with Jennifer, I began marketing my business in ways that I hadn't before. Also I created new marketing strategies and approaches that will be rolled out in the coming year. Now I know how I want to market my business in a way that feels more authentic to me. In addition, I feel more clarity about choosing which projects to try first and which projects to set aside for now.
I made some big changes in the time I coached with Jennifer and that's why I wanted support and teaching from her. I quit my full time job to focus on my own business. Soon afterwards, I was asked to travel to Europe and Asia for five weeks to work and share my knowledge and skills. Traveling to new countries and cultures for five weeks was a big step for me and I'm glad I had coached with Jennifer before this new journey. As with any travel endeavor, several challenges arose on the trip and I felt equipped to focus on solutions in ways that didn't shake my confidence and in ways that still took care of my needs.
Jennifer's coaching encouraged me to keep 'me' in my business and create a healthy balance of serving my clients and serving my personal needs at the same time. Now I have a focus that is based on my gifts and on the type of client that can benefit from those gifts. When I take each step forward, my learning from the coaching process offers me deep clarity as I make both big and small decisions for my business. I'm having more fun now in my business and earning the income I want at the same time."
Kelly Pfeiffer
, Positive Discipline Lead Trainer and owner at Think It Through Parenting, www.THINKitTHROUGHparenting.com

Lisa is putting herself out there in a bigger way with her writing and her new Launch Studio space
"I have been on this growth edge, a precipice of sorts and have been looking over the edge for too long, wanting to take that leap over but holding myself back. I feel like I made the jump last week but with beautiful wings to help me fly and excitement for where the journey is going to take me instead of fear. I definitely feel like I am ready to put myself out there in a bigger way, feeling more comfortable stepping into my power and operating from my center.
Also, I haven't experienced that combination of right and left brain activities before, more specifically the combination of soul work and manifestation, vaporizing some long held limiting beliefs and then bringing it all together into a business plan/mastermind experience. The combination really worked for me and where I am at in not only my business but my life's journey.
Jenn, you totally walk your talk!! You really embody being a centered, creative right brained-entrepreneur and are such a beautiful example of how to bring it all together and manifest it into a business that transforms others and has a huge impact in the world. I am so honored and grateful to be a part of your community."
Lisa Dolce
, Business Coach, Trainer and Launch Mentor, www.lisadolce.com
Invest in yourself and your big dreams!
The time is NOW to say yes to finally creating sustainable success on your terms.
I can't wait to roll up my sleeves with you and dive in deeply to bring your beautiful vision for your business to life.
Here's to your success!