1:1 Coaching Half-Day VIP Session
Hands-on, intensive and individualized support to create and launch your next offer
Limited availability
Ready to launch your next big idea?
Maybe you've been confused, overwhelmed, or unsure of what's needed to launch your program or product.
Imagine how confident, excited, and energized you'll feel with a plan to make a fantastic and profitable offer to your perfect peeps.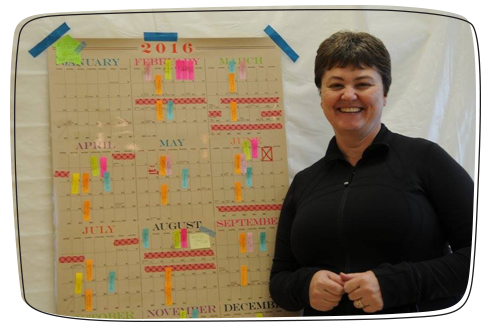 Join me for an intensive, concentrated half-day session to help you have your best year yet.
We'll roll-up our sleeves together and package your next product or program in a way that's uniquely you and create a do-able launch plan to build buzz and convert to paying customers.
The strategies you'll learn in our VIP session gave me the foundation to break into 6-figures and then to multiple-6 figures.
I look forward to sharing my secrets with you.
Here are some examples of the type of offer we could focus on:
Launching an e-course
Developing a 6-month or year-long coaching program
Elevating an existing package or offer in order to attract more of your ideal clients
Creating a licensing program to give people rights to lead courses using your intellectual property
Offering a teacher training program
Designing a joint venture or list-building event such as a 30-day challenge, telesummit or video summit to grow your community
So, whaddya say? Let's do this!



Lisa developed a repeatable roadmap for her video summit and gained nearly 900 more subscribers
"Before my half-VIP day with Jenn I was overwhelmed with all of the moving pieces. I didn't even know where to start to try and make sense out of everything. Jenn came with a detailed list that she proceeded to walk me through with her calm and supportive energy. She brainstormed great bonus ideas, showed me helpful examples of the behind the scenes of her own events, and asked really important questions.
I grew my list by 895 subscribers, many of whom went on to work with me after the festival. I had 97 participants that engaged on a level that was so gratifying for everyone involved. I feel as if I contributed significantly to my field and really created a community of creative mental health professionals. As I get ready for my second creativity festival, I am leaning heavily on what Jenn helped me start. When I pulled out my notes the other day I felt the sense that she was with me–full of support and guidance. I'm excited for it to be another success."
Lisa Mitchell
, Author, MFT, ATR, Licensed Marriage and Family Therapist, Registered Art Therapist, www.innercanvas.com
Virtual VIP Half-Day Program includes:
A pre-session Entrepreneurial Ecosystem needs assessment exercise to help you get clear on where your business is at overall
A 30-min intake call to lay the groundwork for our half-day intensive (to be conducted after all payments received)
A 3-hour individual virtual VIP session via a private video conference meeting. During this intensive working session I'll guide you through right-brain exercises to help you package your gifts and craft your offer, land on pricing that feels good, and map out your launch plan
A 30-min follow-up call to help you hold you accountable to any outstanding actions and to get your final burning questions addressed. (Follow-up call must take place within a week of VIP session)
Recordings of all sessions so you can refer back to the juicy information at your leisure
Suggestions of specific action steps, resources, and referrals based on your needs
Some light e-mail support through the completion of your follow-up session for additional accountability or feedback on drafts that came out of our VIP session
Looking for more info?


Bestselling author and International retreat leader Sara successfully launched a certification program
"I hired Jenn to help me create a certification program for The Way of the Happy Woman. Having seen her navigate the world of licensing in her own business, I trusted her fastidious research, attention to detail, and ability to simplify and streamline the potentially complex legal aspects of this undertaking!
During our time together, Jenn offered me an accessible, step-by-step framework that allowed me to overcome the inertia of overwhelm, achieve one of my long-time professional goals, and create a platform to expand my teachings to exponentially impact more women around the world. I'm always so grateful for Jenn's smarts, kindness, and creative magic!"
Sara Avant Stover
, Teacher of feminine spirituality and empowerment, Bestselling Author & Founder of The Way of the Happy Woman , www.thewayofthehappywoman.com
A VIP Session is for you if:
You've been in business at least 2 years.
You take your business seriously (while still having fun, of course!). It's not a hobby and you're equipped and ready to answer in-depth questions in the application about your business, income, marketing, overall goals, and more.
You already have paying customers and a decent following.
You want help honing a specific offer so you can leverage your income and serve your community more effectively.
You already have a particular idea or project in mind that you want to dive into during our focused session.
You've been steadily growing your business and have experienced great success already. Now you're ready to breakthrough to a new level of impact and income and need to tap into the knowledge and expertise of someone more seasoned who can provide hands-on guidance and show you the ropes.
You want to be able to pick my brain in more detail and ask advanced questions specifically related to moola-making methods and getting the word out approaches that will fit your unique business.

A VIP Session is not for you if:
You're a total business newbie or are unclear about the direction you want to go in. If you're brand new to business or are still figuring out what your business is, the VIP half-day session is not the format to fit your needs. Instead, the Right-Brain Business Plan® Home Study might be a good option for you to start with. Another option for getting more foundational support is you can work directly with one of our Right-Brain Business Plan® Licensed Facilitators.
You're hoping for a quick fix. An intensive session like this will only be effective if you already have a solid foundation for your business and you're specifically looking to build from that. If your business has been continually under-performing, the short-term nature of this particular package won't address the root issues that need tending to.
You're expecting to develop a comprehensive, long-term strategy for your overall business in a short amount of time. Since this session is very focused, it's better suited to digging into one particular offer and launch. For overall strategy and business model exploration a longer-term individualized VIP coaching package might be more appropriate for your needs.
You're looking to me to provide you with all of the answers or step-by-step solutions. I hate to break it to ya, but there are no cookie cutter approaches. You need to be willing to do the work and make the decisions that will best serve you, your business, and your customers. I'll provide you with an experienced perspective, suggestions, and insights but you are in the driver's seat!
Ready to get going?
I can't wait to receive your application and to have the opportunity to partner together!

Pay in full for VIP Half-Day
$2200

Cash flow-friendly option for VIP Half-Day
Initial deposit of $625 plus 3 payments of $625 for total of $2500
Initial deposit of $625

Important Left-Brain Details
Application and Approval Process
After you register, you'll receive a link to the application. These questions are meant to help you reflect on where you business is now, where you want it to go, and what will help get you there and will ask you to really dig deep into your business. The application process alone will be enlightening, I promise! Please be thorough with your answers. Not only will they help me get to know you and your business, but they'll also help us use our time more efficiently in our session. And, of course, the sooner you send your application in, the sooner we can get started!
I'll personally review your application and will get back to you within 2 business days. If you're approved you'll receive information on how to schedule your sessions. If you paid by deposit, my assistant will coordinate with you to finalize the remaining 3 payments before your VIP session is scheduled.
If, after reviewing the application, it doesn't seem like a virtual VIP session will best meet your needs at this time, we will let you know within 2 business days and will refund your payment promptly. We can also explore what support might be better suited to you, so you can make sure you get the guidance you need.
No Refunds/Cancellations
There are no refunds for any reason and all payment plans must be paid on time and in full. The exception to this is if your application does not get approved.
We hold firmly on the no refund policy because we believe as an entrepreneur you need to be able to make informed, authentic, and clear decisions about where to invest your time, money, and energy and to honor those decisions (and impacts of those decisions) with integrity. So if you need more information to help make the decision, please email your questions to info@artizencoaching.com. This decision to work together is a commitment on both our parts. My team and I put our all into providing the best service for you, so please take full personal responsibility for following through on your part. Thank you!
More Questions
If you still have more questions, please send them to us at info@artizencoaching.com and someone from my team will be in touch.

Sharon sold out her teacher training even before her early-bird deadline!
"Jennifer Lee is a master at 1:1 sessions. Her ability to help me get razor sharp on where to focus my time and energy has helped me (and my bottom line) over and over again.
Recently I decided to revamp my yoga teacher training. With Jennifer's help I was able to create a whole new format for my training, develop a new pricing structure that helped cash flow and create a wonderful incentive that encouraged early registration. Plus she was instrumental in helping me in writing and designing a love letter (aka sales page) that spoke beautifully to the students I wanted to attract.
And attract I did! My training sold out before the early bird deadline was over. Jennifer is the one person I want to work with each time I create and launch a new service."
Sharon Tessandori
, Owner of Barefoot Works Yoga Studio, www.barefootworks.com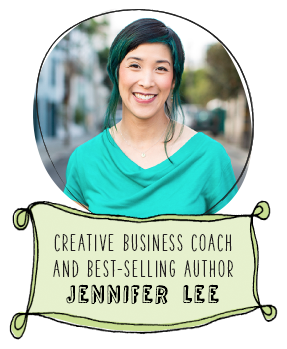 About Jennifer Lee
Jennifer Lee (she/her/hers), CPCC, MA, is the founder of Artizen Coaching® and the author of Building Your Business the Right-Brain Way and the bestseller The Right-Brain Business Plan, which has helped tens of thousands of entrepreneurs around the world launch their creative businesses.
After spending 10 years climbing the corporate ladder and getting tired of living her dream "on-the-side," she took the leap to pursue her passions full-time. Jennifer has been featured in The Wall Street Journal, U.S. News & World Report, Entrepreneur, Whole Living, Family Circle, Cloth Paper Scissors Studios, and Choice magazines, numerous radio shows, and on ABC7 TV and partnered with Levenger to develop the Right-Brain Business Plan® Circa® Notebook.
She received her coaching certification and leadership training through the prestigious Coaches Training Institute.
Jennifer is also a certified yoga instructor, a certified Expressive Arts Facilitator, a certified meditation instructor, and holds a B.A. in Communication Studies from UCLA and an M.A. in Communication Management from USC.
She lives on the Big Island of Hawai'i with her creative, rather left-brain husband, and their sweet husky-lab mix.
It's always good to know a little bit about your potential mentor, so here are some highlights from my entrepreneurial journey:
Unlike many other creative business coaches out there, I'm a certified coach who is trauma-informed and has received extensive, world-class training on how to effectively and skillfully help clients reach goals that are authentic to them.
I have developed workshops, e-Courses, e-Books, tangible products, and coaching programs, wrote an award-winning book with New World Library, a well-known publisher, co-developed a product with Levenger, a national catalog company, partnered with CreativeLive as one of their first general business instructors, and was a pioneer with hosting a video summit, so I know how to take an idea and make it real (and make money with it).
I worked for 10 years as a business consultant in large corporations including Gap Inc., Accenture, Sony, and HP, so I understand the complexities that go into making companies successful (from the high-powered board rooms to your kitchen table).
Through both of my licensing programs I have hundreds of facilitators who lead workshops worldwide based on my unique and visual approach to life and business coaching.
Over the years I have invested in myself and my business by hiring specific coaches to help me through various stages of my growth (including life coaches, business coaches, leadership coaches, spiritual coaches, a product coach, a book coach, an equity/inclusion/decolonization coach and somatic-based therapists). I appreciate having someone in my court who can help me reach my goals and be the best version of myself I can possibly be.
I'm an artist at heart, so I totally get how important it is to express your creativity in all that you do and I've learned how to make that creativity work for me in my business.
My practices and training in mindfulness and meditation have taught me, a recovering perfectionist and workaholic, how to slow down, be present and embrace ease.
With the help of coach and educator Weeze Doran, I began my intensive anti-racism and decolonization journey in 2019 and am committed to the life-long process of continually unpacking the layers of conditioning related to the intersection of my identities and privilege. As a melanated person who holds certain levels of marginalized identities, I value creating and participating in inclusive and equitable spaces and doing the work of repair when harm is done.
Through the 20 years I've been coaching and the 17 years of being in business for myself, I know firsthand the ups and downs of the entrepreneurial journey…
I've gone from coaching part-time while holding down a demanding day job (because I was too afraid to leave), to finally taking the leap yet struggling to come close to my cushy corporate salary, to building a business that reached multi-6-figures and then eventually learning to define and live from my own liberated version of success.


Carrie more than doubled enrollment in her flagship program and developed a launch plan she can leverage for future offers
"My business is growing and I needed to talk to someone who was 'ahead of me,' who also understood my niche. Jenn assessed my systems and practices and helped me refine my structures for Artist Strong. After our conversation I feel crystal clear on my offerings and my strategies on providing value to my community.
I'm happy to say that after our discussion I had over 300 people sign up for the challenge I built with Jenn's help. Additionally, I had nearly triple the sign ups (I went from 7 to 18) for my newly refined signature program. I feel more confident in my work and service to the Artist Strong community, and Jenn was a factor in all of this.
Thank you Jenn for your insight, your support and the shared laughter and fun! I feel I've found a new ally for my work and I look forward to working with you in the future."
Carrie Brummer
, Creator of Artist Strong, artiststrong.com
Invest in yourself and your business! Your VIP Session will be the gift that keeps on giving.
I can't wait for the opportunity to dive-in deeply with you in this hands-on, "done-with-you" style session. We'll roll-up our sleeves together and come up with an inspiring and do-able plan to launch your next offer.
Just think how relieved you'll feel knowing that you have your plan for the rest of the year!
And by the way, the skills and processes you'll learn by investing in our intensive session will give you the experience and tools to be able repeat your own launch plans again and again. Hey, it's the gift that keeps on giving.
Looking forward to our work together!