The Right-Brain Business Plan Circa Notebook from Levenger
Break out of the boring notebook rut!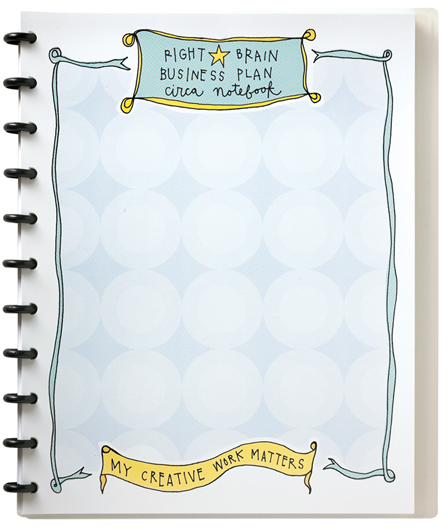 Let the fun and visual Right-Brain Business Plan® Circa® ignite your imagination and enhance your productivity. Brought to you by Right-Brain Business Plan author Jennifer Lee and Levenger.
As a right-brainer you enjoy flexibility. But as a professional or entrepreneur, you know you need a plan. The Right-Brain Business Plan® Circa blends flexibility and structure so your right and left brains can work and, dare we even say, play better together?
Whether you're planning out creative projects or preparing for your next great business idea, the customizable Right-Brain Business Plan® Circa adapts to your needs and helps bring your visions to life.
Circa's versatile system lets you easily remove and reorder pages to fit your non-linear thinking process allowing you to quickly group your ideas, make connections between your notes, and spark fresh perspectives and insights.
| | |
| --- | --- |
| | Price: $29.00 – purchase directly from Levenger |
What's included in your Circa Notebook
The Right-Brain Business Plan Circa Notebook comes with:
60 sheets of Right-Brain Business worksheets, printed in grayscale (you get to color the pages how ever you want with your favorite markers!)

4 Big Vision pages to help crystallize your mission
6 Mind Map pages for brainstorming, creating and reflecting
4 Six Pick Up Sticks pages, with six ruled columns for grouping ideas
6 Two Column sheets for comparing and contrasting ideas (great for pros and cons, or the Moola Map from the Right-Brain Business Plan book)
12 undated Monthly Calendar pages
10 Action Steps pages with checkboxes and due dates
4 Stop Start Continue pages to inspire more organized project planning
4 pages each of Line Sandwich (ruled sheet), Spiky and Scallop (bordered sheets offering a wide-open space for sketching, journaling or doodling)

Includes Jenn's tips on how to use each worksheet format
Translucent cover with 1/2″ Circa discs
Sturdy 60-lb. text stock
Letter size: 9 1/2W x 1/2D x 11 1/4H (overall), 11W x 8 1/2H (paper)
Licensing
If you are interested in using the Right-Brain Business Plan branded materials in workshops or with your clients, please check out our licensing program.