Heart-Centered Pinterest Marketing
Pinterest Intro Course for Creative Entrepreneurs With Vanessa Sage
Move beyond browsing for recipes or craft projects and start making Pinterest work for your business.
For right-brainers, Pinterest provides an engaging opportunity to bring people into the world of your creative business. Through curated visuals you can concretely convey your brand and give your right peeps a felt sense of what it is like to work with you.
In this 60+ minute video course, you will learn:
The basic ins-and-outs of the Pinterest platform
Several ways to create integrated marketing messages on Pinterest without having to create all your own pins!
How to pin images and links from your web site to let people know about your work
How to extend your reach within Pinterest and connect with your tribe
This intro course is perfect for creative entrepreneurs who want to visually curate their message and connect with like-minded peeps.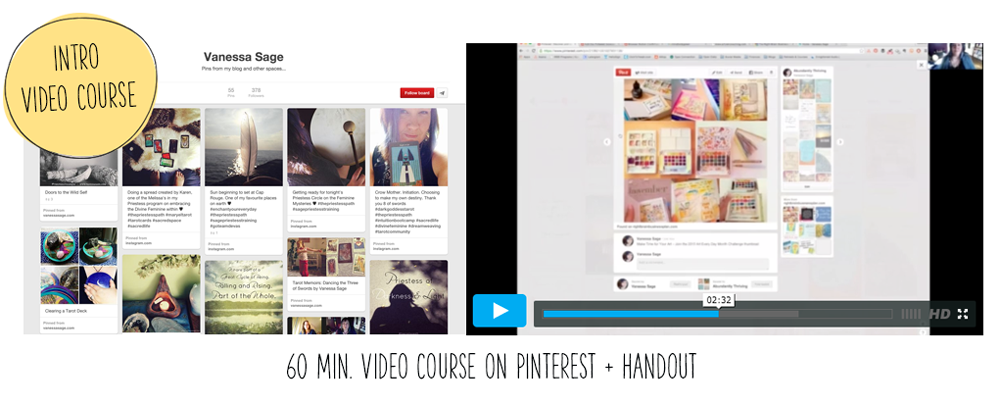 Want to learn how to use Canva and PicMonkey to create your own graphics that you can share on Pinterest? Check out our DIY Graphics Class (you can purchase a 2-class bundle for the best deal).
Get Pinterest Intro Class
$27

Save with a 2-Class Bundle
Get the Pinterest Intro class plus our DIY Graphics Intro to Canva and PicMonkey class for the best deal.
$40


Buzz from this class:
"Very helpful session today. Excited to make changes to my Pinterest account to align with my business marketing." – Laura Genoway, inner-illumination.com
"Your session gave me a whole other perspective of how to approach Pinterest. I will be cleaning up my account and making it reflect my business more." – Gwen Tanner, gwentanner.com
"Thanks, that was awesome! I see Pinterest in a whole new way. You opened up all kinds of new possibilities with your teaching session." – Deanna Dibert Waggy, BalanceResourceCards.com
Your guide for this short course is Vanessa Sage, a Shining Star in Jenn's Right-Brain Entrepreneur Mentorship Program and a past Circle Coach for the Product Development e-Course. Vanessa's journey of discovering her own voice and brand led her to learning how to make Pinterest work for her. And now you get to learn from her!
Vanessa's unique expertise as a trained cultural anthropologist (she's got a PhD!) brings a heart-centered, right-brain perspective to this social networking platform.
About Vanessa Sage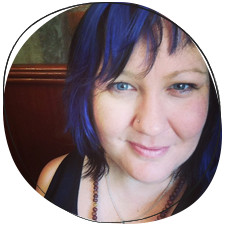 Vanessa Sage, PhD is a cultural anthropologist who has studied pilgrimage, alternative spirituality, and how hopes for a city were embodied in a local arts scene. She is an everyday pilgrim, poet and priestess whose mission in life is to help people discover a sense of awe and wonder in their everyday lives while cultivating a deep sense of self-compassion and inner-bravery. She also helps creative spiritual entrepreneurs bring their message to the world through authentic values-based marketing.