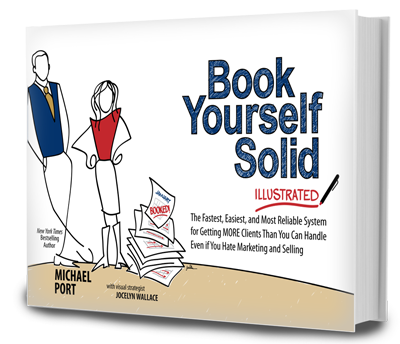 FREE live video interview with
NY Times Bestselling Author Michael Port
They say a picture is worth a thousand words;
in this case it may be worth thousands of dollars!
Register below to get access to the fun and info-packed replay!
Sign-up for this free, interactive video interview
with NY Times bestselling author Michael Port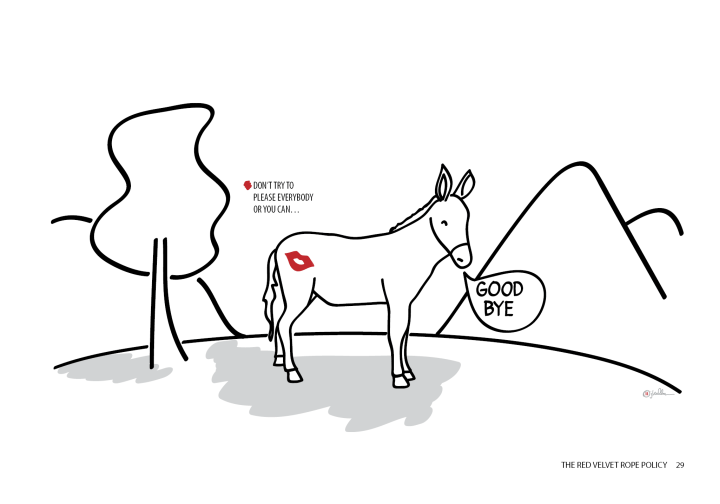 You've probably seen a lot of infographics and cartoons being used to illustrate marketing concepts, but the bar has been raised—really high.
How about a whole book on marketing and selling (for people who don't like marketing and selling) that is almost entirely made up of illustrations?
As a right-brain person, I bet that's just the type of thing you've been looking for.
My creative cohort Michael Port author of too many books to count, including the mega-bestseller, Book Yourself Solid, has released a one-of a kind, resource for building your business.
We all have different learning styles and sometimes just reading or hearing something isn't enough, with this book you will be able to visualize how the concepts work and how they fit together.
Join me LIVE when Michael Port, NY Times Bestselling author of 5 books including the mega-bestselling Book Yourself Solid and the brand new Book Yourself Solid Illustrated.
In just 60-minutes Michael will show you:



Why most marketing for the service professional doesn't work and what to do about it.


How to get hired by only the most ideal clients so you fall in love with marketing and selling.


The only 3 things you need to develop your personal brand so you decide how you're known.


How to talk about what you do without sounding confusing or bland – and without using an elevator speech.


And much, much more.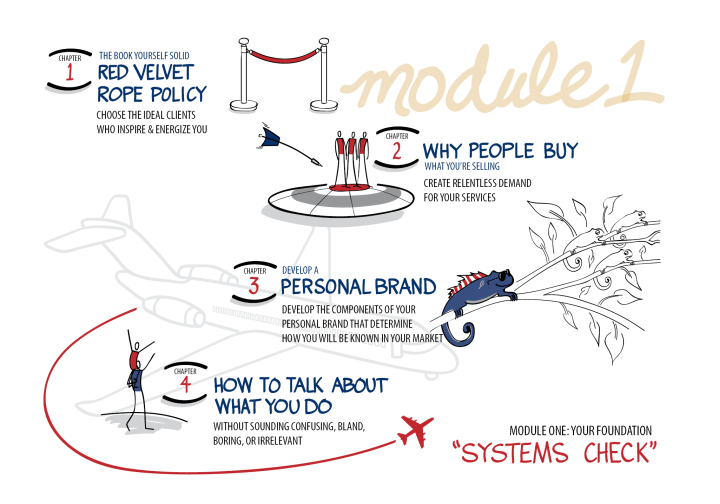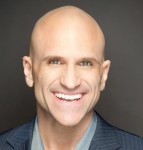 Michael Port, Bestselling Author
Called "an uncommonly honest author" by the Boston Globe and a "marketing guru" by The Wall Street Journal, Michael Port is a New York Times Bestselling author of four books including Book Yourself Solid, Beyond Booked Solid, The Contrarian Effect, The Think Big Manifesto and the all new Book Yourself Solid Illustrated.
Michael is also The Global Business Mentor for ReebokONE and can be seen regularly on MSNBC. He receives the highest overall speaker ratings at conferences around the world because he hits his mark every time and leaves his audiences a little smarter, much more alive, and thinking a heck of a lot bigger about who they are and what they offer the world.
Left-Brain Chill Pills:

Don't worry. You won't miss a thing!

You'll be able to watch the recording and read the chat log at your leisure.

Jennifer Lee, CPCC, PCC, MA, is the founder of Artizen Coaching and the award-winning author of The Right-Brain Business Plan: A Creative, Visual Map for Success. Her bestselling book has helped thousands of entrepreneurs around the world grow their businesses authentically and creatively.
After spending 10 years climbing the corporate ladder and getting tired of living her dream "on-the-side," she took the leap to pursue her passions full-time. Jennifer has been featured in Whole Living, Entrepreneur, Family Circle, Cloth Paper Scissors Studios, and Choice magazines, numerous radio shows, and on ABC7 TV and partnered with Levenger to develop the Right-Brain Business Plan® Circa® Notebook.
She received her coaching certification and leadership training through the prestigious Coaches Training Institute. She is also a certified yoga instructor, a certified Expressive Arts Facilitator, and holds a B.A. in Communication Studies from UCLA and an M.A. in Communication Management from USC.
She lives in the San Francisco Bay Area with her creative, rather left-brain husband, and their sweet husky-lab mix.