Dear Right-Brain Entrepreneur, Creative Soul, Heart-Centered Business Owner (and Overworked/Overwhelmed Overachiever – yes YOU!),
Let's face it my friend, are there some days you just want to stay under the covers?
You've been pushing so hard, striving for so long, trying to make your business work… but…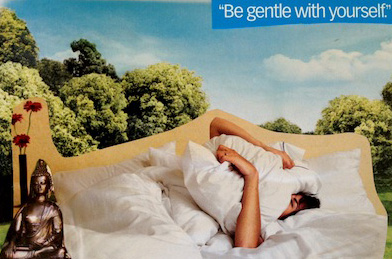 You need a break.
But you worry that if you pause (even for a second), your "competition" will beat you to launching a fantastic product, you'll lose out on a perfect new client, you'll be even more behind on your never-ending to-do list, opportunities for profitable partnerships will wither on the vine, and the list of what-ifs goes on.
Well, even though it may not seem very "business-like," sometimes resting and being gentle with yourself is exactly what's needed. And yet, we resist.
Don't resist any longer! This may be just what you need for that next big breakthrough.
Join me for a fun, FREE, and refreshing session that will help you clear your head and trust in your own inner wisdom so you can cultivate a strong foundation for sustained success in your business.
Embracing Ease:
A right-brain breath of fresh air
in a bustling left-brain business world
Register below to access the replay link and chat log. It's easy-peasy!

Sign-up for this free, interactive video interview
with award-winning author and
6-figure success coach Jennifer Lee


In this interactive, engaging, and ease-filled live class you'll learn:

Why simplicity, spaciousness, and self-care are key to sustained success.


How to know when pressing the pause button can be the best thing you can do for your business.


What to take off your plate or say no to (even when it's scary!).


My self-care secrets that have helped me write a book, grow a 6-figure+ business, and reach my best Q1 earnings ever.


And more!
Don't worry, even though I'll share a wealth of teachings with you, it'll be just the right amount since I'm not looking to overwhelm you ;). My emphasis on self-care and ease is actually one of the things that my clients value most in our work together.
Buzz from my interactive video classes:
"My biggest surprise was how powerful the accountability process to you was — much more so than setting a random goal by myself. The process helped me see the big picture, and link busy tasks to actual profit."
"Jenn this was so energizing! Action steps are inevitable :)"
"this got me outta of my slump today – thx!!"
"Jenn, clearly you magnetize an engaged and wildly creative community"

Please note: I'll also be sharing about my upcoming Right-Brain Entrepreneur Mentorship program where I'll personally guide you through making your big vision real and making more moola (all while honoring your creative rhythms)!
Left-Brain Chill Pills:

Don't worry. You won't miss a thing!

You'll be able to watch the recording and read the chat log at your leisure.

Jennifer Lee, CPCC, PCC, MA, is the founder of Artizen Coaching and the award-winning author of The Right-Brain Business Plan: A Creative, Visual Map for Success. Her bestselling book has helped thousands of entrepreneurs around the world grow their businesses authentically and creatively.
After spending 10 years climbing the corporate ladder and getting tired of living her dream "on-the-side," she took the leap to pursue her passions full-time. Jennifer has been featured in The Wall Street Journal, US News and World Report, plus Whole Living, Entrepreneur, Family Circle, Cloth Paper Scissors Studios, and Choice magazines, numerous radio shows, creativeLIVE, and on ABC7 TV. She has also partnered with Levenger to develop the Right-Brain Business Plan® Circa® Notebook.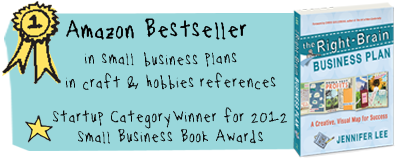 She received her coaching certification and leadership training through the prestigious Coaches Training Institute. She is also a certified yoga instructor, a certified Expressive Arts Facilitator, and holds a B.A. in Communication Studies from UCLA and an M.A. in Communication Management from USC.
She lives in the San Francisco Bay Area with her creative, rather left-brain husband, and their sweet husky-lab mix.